This archived news story is available only for your personal, non-commercial use. Information in the story may be outdated or superseded by additional information. Reading or replaying the story in its archived form does not constitute a republication of the story.
PROVO — There's something special about the No. 4-seeded BYU women's volleyball team in 2018.
And perhaps no play emphasizes the unique nature of a team that has suffered two major injuries to key role players than one in the first set of the Cougars' second-round NCAA Tournament match against rival Utah.
Starting setter Lyndie Haddock-Eppich rolled backward into the media table, swiped at a ball that sailed over the net, and laid down a kill that helped pace a 13-3 run while tumbling head over heels — but popped back up and was ready for the next point.
"When you see teammates literally sacrificing their bodies for this team for what we are trying to do, it brings our energy up and makes us want to play better for each other," Roni Jones-Perry said. "The crowd was awesome, and they were giving us energy, too. It was really cool."
The energy only intensified from there.
Jones-Perry poured in 20 kills, seven digs and three blocks to help BYU keep rolling with a 25-16, 25-21, 25-18 sweep of rival Utah in the second round of the NCAA women's volleyball tournament Saturday night in the Smith Fieldhouse.
Heather Gneiting added 12 kills and two blocks, and Haddock-Eppich finished with 45 assists and eight digs for the Cougars (29-1), who advanced to host Florida in next Friday's Round of 16.
Once again, BYU's defense showed up, holding the Utes to just .143 hitting in the first set and .054 in the third en route to a .202 hitting percentage.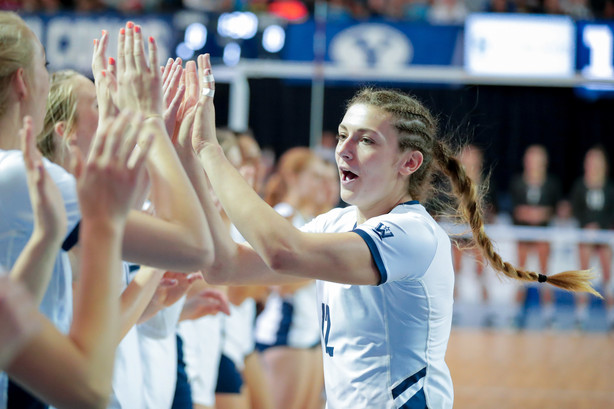 "When the whole team can be composed, we instill confidence in each other — and that's a big part of our defense," said BYU libero Mary Lake, who had eight digs and five assists. "The coaches do a really good job of letting us know what is going to happen when we step on to the court. Having that confidence really helps me, knowing what to expect, and it goes from there."
Dani Drews led the Utes (19-14) with 13 kills. Kenzie Koerber finished with nine kills, and Megan Yett added six for the Utes. Bailey Choy had 24 assists and seven digs for the Utes.
"I think the biggest thing is that we couldn't make stops," Utah coach Beth Launiere said. "They had a great hitting percentage. I thought our plan was good; we just couldn't make plays, and they played great defense. (BYU coach Heather Olmstead) was a great defensive player, and she coaches her teams like that."
Saturday's win marks the first time BYU has played Utah twice in the same season since 2007, when the pair were in the Mountain West Conference. In that instance, the Cougars swept the Utes on both occasions for the first time since 1999. With Saturday's game, the Cougars have marked three straight wins over the Utes.
"I have a lot of respect for Beth and her program, and how she runs things up there, so congratulations to them," Olmstead said of Launiere. "We're excited to advance in the tournament. I thought the crowd was fantastic, and I thought our girls were really composed. It was just a great match."
And they did it in front of 5,183 fans in the Smith Fieldhouse, the second-largest crowd in BYU history and just behind the 5,472 fans who saw BYU sweep Utah during the regular season.
"I don't know if I can describe why it feels like it, but there have been a lot of moments this season where we feel this magic — and then we see it in the crowd," said Jones-Perry, whose 2018 team has played in front of the three-largest crowds all-time in the Smith Fieldhouse. "I don't know what it is, but I feel a lot closer to the girls than I ever have. It's been an incredible season."
Utah started Saturday with a run of good serving, and back-to-back aces by Koeber gave the Utes a 6-3 lead early. But there was still plenty of game time left.
Jones-Perry slid a kill down the middle of a block during a 7-0 run that gave the Cougars a 17-11 lead, but the highlight of BYU's biggest run of the night came moments later during Haddock-Eppich's aforementioned body-sacrificing play.
If that seems hard to visualize, here's how Haddock-Eppich described it.
"I got a touch off the block, and the middle did. I saw it behind me, and I decided I was going to hit. So I hit, fell back, and then got back up again."
Olmstead thought her starting setter was hurt. But Haddock-Eppich got right back in the game, and the Cougars finished off the 13-3 run with Sydnie Martindale's ace for a 23-14 lead that set the tone for the rest of the match.
Haddock-Eppich, who had 14 assists and three digs in the first set, finished off the Utes with a setter's dump to take the first set, 25-16.
The Cougars held Drews, who recorded her 500th kill of the season in Friday's 3-0 win over Denver, to two kills and two errors on 11 swings in the opening set.
"I could tell they had two blockers on me, and the whole night they were serving every ball to me," said Drews, a sophomore who prepped at Brighton. "They did a good job defensively, and it was hard to get a kill against them.
"At the end of the day, we just didn't make enough stops."
BYU opened the second set on fire, getting contributions from everyone — Jones-Perry, Kennedy Eschenberg, Gneiting and even Maddie Robinson, who finished with seven kills and five digs — in a big hitting performance. Back-to-back aces by Haddock-Eppich gave the Cougars a 16-10 lead, but the Utes battled back, hitting .412 with just two errors in the set.
Yett cut the deficit to 18-15 with an ace to cap a 3-0 run, but Olmstead called timeout to steady the ship, and the Cougars clinched a 25-21 second-set victory on Robinson's sixth kill of the match.
Jones-Perry and Gneiting combined for 23 kills, five digs and three blocks, with just one hitting error apiece in the first two sets.
BYU used an 8-0 run to go up 9-3 early in the decisive third set, and held the Utes to a .054 hitting percentage to cruise to the 25-18 win and the sweep.
BYU will host Florida next week in the Round of 16. It's the first time the Cougars will host an NCAA Regional since 1986 when the tournament was composed of just 32 teams. The winner will face the winner of Texas and Michigan in the national quarterfinals.
The Cougars will be making their seventh-straight regional semifinal appearance, dating back to 2012.
"I'm really proud of this team, and their hard work," Olmstead said. "They put in the work all season, and I'm proud that they get to be one of sixteen teams to keep practicing on Monday."

#4 BYU vs Utah by BYU on Exposure
×
Related Stories