This archived news story is available only for your personal, non-commercial use. Information in the story may be outdated or superseded by additional information. Reading or replaying the story in its archived form does not constitute a republication of the story.
PROVO — Speaking of her team that has held the top ranking in the AVCA coaches' poll for most of the regular season, BYU women's volleyball coach Heather Olmstead channeled her inner Quin Snyder.
"We like to think that the strength of our team is our team," she told an ESPNU broadcast Sunday night from the Smith Fieldhouse, paraphrasing the viral quote by the current Utah Jazz head coach.
That team was rewarded well, then.
BYU earned the No. 4 overall seed in the country, its highest seed in program history and one of four top seeds in each regional that guarantees — should seeding holds serve in the 64-team tournament — that the Cougars will host four consecutive rounds of the tournament before the national semifinals in Minnesota.
How did BYU get there? The same way they always have, Olmstead said: one match at a time.
"It's never a goal to be a top-four seed," Olmstead said. "That was never our goal, but just to win the next match. That resulted in winning a lot of matches. But it's cool to see that when you put your mind on something, you can achieve your goals."
BYU will host American East champion Stony Brook (21-8) at 7 p.m. MT Friday in the Smith Fieldhouse. The winner of that match will face the winner of Utah (18-13) at Summit League champ Denver (27-2), which will precede BYU's start time by three hours in Provo.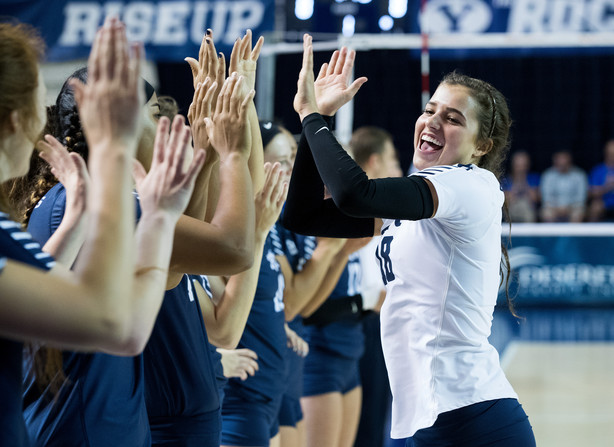 No. 1 overall seed Stanford, Minnesota, and Illinois round out the top four, while No. 5 Texas narrowly missed the cut inside that protected bubble.
But just like in 2016, the Cougars and Utes will head to the NCAA Tournament in Provo. The Utes held on for a 3-2 victory over the Pioneers back on Aug. 25 in Salt Lake City.
"We had a battle with them the opening weekend so it's kind of ironic to play them in the NCAA tournament," Utah coach Beth Launiere said. "I remember they were a really good team and it was 16-14 in the fifth set. It was a really intense match. They have a number of seniors on their team and they have a very good program that is well coached."
The Cougars were one of five teams from the West Coast Conference, joining league rival San Diego, Saint Mary's, Loyola Marymount and Pepperdine, which had to sweat through the announcement of the entire bracket before being named the last team in the tournament.
After 31 appearances in the NCAA Tournament, BYU's conference was also shown respect by the NCAA selection committee. League play was a grind and a battle, junior libero Mary Lake said, and the Cougars are "proud" the selection committee brought in the most WCC teams since 2012.
"No one really came at us with fear," Lake said, who led the team with 359 digs and added 96 assists. "They played their game, and we had to respond to that. It got us prepared for the next game, and those teams did a great job of testing us. It's always about matchups … but we like that, and we enjoyed it."
BYU finished the regular season 27-1, with more wins than any teams in the country and fewer losses. The Cougars' RPI was also atop the national leaderboard.
Last week's 3-0 sweep at Loyola Marymount in the final match of the regular season likely dropped BYU to the No. 4 seed. Regardless, seeding anywhere in the top-four will result in a similar setup to the national semifinals, with home matches along the way should they keep winning.
That's important for the Cougars, who went 13-0 at home and boast wins over Stanford, Marquette, Duke, LMU, Pepperdine, Saint Mary's, San Diego, Syracuse, Utah and USC.
"It's really exciting for us, and I'm excited to be able to have our fanbase here and to play on our court," said BYU senior Roni Jones-Perry, who had laid down 419 kills on a .346 hitting percentage in 2018. "I'm really grateful for it."
"Getting to play in the Smith Fieldhouse at least one more time is really exciting. A lot of seniors don't get that, and I'm really grateful for it."
Should BYU hold serve at home and seeds win out, they'll host the Longhorns in a quarterfinal match at Smith Fieldhouse for the right to go to the national semifinals in Minnesota. BYU hasn't been rated among the last four standing since 2014, when the Cougars finished a program-best second to Penn State.
But just take one match at a time, Olmstead cautioned her team — a match-by-match tourney run that starts at home.
"I love the Smith Fieldhouse, and I love our fans," Lake said. "It wouldn't have made a difference in our mentality, but knowing that we will be able to have our fans for as long as we can is exciting. Playing in the Smith Fieldhouse is special."
×
Related Stories