This archived news story is available only for your personal, non-commercial use. Information in the story may be outdated or superseded by additional information. Reading or replaying the story in its archived form does not constitute a republication of the story.
PROVO — The path on offense of the No. 4-rated BYU women's volleyball team has seen its ebbs and flows over the season.
From Roni Jones-Perry to Heather Gneiting to Kennedy Eschenberg and the now-injured McKenna Miller, the Cougars have had plenty of players stand out, either on the pins or in the middle of the net.
But Friday night's NCAA Tournament opener wasn't a feast of offense for the Cougars.
It was all about the defense.
Jones-Perry had 17 kills, six digs, four blocks and two aces — including the match-winner, and fourth-seeded BYU held Stony Brook to a season-low hitting percentage en route to a 25-20, 25-13, 25-12 win in front of 3,675 fans in the Smith Fieldhouse.
"Our block is a big part of our defense, and the serving," said libero Mary Lake, who had 13 digs for a team that served eight aces. "Everyone was participating, everyone was getting excited. We had people coming in (off the bench) making great plays and getting excited."
Add to it the energy of the jam-packed fieldhouse, and the Cougars (28-1) had a winning combination.
"Energy and defense go back and forth; they feed off each other," Lake said. "We were bringing energy, and that helped our defense to be calm and collected."
Lyndie Haddock-Eppich added 31 assists and three kills, and Eschenberg had four of the Cougars' 10 blocks.
Gneiting added six kills and four blocks for the Cougars, who got nine digs from Lacy Haddock. Gneiting, Jones-Perry and Danelle Stetler each served two aces for BYU.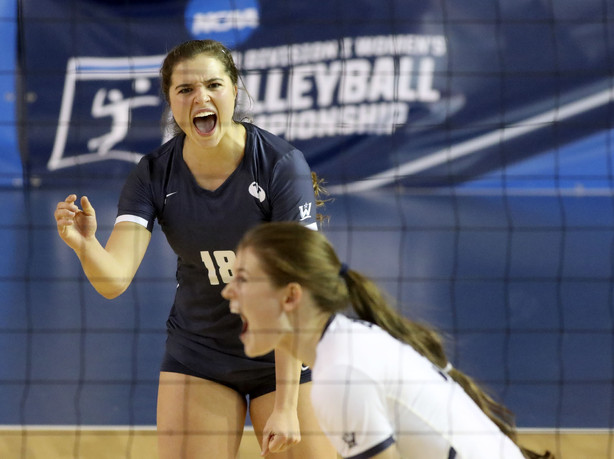 "We served really well today," BYU coach Heather Olmstead said. "Numerous people went on some serving runs; Syd, Heather, Roni. We served tough, got them in trouble and that gave our block opportunities."
BYU held Stony Brook to minus-.045 hitting, with a match-best .103 hitting percentage in the first set. It was all downhill from there for the Seawolves, who were led by Kendra Harlow's five kills and Emily Costello's four.
It was the best defensive performance by the Cougars since Oct. 20, when BYU held West Coast Conference foe Pepperdine to .035 hitting.
Stony Brook entered with a 17-match win streak. But after a few shaky moments in the first set, the Seawolves barely challenged a team that was ranked No. 1 nationally from the third week of the season into the season finale.
"Credit to BYU," said Stony Brook coach Kristin Belzung, who led the Long Island-based Seawolves to their second-ever NCAA Tournament appearance with a perfect 15-0 mark in America East play. "We couldn't get anything going offensively. I think that was obvious. I was just proud of our girls for fighting, and for our seniors for leading us throughout this season."
BYU advanced to face rival Utah at 7 p.m. MST Saturday, the Cougars' fifth-straight appearance in the NCAA second round. BYU swept the Utes 3-0 in the regular season on Sept. 13.
Utah swept Denver 25-23, 25-18, 27-25 in the first match of the sub-regional in Provo, led by Dani Barton Drews' 18 kills.
Utes Win
"We're super excited to advance in the tournament, and it's a good opportunity for us to play another match at home," Olmstead said. "Utah is a great opponent. We're just excited to be advancing and keep this journey going."
Stony Brook (21-9) got off to a solid start in the first set. After falling behind 4-0 early, the Seawolves rallied, tying the match on McKyla Brooks' kill at 6-6 and taking an 11-8 lead by forcing back-to-back hitting errors on the Cougars, which hit just .247 on the night.
But BYU never got down more than two points, battled back to tie the set twice, and took a 20-19 edge on Stetler's second ace of the set that helped spark a 5-1 run to end the set.
Costello and Brooks, the Seawolves' two main hitters, combined for two kills in the final two sets.
"It was difficult from the start. Our passes weren't quite there," Brooks said. "When there was a pass, I could see a block. It was hard to hit around it … because they were so big. It was very difficult for me to see where to hit.
"I just took a chance and swung; sometimes it worked out."
×
Related Stories