This archived news story is available only for your personal, non-commercial use. Information in the story may be outdated or superseded by additional information. Reading or replaying the story in its archived form does not constitute a republication of the story.
SALT LAKE CITY — It's that time of year where it seems like there's a giant sheet over the Wasatch Front, shrouding everything below in a cloud of pollution.
That's right — Utah's dreaded inversion is back. And while the inversion is not going away any time soon, officials say there are plenty of things Utahns can do to reduce their impacts on the state's air quality.
"The truth is, no matter what, we have to be doing our part every single day to mitigate the effects of an inversion," said Thom Carter, Executive Director of the Utah Clean Air Partnership, also known as UCAIR.
About 53 percent of Utah's emissions come from mobile sources, most of which are personal cars and automobiles, according to Carter. Thirty-four percent comes from area sources such as homes and buildings. The remaining 10-15 percent comes from point sources, including refineries, factories, mines and other large industrial operations, Carter said.
UCAIR asks people to be mindful of the air quality in the state and to make better choices to reduce their impacts, Carter said.
After a big snowstorm clears out the bad air, you might think you don't need to watch how much you're polluting. But you still need to keep it in mind, Carter said, because pollution doubles each day after a high-pressure system moves in following a snowstorm.
Related Story:
Since the majority of emissions comes from car tailpipes, air quality experts ask people to be smarter about how they use their cars, Carter said. Carpool, consolidate trips or use public transit options, he said.
Making sure you're not idling your car when you're stopped at the drive-thru or picking up kids from school is another simple thing people can do, Carter said.
"We have to make a concerted effort … to make real choices, better choices, and that will help make the impact of an inversion less or reduce the impacts of our inversion," Carter said.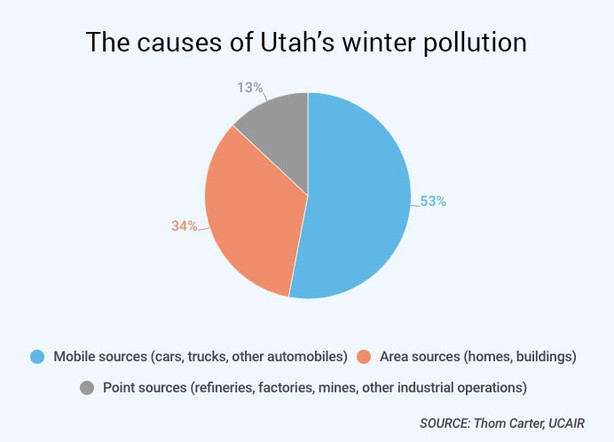 The air quality in the state is getting better and has improved over the past several years, but that doesn't mean the inversions will go away, Carter said. The unique weather system that creates the shroud will continue even as Utahns continue reducing emissions, he said.
The state's population has grown by 30 percent over the last 10-12 years, but emissions have decreased in that time by about 30 percent, Carter said.
As part of his proposed budget announced Thursday, Gov. Gary Herbert included $100 million for air quality projects.
That includes a wood stove replacement program, the governor announced Thursday. The details still have to be worked out, but the investment shows that air quality is a high priority in the state, Carter said.
"This is a generational, potential generational, investment by the state," Carter said.
The investment could mean programs like the wood stove replacement, but could also include increasing general public awareness about air quality.
UCAIR, the state and other organizations also continue to work with Utah businesses to help them do their part for air quality, too, Carter said.
UCAIR recently partnered with HollyFrontier to help the company install a nitrogen generation plant at its refinery in West Bountiful. Starting next year, the plant will reduce its carbon dioxide emissions by four million pounds per year, Carter said.
Other companies, such as Chevron and Marathon, are developing more efficient types of gasoline that will help reduce pollution, he said.
"We're constantly working with industry or businesses or organizations in general to find ways to put them in a position to make better choices and to be better stewards of the air," Carter said.
For more ways you can help reduce emissions, click here.
×
Photos