LEHI — In a year with more than $1 billion in new state revenue, Gov. Gary Herbert is proposing a $200 million sales tax cut to help Utahns keep more money in their pockets.
But there's a catch.
With it, the governor is also proposing the state "broaden" its tax base possibly by imposing sales tax on some previously untaxed services — such as limo rentals, liposuction, pest extermination or haircuts, depending on what the Utah Legislature has an appetite for.
Options could also include new user fees for roads and water or taxing e-cigarettes like other tobacco products, according to his proposal. In addition, the governor recommended nearly $70 million of state sales tax earmarks for water be shifted to a statewide user fee.
The aim is to "modernize" the state's tax base, which has been eroding thanks to what tax experts say is a shift from a goods-based economy to a services-based economy, Herbert said.
"We have the ability now to give money back to the consumer," Herbert told the Deseret News and KSL editorial boards the day before his budget proposal was released. "The debate's going to be how to do it and what's the mechanism."
Many services in Utah have been granted tax exemptions over the years, leaving the state with a "narrowing" tax base, Kristen Cox, director of the Governor's Office of Management and Budget, told reporters in a meeting Wednesday.
Since the 1980s, about 70 percent of Utah's economic transactions were taxed, but that percentage has declined over the years, Cox said. As a result, the state's tax base is suffering, and if Utah doesn't see tax reform now, it could lose its flexibility to balance sales tax and income tax within two to five years, she said.
So, the governor is recommending bringing the state's tax base in line with a changing economy, while also reducing the tax burden on Utah families. A sales tax cut would particularly help middle- and low-income residents, who pay a higher percentage of their incomes in state and local taxes than high-income households, he said.
There's "example after example after example" of "backward" service tax "loopholes," Herbert said, such as the "limo loophole" that allows limousine companies to go without charging taxes, and yet Utahns have to pay taxes to service their family cars.
Herbert also mentioned how e-cigarettes go untaxed, even though the state taxes tobacco.
"So it's just time," Herbert said. "It's time to take a look at the tax policy and see what we've got right and maintain it. And what we've got wrong, let's change it. With the idea of let's broaden the base and enable us to lower the rate and give back $200 million to the people in doing so."
His mantra, Herbert said, is "broaden the base and lower the rate."
"I believe if we lower the rate as a broader base everybody will pay less money," Herbert said. "So it's a win-win-win all the way around and ensures we're going to have continued economic growth in the future."
A "good goal," Herbert said, would be to lower the state's tax rate from 4.85 percent to under 4 percent. "But even if we got to 4.25 percent I'd say, 'Hallelujah,'" the governor said.
The $200 million sales tax cut would eat up about 30 percent of the state's new ongoing revenue growth for fiscal year 2020, which amounts to about $675 million state leaders announced last week.
That $675 million in new ongoing funding also came with $646 million in new one-time funding, meaning Utah is projected to take in more than $1.3 billion in new revenue.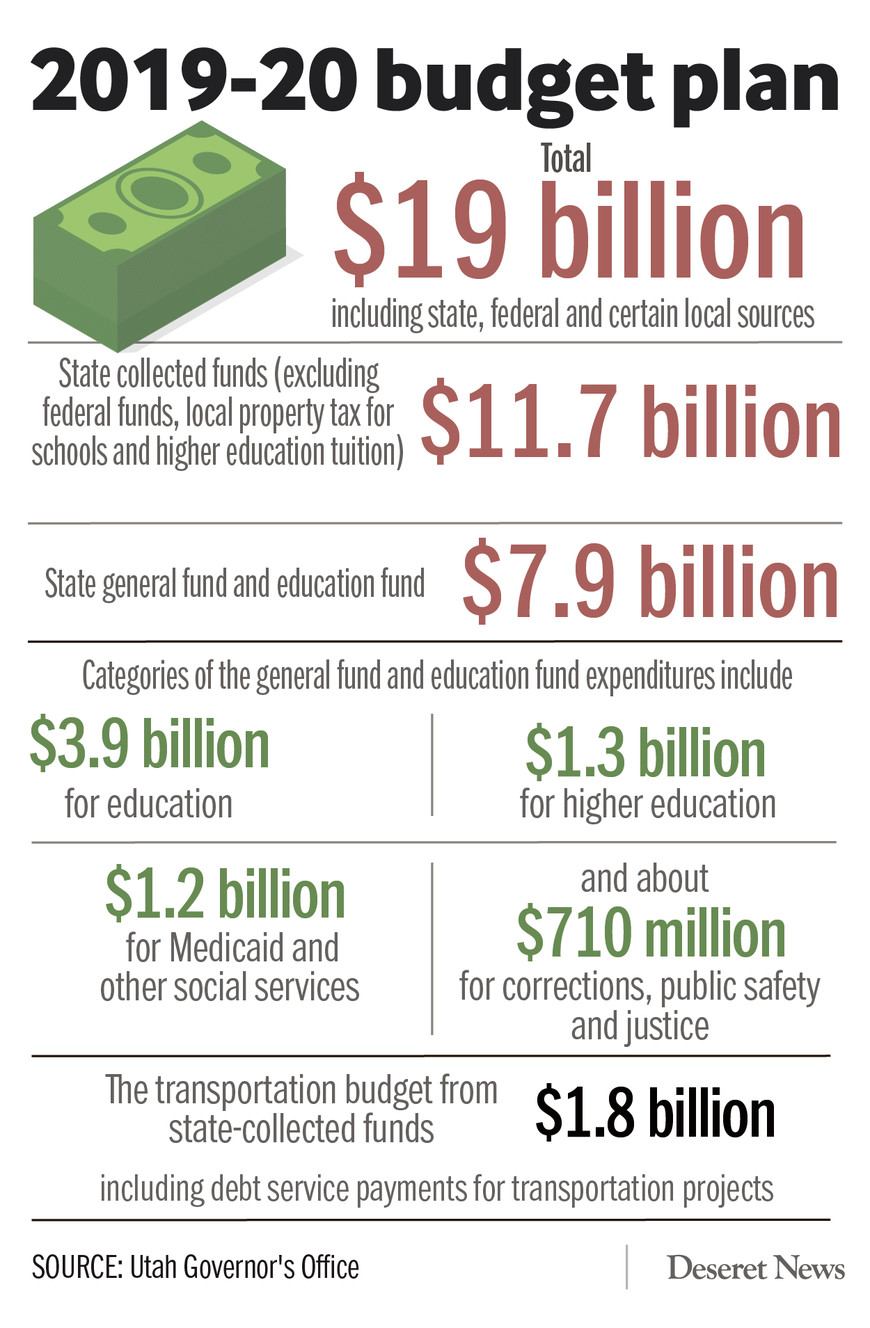 The state's total budget equals about $19 billion, up from about $16.8 billion from last year's adopted budget, Cox said.
The budget surplus came after voters rejected Nov. 6 the nonbinding Opinion Question 1, which was put on the ballot as part of a compromise between state lawmakers and backers of the citizen initiative Our Schools Now. The question sought guidance on whether lawmakers should raise the gasoline tax to improve funding for schools.
It also comes after voters approved Proposition 3 to expand Medicaid, bringing in an additional $1 billion into the state's coffers for health care coverage, including $800 million in federal money and $135 million in state money, Cox said. That increased the state's sales tax rate from 4.75 percent to 4.85 percent.
Voters were "probably correct" to shoot down Question 1, Herbert said. "Had we known we would have $1.3 billion in surplus a year ago, we may not have been arguing the same thing for Our Schools Now."
Of that new money, the governor is prioritizing about $445 million — $293 million in ongoing funds and $152 million in one-time funds — toward education.
That new money, the governor said, would meet his goal of investing $1 billion into K-12 education over five years a year early.
"That's remarkable," Herbert said, crediting the strong economy and state agencies for being disciplined in their spending.
Herbert is also proposing $127 million for a 4 percent increase to the value of the weighted pupil unit, the basic building block of public education funding.
Additionally, the governor proposed $30 million in one-time money for teacher bonuses, $115.7 million in ongoing flexible funding (including $50.5 million of new funding) to support counseling, mental health and other needs, $15.3 million for students at risk of academic failure, and $50 million for scholarship endowments.
Herbert also proposed $104 million to upgrade school facilities, $19 million for equipment and technology, and $6.2 million for a three-year bachelor's degree pilot program.
Herbert also prioritized $100 million to fund a variety of air quality projects, including a wood stove replacement program.
To increase the quality of life in communities, Herbert recommended $30 million to fund efforts to preserve open space as part of mixed-use community plans, including funding for redeveloping underused spaces and large community parks.
He recommended setting aside $17 million in the Olene Walker Housing Loan Fund to fund affordable housing initiatives.
He also proposed $20 million to purchase about 2,800 acres in Duchesne County to create Utah's first state forest at Tabby Mountain.
Overall, Herbert said, Utah is "in a very enviable position" budget-wise.
"This may be the best budget we've ever had," he said, adding that it "anticipates the future and changing economy" while also adding to past priorities.
×
Photos