ST. GEORGE — A southern Utah beehive owner says he's out at least $10,000 after likely vandals smashed through 15 of his beehive boxes sometime in the past couple of weeks.
"It took my breath away," said Brett Chamberlain, owner of Brett's Bees, as he shook his head. "It's a lot of work."
Chamberlain had his boxes stacked in groups of four with two boxes high at an apiary stashed near the Virgin River. When he went to check on his honeybees on Tuesday to make sure that the bees had food and "tucked in" for the winter months, Chamberlain found many of the boxes were destroyed beyond repair.
"It just looked like a tornado had hit," he said. "That's what I had thought at first."
As Chamberlain inspected the damage closer, he found tire marks on the fragments of the smashed boxes.
It appeared that someone had run over the boxes repeatedly.
"They used their vehicle like a battering ram, ramming the hives and running them over, crushing them," he said.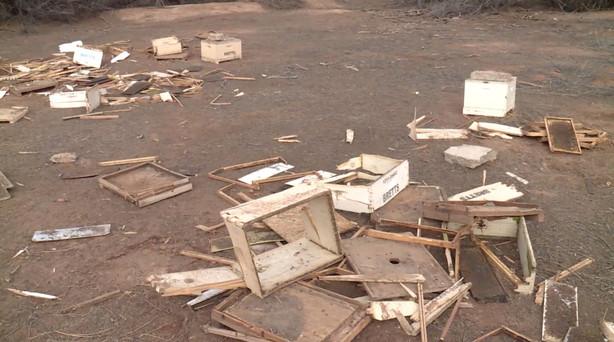 Chamberlain estimates the boxes had been destroyed around Thanksgiving because it had appeared that other animals had gotten to the wood and honeycombs. He said of the 15 boxes, 10 were "healthy" and would have had thousands of bees in them. Chamberlain believes they would have been able to have gone to California to pollinate.
He added that he believed three or four of the boxes were salvageable.
"We have a couple of hives that we were able to combine the surviving bees out of the boxes to make healthy hives so they can survive the winter, but the bulk of the equipment is unsavable," Chamberlain said. "It's just destroyed; it's kindling."
Honeybees are used in pollinating all sorts of fruits and vegetables. The American Beekeeping Federation says they contribute to nearly $20 billion in U.S. crop production.
Losing thousands of bees means a hit in revenue.
"We estimate the value loss to our honey crop and to our pollination and to our business was over $10,000," Chamberlain said, looking at the carnage strewn across an open field.
There are no clues as to who destroyed the boxes. Chamberlain said he believed it was like done by teens who didn't realize what they were doing because it could have been done in the dark and they may not have known the boxes were full of bees.
"It's just kind of sad to see," he said.
Anyone with information about what happened to the beehive boxes is encouraged to call St. George police at 435-627-4300 or Chamberlain at 435-467-3364.
The incident isn't the first problem southern Utah beekeepers have dealt with in 2018. In July, Washington County Bee Inspector Casey Lofthouse and a group of other beekeepers offered a $4,300 reward after a string of beehive thefts and vandalism.
It's unclear if the incident Chamberlain came across Tuesday was connected to the previous incidents.
Contributing: Marc Weaver, KSL TV
×
Photos
Related Stories