WEST VALLEY CITY — As men and women in uniform gathered in the Maverik Center Wednesday morning to prepare for the funeral of South Salt Lake police officer David Romrell, a slide show played on two screens above the flag-draped casket.
One photo showed a smiling Romrell in his Marine uniform with his wife, Elizabeth. Another showed him with his wife and their new baby, 4-month-old Jackson.
During the funeral, a family friend read a letter Elizabeth Romrell wrote to her husband after his passing, much like the letters she wrote for him when he was away on duty.
"Our son will know that you would do everything to protect him, ultimately giving your life to make sure that he was safe," Romrell wrote, according to Michelle Watts.
"You meant everything to me in this lifetime. You loved me for me and you loved us for us."
She said when the two first met, they saw each other from across a room but were too shy to talk to each other at first.
"At that moment, I knew that I had met my best friend and the love of my life," Watts read.
According to the letter, Romrell could "rampage a bag of chips" and loved "prancing around in silkies."
He spoke to his wife "kindly, warmly and respectfully," Watts read, and prepared her emotionally for the trial she is going through now. He saw her strength even when she didn't, acording to the letter.
"This is the greatest, most profound pain I've ever dealt with," South Salt Lake Police Deputy Chief Dwayne Ruth told reporters before the funeral.
While Ruth spoke to reporters, law enforcement officers and military members in a spectrum of uniforms flowed into the arena to pay their respects.
"What struck me about David, aside from the fact that he truly was just a noble warrior, was how humble he was. … and lived a life of public service. Today we honor and are proud, so proud, to take part in this event," Ruth said.
"We're a brotherhood. I think that we've established that, especially in Utah, that in times like these, it's recognized by the public that we come together," he said, adding that police officers, military members and firefighters all share a similar commitment to helping others.
On Nov. 24, Romrell was hit by a fleeing vehicle and killed. He is the first South Salt Lake officer killed in the line of duty.
The fatal confrontation happened when Romrell and another officer responded to a report of a burglary in progress at 3575 S. West Temple. As officers arrived, two men attempted to drive away from the business complex. The driver of the vehicle then accelerated toward the officers, hitting Romrell. The driver, Felix Anthony Calata, 32, of West Valley City, was shot and killed.
During the funeral, South Salt Lake Police Chief Jack Carruth said while Romrell was in the hospital, hundreds of officers came to show their support and are still showing their support. Officers at the department have received an "outpouring of love" from the community, he said.
"In David's last stand, he was a warrior. … He fought like a police officer. He fought like a Marine," Carruth said.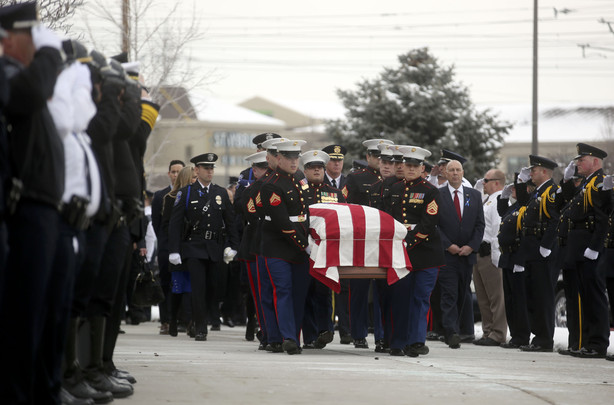 He said his last conversation with him was about how excited he was to be a father. Officers will share the many memories they have of Romrell with his wife and son, Carruth said.
"When an officer's heart is larger than their courage, there shall be no other guardian worthier of wearing a badge," according to Carruth, words he said he wrote for Romrell.
Before becoming a South Salt Lake police officer, Romrell, 31, served several tours of duty as a U.S. Marine.
Master Sgt. Scott Hall, who served with Romrell in the Marines, said that during a deployment, up to 12 Marines had to work together in a small office. During that time, Hall and Romrell got to know each other.
"No matter how much negativity came down with adverse things that we faced, it didn't matter. He was ready to deal with it," Hall said.
Romrell "didn't get nervous when he was talking to senior leadership. Most people kind of freeze up," Hall said.
He said when Romrell returned to Utah, he wasn't sure what he wanted to do and would call Hall to run ideas by him and ask for advice. Hall said police service "was very fitting for him and what he wanted to do."
"He always wanted to help people," Hall said. "He meant a lot to his Marines. He will forever be missed by his brothers in arms."
According to the South Salt Lake Police Department, he loved motorcycles and his truck, the outdoors and smoked sausages with barbecue sauce. He and his wife talked about retiring in Montana.
His co-workers called him the "inventor of skinny jeans because before skinny jeans were a thing he would have his mom, and/or friends sew his pants so they were skinny," the department said.
In a video played as hundreds of mourners poured into the arena before Wednesday's service began, his colleagues, friends and family members described him as a selfless friend and hero who loved children. One of his nieces remembered him as "always happy and smiley, and always so outgoing, and that's what I love about him the most."
When asked what he was doing when he heard the news that Romrell had been injured, Ruth visibly held back tears as he described hearing what had happened on his radio, dropping what he was doing, driving to the hospital and spending the night there.
But Ruth said he is most concerned for Romrell's family.
"I just want to reiterate, South Salt Lake Police Department's support … to officer David Romrell's family. We are grieving with you. To my officers, I love them dearly," Ruth said.
"Officer David Romrell will never be forgotten."
This story will be updated.
×
Photos
Related Stories