Estimated read time: 3-4 minutes
This archived news story is available only for your personal, non-commercial use. Information in the story may be outdated or superseded by additional information. Reading or replaying the story in its archived form does not constitute a republication of the story.
SALT LAKE CITY — To hear Preston Alder tell it, your unfinished basement has income potential and the capacity to build community.
Alder, one of the founders of Neighbor, an early-stage tech company selected one of three finalists in Schmidt Futures' American Dreams Idea Challenge, recognized a need for alternatives to commercial self-storage when he and his wife were headed to Peru for a summer and they had no place to store their belongings.
"Not only were all the ones in our surrounding area completely full, but the ones that weren't full were very expensive. So we ended up storing our stuff in our neighbor's garage and it was heaven-sent for us. It was very helpful to have a place to put it at a more affordable rate. I had this realization, 'Why isn't everyone doing this?'" Alder said.
Thus Neighbor was born, which connects people with unused storage space with people who have storage needs. "Hosts" can earn $1,000 to $20,000 a year.
On Thursday, the founders of Neighbor received a $30,000 check during a press conference at the University of Utah to announce the three Utah finalists in Schmidt Futures' challenge. The contest seeks innovations that show potential to increase net income by 10 percent for 10,000 middle-class households in their communities by the end of 2020.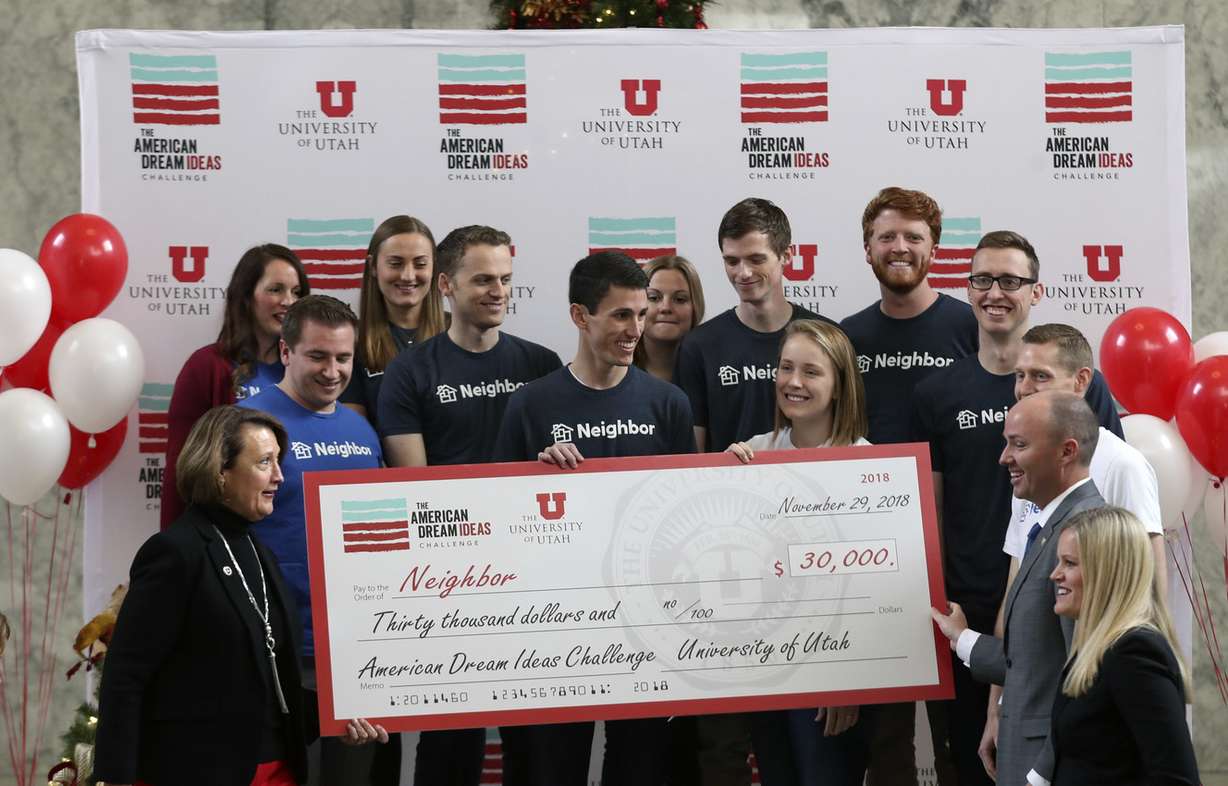 The two other finalists were:
Mobility as a Service, a collaboration among Utah Transit Authority, the Utah Department of Transportation and Salt Lake City by enabling residents with multiple cars with access to alternative transportation services.
The Utah Coal Country Strike Team, led by the Kem C. Gardner Policy Institute to revitalize housing stock, promote tourism and create economic development incentives to spur development in Carbon and Emery counties, which have been hard-hit by declines in coal production.
Each of the finalists received a $30,000 check and will go on to compete for $1 million in funding among finalists selected by three other anchor universities. The finalists will use the money to refine their ideas and presentations for the national round of competition in late January.
Schmidt Futures is expected to announce the winners in July 2019.
Courtney McBeth, project director at the U., noted that of all ideas submitted to the four public universities hosting the challenge — the U., Ohio State, Arizona State and University of Wisconsin-Madison — more than half came from Utahns.
"The challenge across our state brought together more than 150 proposals. Across our entire alliance for the American Dream there were 260-ish proposals, and Utah came up with 150 of those, so it showed a lot of energy and excitement from our state," McBeth said.
Utah Lt. Gov. Spencer Cox said the challenge clearly resonated with Utahns who have an entrepreneurial spirit "where people just want to do stuff, make stuff and create stuff combined with this duty to give back and strengthen our communities. This is really the perfect environment for a competition like this."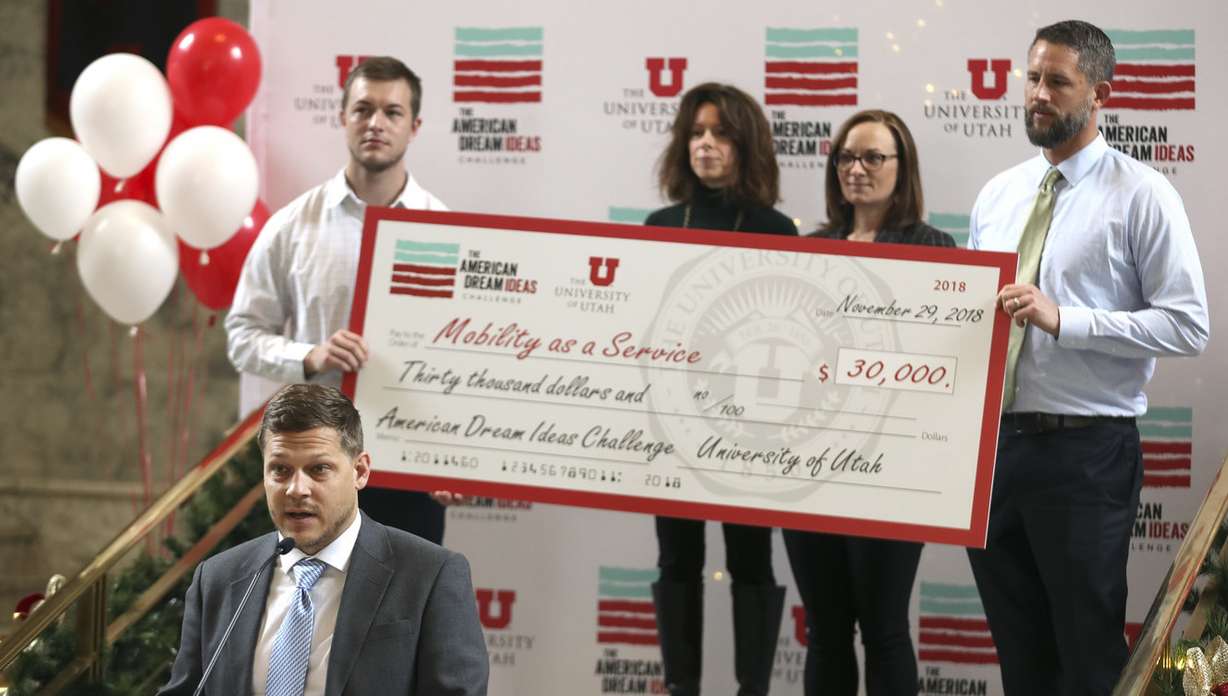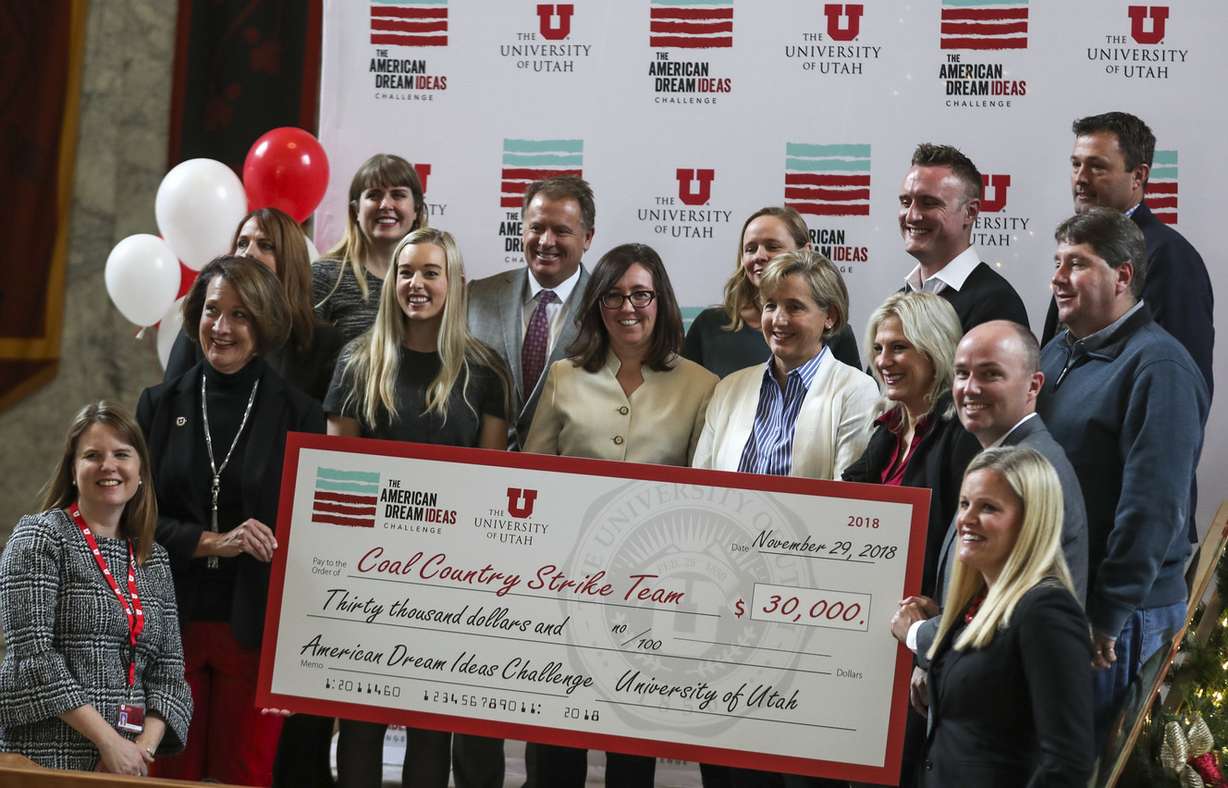 Cox and U. President Ruth Watkins led an advisory board that selected the Utah finalists after hearing presentations from 10 teams chosen in the first round of the statewide competition.
"An incredible amount of creativity and hard work went into each proposal, illustrating how deeply Utahns care about their communities and about helping one another succeed," Watkins said.
"We are so pleased to contribute to a project we believe can make a lasting, positive difference in our state, benefitting thousands of Utahns."
The Alliance for the American Dream is an initiative of Schmidt Futures launched in April. The alliance is a network of communities, each anchored by a public research university, that provides access to capital and access to market for new ideas to support distressed communities locally.
Schmidt Futures seeks to "advance society through technology, inspiring breakthroughs in scientific knowledge and promoting shared prosperity," according to its website.
Eric Schmidt, its founder, is a technical adviser to Alphabet Inc., a member of its board of directors and its former chairman. Alphabet Inc. is the parent company of Google. He lived in Utah during the 1990s.
×
Photos
Related stories
Most recent Utah stories