This archived news story is available only for your personal, non-commercial use. Information in the story may be outdated or superseded by additional information. Reading or replaying the story in its archived form does not constitute a republication of the story.
THE GREAT OUTDOORS — There is a handy tool that you should use before taking the kids, or yourself, out for a fishing adventure, which can increase your chances for success.
The Utah Division of Wildlife Resources website has a page that contains all the Utah waters and when they are stocked with fish. The report lists the name of the body of water, county, species planted, quantity of fish planted, average length of the species and the date it was stocked. That information can be very beneficial for anglers to have more success so you don't waste time visiting a small reservoir that hasn't been stocked in months. There is even an archive where you can look back on past years' reports and see what's been stocked and where.
How does the fish stocking happen?
Depending on the body of water, fish stocking takes place either by truck or airplane delivery. The truck stocking happens either by officials dumping them from the large water trucks or netting the fish and carefully placing them into the water. In high mountain lakes where there is no road access, planes drop the fish into the water while flying low over the lake.
"We can stock many more fingerlings for the same price we can stock catchable fish," DWR official Craig Schaugaard said. "If the water can support fingerlings, it is much cheaper to stock fingerlings and let Mother Nature feed them to get them to a suitable size for anglers. If it wasn't for fingerling stocking, we wouldn't be able to air stock the high mountain lakes because when the fish get bigger than about 4 inches, they don't survive the fall."
Looking at some stockings and how they affect current fishing conditions
Little Creek Reservoir in Rich County was terrific for fishing in spring and early summer, due to an April 19 stocking of 10-inch rainbows, which was the latest stocking of that species, as of Monday afternoon. The water quickly warms at this small reservoir and during the summer, moss begins to choke out the lake (meaning it's difficult to cast without picking up moss.) Fish numbers have also been depleted since then, due to angling pressure.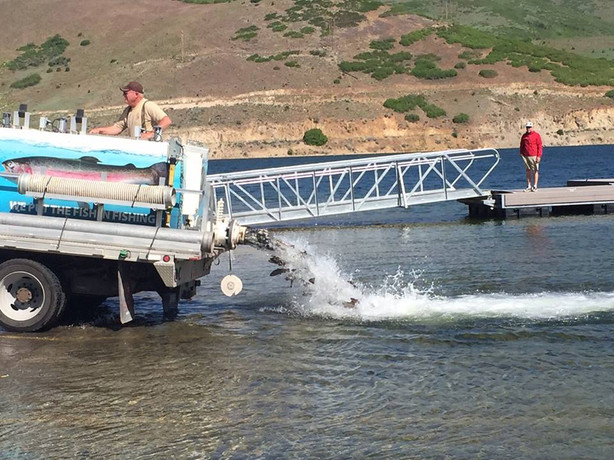 Tony Grove Lake in Cache County received its last stocking on Aug. 1, making it a fishery that was active until roughly mid-August.
Large numbers of rainbow, kokanee and tiger trout were planted at Flaming Gorge and Strawberry reservoirs this year, with some of catchable size and some not, in order to supplement the already well sustainable fish population in the area. Strawberry received high numbers of fingerling cutthroat trout and kokanee salmon up until September. These stockings were primarily for maintaining a good supply of fish for these heavily targeted waters.
Many larger waters (that one might not suspect of being stocked) are also stocked annually, such as Bear Lake, East Canyon, Fish Lake and Jordanelle. This year, small wipers, a sterile cross between a white bass and a striped bass, were introduced in East Canyon, as it is now a more multi-species body of water. Likewise, Scofield Reservoir in Carbon County has had a variety of fish introduced, including tiger muskie, cutthroat and rainbow trout, and wipers.
In northern Utah, the Bountiful Pond was stocked with catchable rainbow trout and catfish up until mid-October. Adams Reservoir, also in Davis County, was stocked Oct. 13 with 9 ½ inch rainbow trout. Lost Creek Reservoir in Morgan County receives numerous stockings throughout the year; some are large enough to catch, others are fingerlings that will grow to produce better fishing in the future.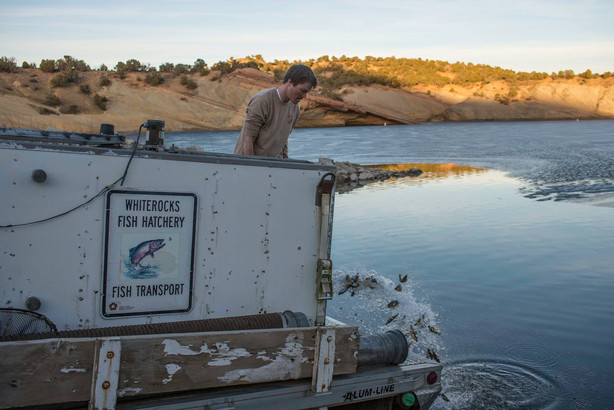 Salt Lake County's Cove Pond was most recently stocked on Oct. 9 with 1,500 11.5-inch rainbow trout. The Sandy Community Fishery was last stocked on Oct. 2 with catchable rainbows. Willow Park Pond had some almost 15-inch rainbows planted on Oct. 18, and Utah County's Tibble Fork Reservoir received 1,500 11-inch rainbows on Sept. 10.
"The decision to what species to stock in waters is made by biologists in the regions," Schaugaard said. "It is mainly made on what individual waters will support."
Where to find helpful fishing reports
The waters listed above are only a few of those included on the DWR website. Utah's fish stocking reports can be found here and the reports that tell current fishing conditions can be found here. Utah.com also has an updated fly fishing report, which can be found here.
×