PROVO — BYU's disappointing — and ugly — 7-6 loss to Northern Illinois came down to one thing, head coach Kalani Sitake decided after moments of reflection and isolation over the weekend.
In a word: consistency.
That was Sitake's word of choice when he met with the media Monday afternoon, and it was the word he stressed to his team in the locker room, at practice, and in other communication.
The Cougars (4-4) have experienced plenty of highs this year: a season-opening 28-23 win over Arizona, the 24-21 win over then-No. 6 Wisconsin that continues to age poorly, and a high-octane 49-23 win over Hawaii in freshman quarterback Zach Wilson's debut.
But in each of those wins, BYU followed up with a dud.
And Sitake took the full blame for that inconsistency.
"That's my job as a head coach," he said Monday. "We've played some really good games, and played some really bad ones. Even within games, we've had some really good drives — but it's not consistent enough. We have really good players who do everything we ask them, but I need to do a better job of making sure our team and our program is more consistent."
The Cougars lost to Cal, 21-18 at home the week after beating Arizona. The Cougars' next FBS game following the win over the Badgers was a 35-7 loss to Washington. And on Saturday, after finding its offense against the Rainbow Warriors, BYU was listless in a 7-6 loss to Huskies when the offense failed to score a touchdown and the defense failed to gain a turnover.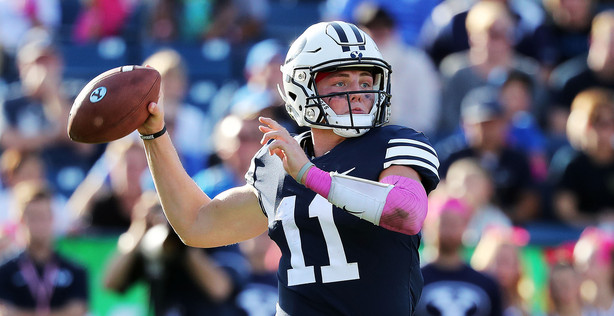 The Cougars are 1-3 in 2018 after a victory, with the lone win coming against FCS McNeese State. BYU is 7-7 in three seasons under Sitake after a win — a mark that includes a five-game winning streak to end the 2016 season. The Cougars did not have a winning streak — even at two games — en route to a 4-9 record in 2017.
BYU, which will play its 100th game as an FBS independent Saturday against Boise State (8:15 p.m. MT, ESPN2/KSL Newsradio), hasn't handled any modicrum of success well.
Look at Sitake's overall coaching record before the second of three "rivalry games" with the Broncos (6-2, 4-1 Mountain West) — he's 17-17 overall, a record that smells of either inconsistency or mediocrity.
Either way, Sitake wants to fix it.
"I have to evaluate what I can do," Sitake said. "But I look at our players, and we have a lot of great players. We just need to have a system and find a way to devise a scheme on offense, defense and special teams where our guys can highlight their strengths."
Everyone has a job to do to fix a BYU team that out-gained Northern Illinois 301-204, but lost to a point and converted two red-zone chances into Skyler Southam field goals.
"It's about just doing your job, no matter who you are playing," BYU linebacker Isaiah Kaufusi said. "Consistency is knowing what you've got to do, and doing that. I think if we can do that, we'll see that we are a great football team; we can compete with anyone."
Tight end Matt Bushman, a sophomore who has become one of the elder statesmen on a team with his two years of starting experience, cited the oft-mentioned "one-eleventh" of work in contributing to the Cougars' consistent attitude.
Don't try to do too much; just do your job, he said. But if you make a mistake? Don't let it affect the next play, Bushman was quick to add.
Mistakes happen. Moving on quickly is a key to consistency, and that's something BYU's 25 freshmen who have played in 2018 are learning on the fly.
"You have to have a short memory in football," Bushman said. "If you make a mistake, you can't mope around on the sideline. It's important to have a short memory, and we are confident even if we mess up.
"Experience is a really important thing. We have a lot of freshmen playing, and coming from high school football is very different. When you mess up … and you're younger, you get more down on yourself. But as you get more experience, you realize it's one play out of 50 or 60 in a game, and you have 59 other opportunities to make this team roll."
×
Related Stories