This archived news story is available only for your personal, non-commercial use. Information in the story may be outdated or superseded by additional information. Reading or replaying the story in its archived form does not constitute a republication of the story.
PROVO — What felt like over a decade ago — it was actually just seven years ago in 2011 — running back Matt Hadley was setting state records and leading small-school Connell to a Washington state title.
On Saturday night, he was back in the end zone — this time at BYU, at a position he wasn't supposed to be playing, in a season he wasn't supposed to still be in school.
The medical-redshirt senior ran for a team-high 91 yards and a touchdown late Saturday night in the Cougars' 49-23 win over a Hawaii team that carried a 6-1 record and lofty expectations into LaVell Edwards Stadium.
And while most of the headlines revolve around the emergence of true freshman quarterback Zach Wilson — deservedly so, after he threw for 194 yards and three touchdowns, and ran for a 23-yard score — don't overlook the raised contributions of a number of BYU offensive players as they helped snap a two-game losing skid to improve to 4-3 on the year.
"It actually felt really good," Hadley said as he tiredly pulled himself into the postgame press area beneath the stadium with other offensive players like lineman James Empey. "It's my first time (running for a touchdown) since high school, which has probably been over a decade for me. At least, it felt that way.
"I loved the atmosphere and I loved the experience."
Wilson's highlights shouldn't be underserved, and they won't be. Plenty of tape, highlights and film review will dissect the every move of a 19-year-old freshman just a few months removed from his senior prom. Those takes will see his brilliant throws — like a 26-yard touchdown to Gunner Romney on fourth down after the Rainbow Warriors called timeout trailing 42-23 with just under four minutes remaining.
They'll also see the poor throws, like Wilson hedging back-to-back ill-advised tosses into cornerback Rojesterman Farris II, one of which went for a brief 4-yard interception return.
But Wilson was the only BYU player who was challenged — and rose to the occasion — Saturday night.
"Everyone knows a quarterback can't be successful without a good line, or good receivers — or, shoot, even a good scheme," Wilson said. "Everything was in place tonight."
And Wilson — well, we'll just wrap up his section by saying, not bad for a rookie. A 19-year-old "baby quarterback," even.
Just a 19-year-old B-A-B-Y ... with a 1-0 record as a starting quarterback. https://t.co/24aOKOWmr5 //#BYUFOOTBALLpic.twitter.com/RwabIkv489

— KSL SportsBeat (@kslsports) October 15, 2018
There was redshirt freshman Lopini Katoa, the former American Fork standout who burst onto the scene in a big way with 83 yards on 16 carries, including a 12-yard touchdown to open the scoring.
Riley Burt, a former Box Elder High star, came back from an injury-plagued career to added 59 yards and a touchdown on nine carries. Romney had 39 yards and a touchdown in back-to-back games, Aleva Hifo rebounded from his role as jet-sweep initiator to catch three passes for 45 yards and a score, and former Lehi standout Dallin Holker caught his first career TD, a 13-yard strike from Wilson that gave the Cougars a 28-3 lead at halftime.
The high-powered offense was the opposite of what head coach Kalani Sitake described a week ago after a blowout loss to Utah State.
"That's more like BYU football," BYU center James Empey said. "We have a long ways to go, and tonight was far from perfect. But we'll see it on film, and where we can get better."
Then there were the "big uglies" up front, an offensive line of Empey, Tristen Hoge, Keanu Saleapaga, Brady Christensen and Austin Hoyt that plowed the way to 474 yards of offense, including 28 yards on the ground, against a soft underbelly of Hawaii's defense.
"Those guys are unbelievable," Hadley said. "Not only are they strong and execute like they are supposed to, but they are smart. For us, as ball carriers and quarterbacks, you love that."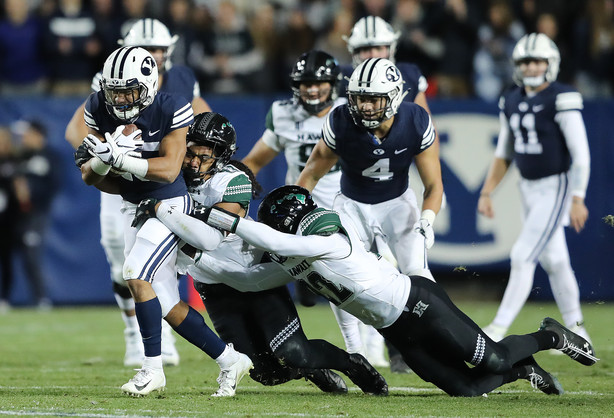 Empey likewise deflected the credit Hadley try to throw on him.
"We had a goal tonight to run the ball, and we attacked it this week with technique and just to be a little bit nastier," Empey said. "We were able to do that, to get up on them.
"But it's nice to have backs who hit holes, who run hard, and who break some tackles, too."
BYU enters its bye week above .500 and with as many wins as the entire 2018 season combined. They'll come out the other side of the bye with a home game against Northern Illinois before traveling to the blue turf at Boise State.
The rest of the season includes dates with UMass, New Mexico State and the season finale at rival Utah.
There's still a lot of football left to be played — but after Saturday night, the Cougars look forward to facing the schedule. Sitake wouldn't even commit to playing Wilson at quarterback against the Huskies; the quarterback competition will resume Monday in practice with senior signal caller Tanner Mangum and freshman Jaren Hall, he said.
But even if for one night, the Cougars got a little bit of swagger back.
"I think each team has to find their identity and find their rhythm," Hadley said. "It's different for every team, but I think we are on our way.
"I think that today gave us a bit of a spark, and I feel good and confident that we can turn that into a flame and keep it burning."
×
Related Stories