This archived news story is available only for your personal, non-commercial use. Information in the story may be outdated or superseded by additional information. Reading or replaying the story in its archived form does not constitute a republication of the story.
AMERICAN FORK — An Orem mom and her brand new baby are home from the hospital.
While that happens every day, it's where the baby was born that's out of the ordinary. This baby was born right in the intersection of 100 East and Main Street in American Fork.
Emily Acor says she has two guardian angels — Ashley Haws and Adrienne Braun — to thank for helping deliver her baby. They're twin sisters who were driving just off the American Fork Main Street exit Friday evening when Acor's mother flagged the women down.
"She was just waving. It was obvious that she was panicking," Haws said. "Boom! Life-changing moment."
Acor's mother flagged down the two sisters, asking for help getting her daughter to the hospital, who was 40 weeks pregnant.
"I was just saying over and over 'wait, wait, just please not her, not now, not now,'" Acor's mother said.
But the baby wouldn't wait and Acor's water broke on the way to the hospital. All she could do was pray.
"As we were driving we were praying out loud, 'we need angels,'" said the teary-eyed new mom. "It's very emotional."
She believes angels came that day.
"We were there but honestly, I feel like there were angels," Haws said. "It was angels telling me what to say, telling me what to do."
The women weren't able to make it to the hospital. Instead, they stopped in the middle of the intersection of 100 East and Main Street and delivered the baby.
"I was like, 'the baby's coming, the baby's coming,'" Acor said. "There's no stopping it. The baby is coming. Her head is coming right now."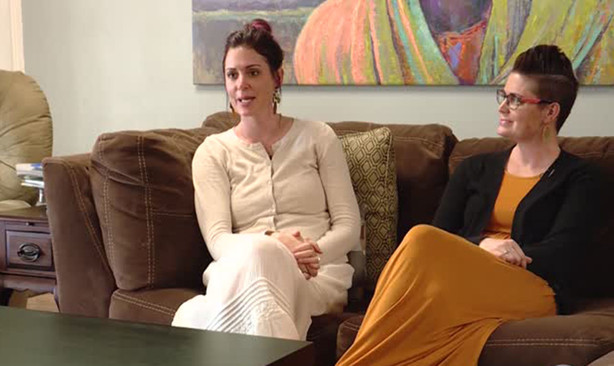 While the sisters don't believe they were the angels, everyone who was there that day knows what transpired was miraculous.
"Any chance to do good, to be good, to be the good, that's what life is about," Haws said. "And if someone prays for you, you better show up, 'cause they're having a baby!'"
Acor and her husband had two other children before baby Sophia made it three. Acor said she now considers Haws and Braun as part of her family as well.
×
Photos