Estimated read time: 4-5 minutes
This archived news story is available only for your personal, non-commercial use. Information in the story may be outdated or superseded by additional information. Reading or replaying the story in its archived form does not constitute a republication of the story.
SALT LAKE CITY — Numerous posters about an upcoming "superhero training" day were recently put up around the Ronald McDonald House, but 6-year-old Julian Mitchell might have needed only one in order to notice.
"They posted it all over the building. I was like, 'I can't dodge anything, because he'll see it and read it,'" joked Kyana Peterson, Julian's mother. "He saw it a couple days ago and was like, 'They're having a superhero party?' So once he saw it, I had to bring him."
As he met a host of superheros Sunday, Julian was "infatuated" with them, his mom said, "especially the Batman."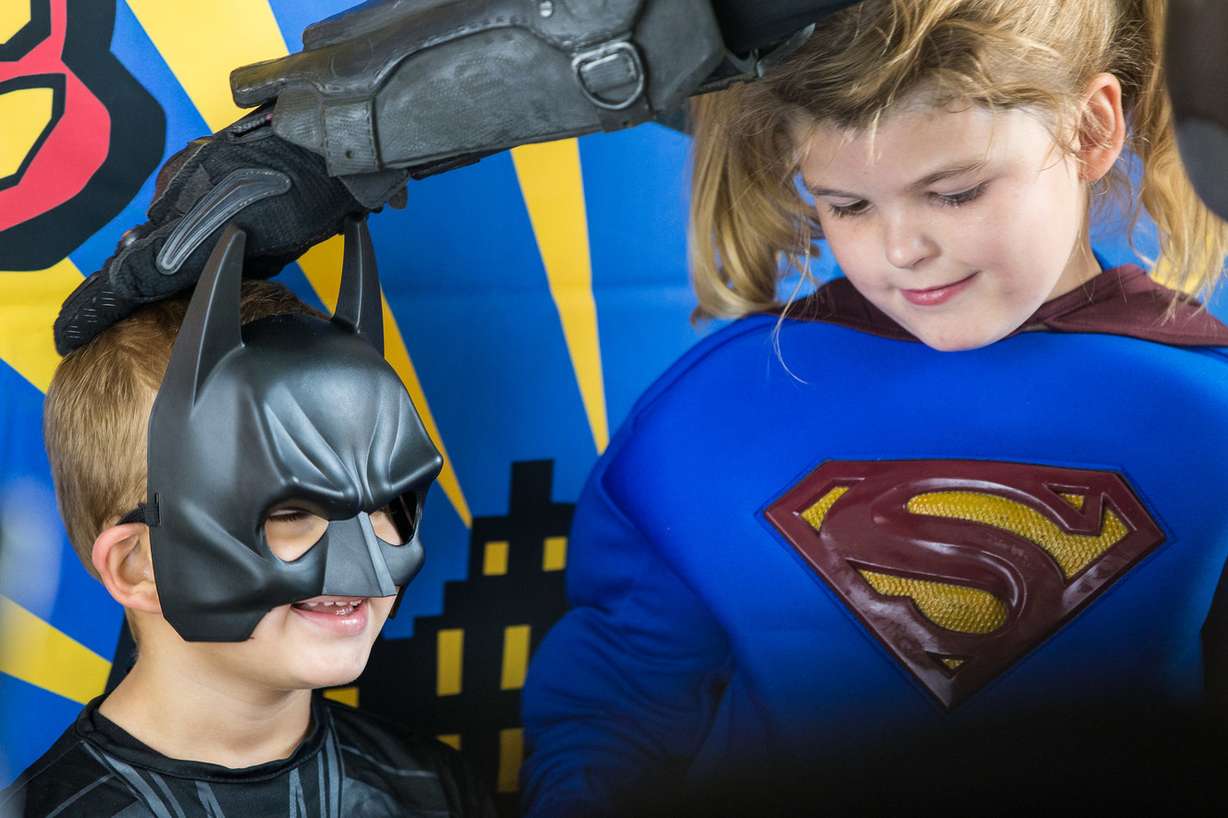 "He was really thrilled about it. It really lifted his spirits," Peterson said. "It made him feel a little better, it put a little joy in him."
Peterson and her son are from Las Vegas but are living at the Ronald McDonald House in Salt Lake City for 10 days every month while he undergoes treatment for a grade 4 medulloblastoma brain tumor.
It is with families like them in mind that the Rainy Days Foundation nonprofit held its first Superhero Training Academy at the Ronald McDonald House, a home away from home for the families of seriously ill or injured children receiving treatment in Salt Lake City. Peterson said the simple event had a true impact on not just her son's morale, but hers as well.
"It can be hard for you trying to keep yourself together, (plus) the kid," Peterson said. "But they have these people like the Rainy Days Foundation that come and lift both spirits. That's a great help."
Besides interacting with Batman, Superwoman and others, the "superhero training" for Ronald McDonald House children and their families included trying on costumes, professional photo shoots and sketches of them in their supernatural garb, crafting their own capes, and enjoying treats.
---
I feel like that's how you make a difference, how you change the world, one moment at a time.
–Chalese Stevens, founder of Rainy Days Foundation
---
Chalese Stevens, the founder of the Rainy Days Foundation, who lost her 4-year-old son, Kaleb, to a tragic drowning in 2004, said "it helps him come alive to do things like this." Kaleb would have turned 19 years old Sunday, she said, and "this is a way to celebrate" his birthday.
Stevens' other children also get a chance to serve others in recognition of Kaleb's life, she said, and "it's really cool to have them experience charity and giving back."
"I feel like that's how you make a difference, how you change the world, one moment at a time."
The Rainy Days Foundation is a Utah nonprofit whose efforts focusing on giving "families who are suffering through traumatic events and tragedy a feeling of hope, light and love through their journey of healing," according to its website. Serving at the Ronald McDonald House fit naturally with that mission, Stevens said.
"Losing a child is the worst thing that could ever happen to you. The only way to keep myself ... out of those dark places is doing things for others," she said. "It never stops hurting, but it does help fill that void."
Britney Dorscher, from Butte, Montana, who is staying at the Ronald McDonald House as her 11-month-old son, Jasper, recovers from a heart transplant, said her young boy's interaction with the superheroes Sunday was "really the first fun thing he got to experience as a child, when you think about it."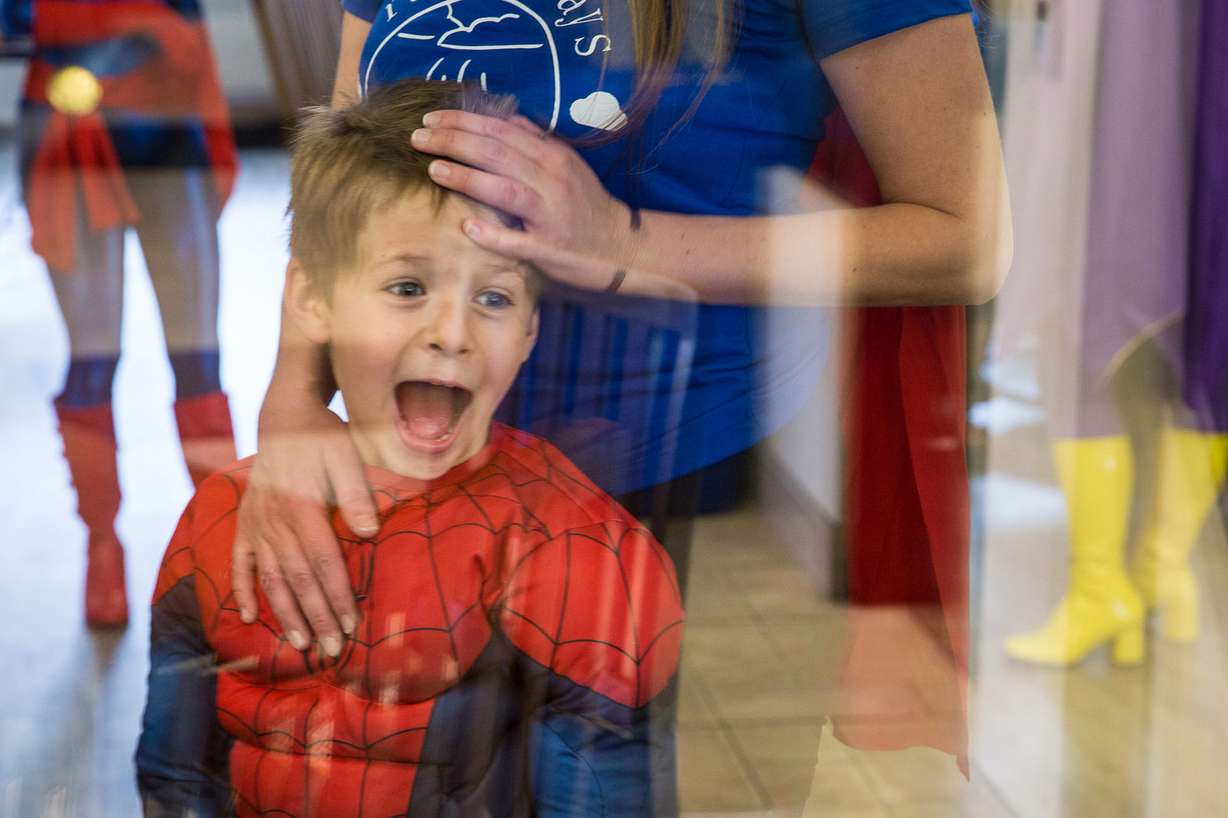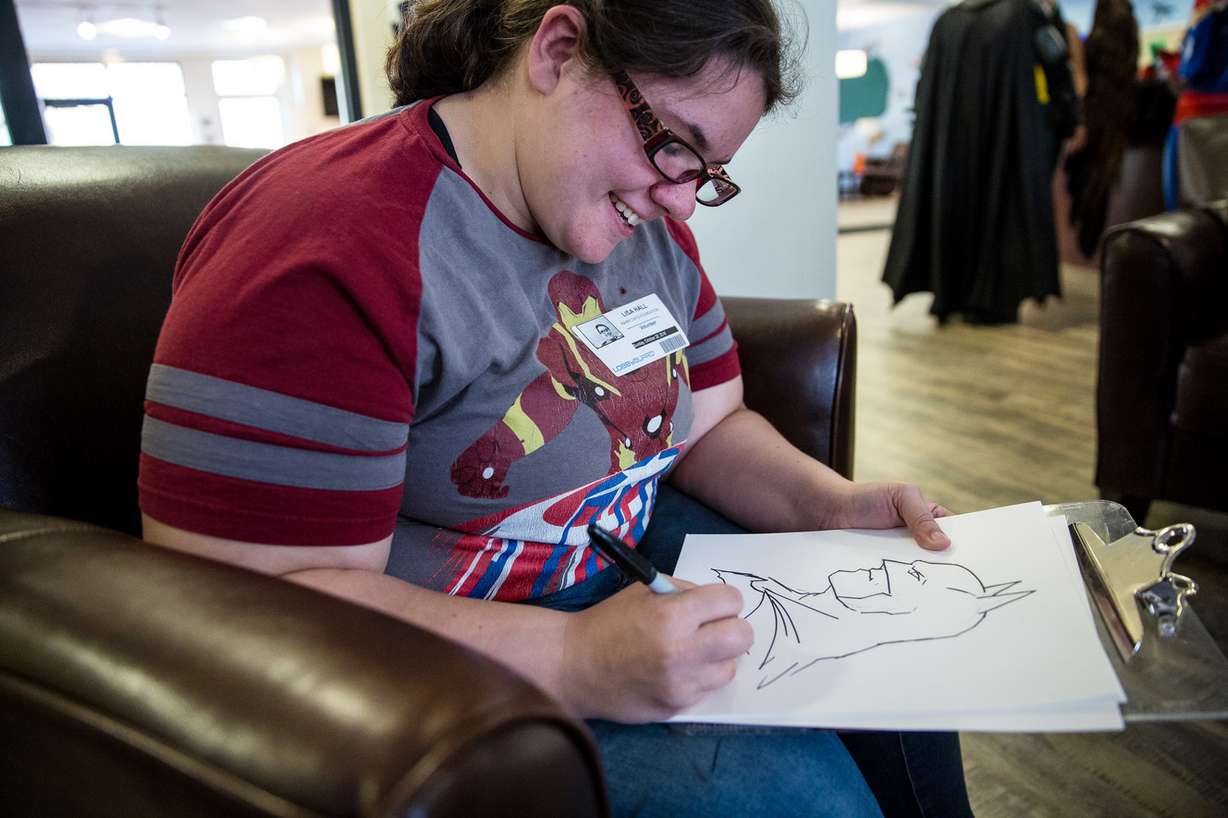 Because Jasper has a compromised immune system, the festivities were "the first time he was really allowed to be around a group of people."
"He was loving all the attention, and all the people and their costumes," Dorscher said. "I haven't seen him that happy and energetic in a while. That was wonderful."
Lori Pratt, of Cove Fort, Millard County, said special events at Ronald McDonald House are critically important so that "I don't have to be the one coming up with all the diversions" for her daughters while her 14-year-old son, Parley, undergoes leg lengthening physical therapy at Shriners Hospitals for Children - Salt Lake.
"The activities are super important to help with the sanity," Pratt said. "They really look forward to it."
Eleven-year-old Alice Pratt admits that living far away from home while her brother recovers can get "boring," and agrees the activities are important to shake things up. Alice especially appreciated being able to get involved and design her own superhero cape.
"I like doing crafty things," she said.
Laura Spencer, creative director for the Rainy Days Foundation, said the superhero theme was chosen for the event not just because it gets children excited, but it reflects that the young people living at Ronald McDonald House deserve to see themselves as heroes, too.
"I see them as heroes," Spencer said. "They deal with so much and they're so strong."
Spencer believes being a superhero in training may help each of the children put their day-to-day troubles in the background, at least for a short while.
"I think it gives them a chance to feel their lives are normal, have some fun, and forget whatever they're dealing with."
×
Photos
Most recent Uplifting stories