This archived news story is available only for your personal, non-commercial use. Information in the story may be outdated or superseded by additional information. Reading or replaying the story in its archived form does not constitute a republication of the story.
MIDVALE — For nearly three decades, Midvale has been working to make use of hundreds of acres of what city leaders felt could be prime real estate in the Salt Lake Valley that had been made uninhabitable following decades of industrial usage that left the land barren and polluted.
On Monday, Midvale City, the Environmental Protection Agency and Utah Department of Environmental Quality, along with the KC Gardner Company, Wasatch Group and Midvale City Redevelopment Agency, formally announced a plan to create the next high-profile, mixed-use project that will become an economic engine and residential haven for thousands of people in the years to come.
The redevelopment of Jordan Bluffs, a former EPA Superfund site, helped Midvale reclaim what is now known as Bingham Junction by reusing 351 acres of formerly contaminated land. Repurposing the land will serve the community for decades to come, said Midvale Mayor Robert Hale.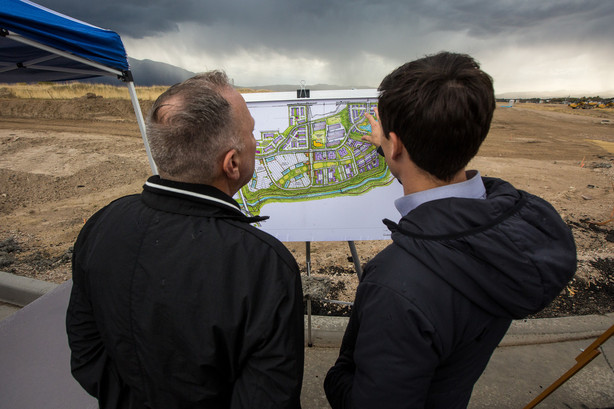 Speaking at a ceremony to commemorate the start of the phase 2 redevelopment, Hale said today Bingham Junction is a national example of what a community can achieve, and the second phase will exceed even those successes.
"We are going to see development here that will carry on in its support of Midvale and its residents and its businesses for 20, 30 or more years, perhaps before it gets repurposed again," he said. "It took some creative drive and engineering."
The same collaborative efforts of these agencies and developers are at it again, transforming another former Superfund site into a successful redevelopment model at View 72, phase 2 at Jordan Bluffs, Hale said.
"It will change this community (to make it) much, much better!" Hale said. "It will give new drive and verve to our city," he added.
Located adjacent to View 72 Corporate Center in Bingham Junction, the site is in the middle of the Salt Lake Metropolitan area along the banks of the Jordan River with access to regional transportation networks, explained Midvale City Economic Development Director Christopher Butte. The master-planned, mixed-use development includes more than 1,000,000 square feet of office, data center, commercial and residential components around a mile-long, linear park, he noted.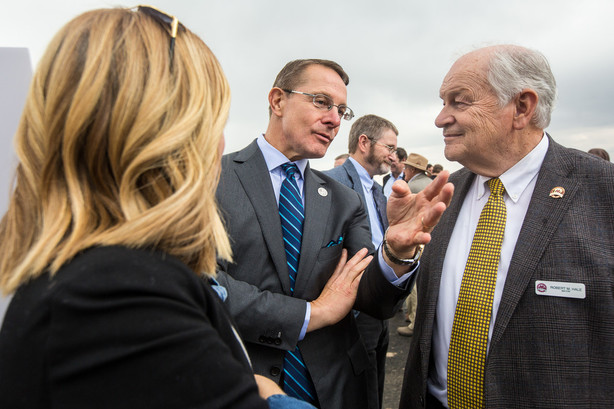 "We're not just creating new houses, we're also creating new employment," Hale said. Upon completion over the next few years, there will be essentially a new community within the city that provides high-paying, high-tech jobs with easily accessible on-site housing nearby, he said.
"(This redevelopment and Bingham Junction) helps change people's whole perception of the city," Butte added. Over the next few years, the development could add thousands of white-collar jobs to the area, he said.
Once rife with contaminants like lead and arsenic and plagued by a toxic reputation that derailed neighboring home sales, the sprawling Bingham Junction site now supports a $300 million tax base and is being heralded as a national model for cleanup and site redevelopment.
The Midvale slag site, first named to the EPA's Superfund list in 1991, was removed from the list in spring 2015.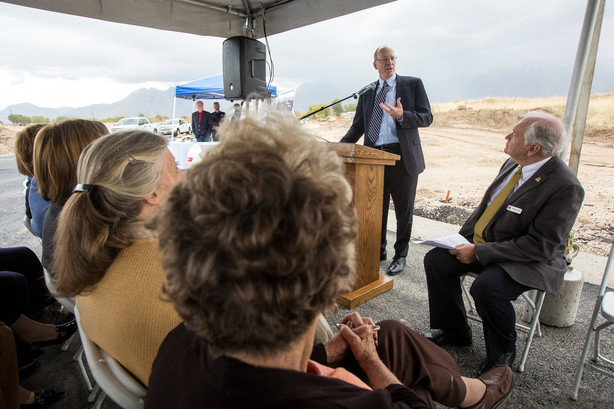 The land once sported a smelter that operated from 1871 to 1958, and an ore processing mill that left behind 14 million cubic yards of contaminated tailings. The redevelopment site now supports more than nearly 6,000 jobs, Butte said, as part of a thriving commercial development that has earned the city the Environmental Achievement Award for Excellence in Site Reuse.
In 1984, studies revealed that groundwater and soils were contaminated with heavy metals that were a legacy from processing the ore that came out of Bingham Canyon.
Ultimately, the tailings at the adjacent Sharon Steel site were capped and extensive remediation was carried out throughout the entire site, the heavy metals buried and held in place under layers of protective soils to prevent disturbance, said EPA Superfund Division Director Betsy Smidinger.
By 1999, the site became a Superfund redevelopment initiative as part of a pilot project for the EPA in the Western U.S. and was featured as a case study for the agency in 2011 and 2012 as an example for reuse of contaminated lands.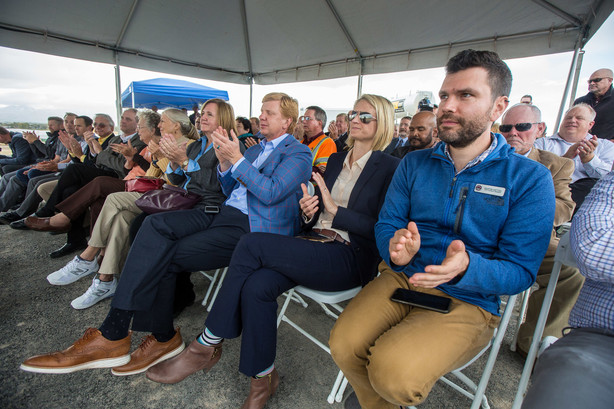 "What's important to remember is that this was once a viable part of the community and then became a Superfund site," explained Fran Costanzi, EPA Superfund Redevelopment Coordinator. "After the clean up, now we're able to bring it back."
"It's really important to us through this program to get land back into use and redevelop it, but at the same time human health and the environment are still protected," Smidinger said.
Projects like Bingham Junction and Jordan Bluffs are examples of how the state can work with the federal government and local municipalities to reclaim and redevelop formerly prosperous acreage that had been damaged and make it flourish once again, said Department of Environmental Quality Executive Director Alan Matheson.
"This is a great opportunity to turn blight into an amenity, to turn problem into promise," he said.
×
Photos
Related Stories
More stories you may be interested in