PROVO — Given the nature of BYU's two-game losing streak and the conversations in social media circles and across the wide message-board mentality of modern college football, first-year offensive coordinator Jeff Grimes knew he was going to get peppered with questions about a quarterback change after Wednesday's practice.
Will the Cougars go with senior starter Tanner Mangum, or make a change to true freshman Zach Wilson?
So, true to his title, Grimes set out on the offensive, before a single question had been asked.
"There's a possibility that we could start a player that has not started," Grimes said. "So yeah, there's a possibility that Zach could start — but we are not making a statement at this time."
OK, so there's a quarterback competition again, right? Incumbent Mangum, the 25-year-old senior with 6,200 career passing yards and 39 touchdowns, might be replaced by 18-year-old freshman Wilson, who is just a year removed from his senior campaign at Corner Canyon … right?
Well, yeah.
But hold on before anointing Wilson as the next BYU starter, quarterbacks coach Aaron Roderick was quick to point out.
"We were evaluating it every week all year, and just because (the media) didn't ask me about it doesn't mean that we weren't evaluating it," Roderick said. "Really, every position is no different.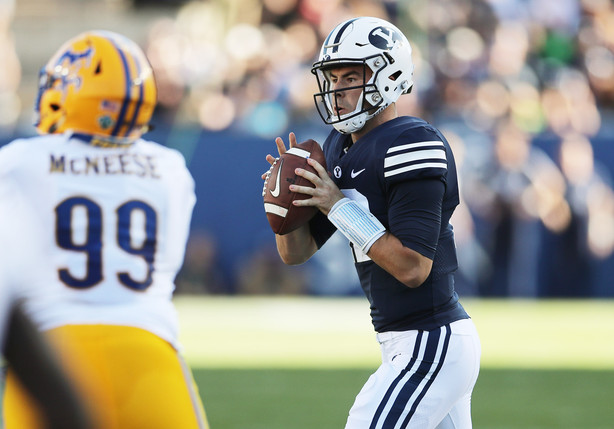 "As the season goes along, some guys keep improving and some guys take steps forward or backward. The competition continues all year — and I did say that all year."
So maybe there won't be a quarterback change when the Cougars (3-3) kick off at 8:15 p.m. MDT Saturday night against Mountain West foe Hawaii (6-1).
What will be the determining factor? Who will make the decision? Is it all based on game-readiness and experience, or does practice count for something?
Grimes had a few things to say about that, too.
"A guy has to show on a daily basis that he is preparing the right way, so practice does matter," Grimes said. "But there is something different about what a guy does in a game. Some guys can come out to practice and do great every day in practice, but they go in when the lights are on and don't perform as well."
Even after head coach Kalani Sitake called for more accountability and pivoted to a potential change in scheme, personnel or both Monday, the ultimate decision will likely boil down to Grimes and Roderick — with input from the head coach.
It's still status quo on the coaching staff, rather than DEFCON-4.
Related Story
"He's as involved as he has always been, which is he takes the role of the head coach that is involved and knowledgeable of the offense," Grimes said of Sitake. "But he allows us to operate the way that we best see fit on a daily basis."
Again, Wilson is back in play. In two games of play (against FCS foe McNeese State and one drive of a 45-20 loss to Utah State), Wilson has had differing results. He completed just 1-of-2 passes for 12 yards against the Cowboys, and took a sack on one of his two rushing attempts.
Then, against the Aggies, Wilson took over the final moments of the fourth quarter, with BYU trailing 45-13.
On that drive, Wilson juked Utah State defensive lineman (and TCU transfer) Tipa Galeai for a 26-yard gain on the ground (Galeai, you may remember, was the pass rusher who returned one of Mangum's few errant passes for a 56-yard touchdown Saturday night). He added three impressive throws, including a 20-yard back-shoulder toss to Talon Shumway that set up an 18-yard touchdown to fellow freshman Gunner Romney, a first collegiate score for both players.
"It was just different circumstances," Romney said of the TD from a backup quarterback. "Everyone is going to play hard for every single quarterback. But there was a different energy."
Freshman QB @zachkapono showed off his athleticism and versatility at the end of tonight's game vs @USUFootball.#BYUFOOTBALL#BYUVSUSUpic.twitter.com/BWFgxd4NuC

— BYUtv Sports (@byutvsports) October 6, 2018
Roderick admitted that Wilson "brought a little spark" to the game for the final drive — but was quick to add that there is a difference in playing loose in the final minutes of a loss, compared to managing a complete game from the start.
"He's done a good job when he has gotten the chance to be in there," Roderick said of Wilson. "It was definitely a low-pressure situation — but he did a good job. He's done a good job in practice and preparing every week; he's always been ready to play. He's a hard worker."
BYU coaches and players close practice to the media after Wednesday, as is tradition for all games. So the next time anybody sees Mangum or Wilson in a football uniform will determine who starts — just before kickoff at LaVell Edwards Stadium against the Rainbow Warriors.
Which one will that be?
That's anybody's guess.
Let the debate rage on.
"I'm the one who took so much crap for saying that stats are for losers, so I'm not going to talk about our passing stats," Roderick said. "But there have been a few signs of progress in some areas, and if we just keep working at it, we're going to be a complete, balanced offense. That doesn't necessarily mean 50-50 run-pass. But we want to be a balanced team, where we can throw it and run it."
×
Related Stories