PROVO — Pride, execution, and a two-game winning streak for the first time since 1974.
That's what it took for Utah State to go into Provo and walk away again with the Old Wagon Wheel.
Jordan Love threw for four touchdown passes and ran for another, and Utah State piled up 388 yards of offense to roll to a 45-20 win over in-state rival BYU Friday night at LaVell Edwards Stadium.
"There is a lot of pride for us at Utah State in a game like this," said Aggie coach Matt Wells, who earned a $5,000 bonus as part of a clause in his contract that stipulates wins over in-state rivals BYU and Utah. "I'm really proud of our assistant coaches and players. I couldn't be more proud of them."
Love completed just 18 passes for 165 yards, but the Aggies (4-1) used a balanced attack that included 222 yards on the ground to roll to their fourth-straight victory of the year.
The sophomore quarterback didn't have to do more than that.
"We kept Jordan Love clean most of the night," said offensive lineman Quin Ficklin, who started his career at BYU. "We ran the ball really well. We had a good scheme. The coaches had us ready to roll.
"It was a great night for us as an offense, a lot of fun."
Ficklin didn't hold back when asked how it felt to win the Wagon Wheel in back-to-back seasons.
"I think we might have wasted a little bit of gas bringing it down," he said dryly. "We've got a big truck, I guess."
Ron'quavion Tarver caught three passes for 18 yards and two scores for the Aggies, who got 88 yards on the ground from Gerold Bright in putting together back-to-back wins over the Cougars for the first time since 1974.
BYU (3-3), which lost back-to-back games for the first time in 2018, fell to 1-2 at home.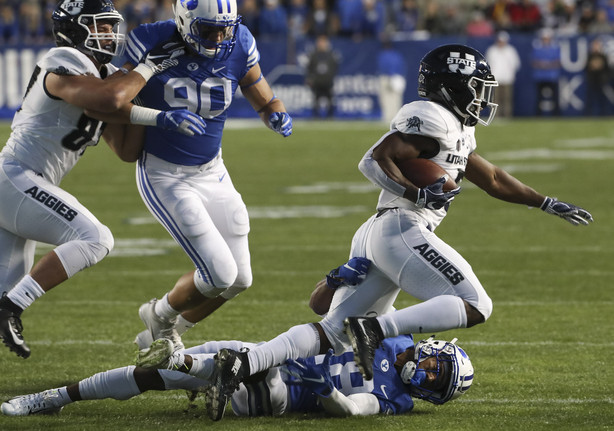 Tanner Mangum threw for 270 yards and two touchdowns, but also committed two turnovers — including a 56-yard interception return for a touchdown by Utah State's Tipa Galeai.
The Cougars had just 14 rushing yards through the first three quarters of play, and finished with just 39 yards on the ground. Backup quarterback Zach Wilson led the run game with 25 yards, including a 26-yard sprint when he was thrown in midway through the fourth quarter.
Talon Shumway caught five passes for 110 yards, and Matt Bushman added 78 yards on four catches for the Cougars, who got 21 yards on six catches from running back Lopini Katoa.
Wilson also had an 18-yard touchdown strike to fellow freshman Gunner Romney, the first touchdown of their respective BYU careers for both players.
But the Cougars couldn't consistently get going on offense, especially on the ground.
"They are a good team, and defensively they did some good things up front," BYU coach Kalani Sitake said. "We really didn't help ourselves in the run game, either. But the truth is, they stuffed us. I felt like in three games, we had an identity of running the ball, and we'll evaluate everything and find out what we are about."
Utah State jumped out to a 21-0 lead in the first half with a pair of touchdown passes from Love before Lopini Katoa put BYU on the board with a 5-yard touchdown grab from Mangum with 4:28 left in the half.
But the Aggies took a 21-7 lead at the break after Skyler Southam's 43-yard field-goal attempt was pushed wide right at the buzzer, then scored on a 6-yard pass from Love to Jalen Greene on the first drive of the second half in cruising to its biggest victory over BYU since a 34-8 win in 1968.
"It's been like 44 years since we have won back-to-back and winning here in Provo — it's big time for us now," Utah State safety Jontrell Rocquemore said. "It's love and brotherhood, and we are soaking it all in right now."
BYU's Kalani Sitake after 45-20 loss to Utah State .... https://t.co/YyxRoIbZsQ

— KSL SportsBeat (@kslsports) October 6, 2018
The Aggies held the host Cougars out of the end zone until Mangum found Dylan Collie for a 9-yard score with 3:07 left in the third, but Utah State already held a 35-13 lead after Southam's extra-point clanked off the upright.
Love rushed for a 2-yard score with 12:03 left in the game, shushing the crowd with a quarterback keeper that gave the Aggies a dominant 42-13 advantage on the first drive of the final quarter.
Dominik Eberle nailed a 47-yard field goal to finish the scoring for the Aggies, who gave up Wilson's late touchdown to Romney after the Cougars made a substitution in the final moments of the game.
"Utah State played a great game, and they are a great team," Sitake said. "Their only loss is to a ranked team at their house, and they came in here and gave us a good butt-whooping."
Next up
Utah State returns to Mountain West play next Saturday, Oct. 13 against UNLV. Kickoff is scheduled for 2 p.m. MT.
BYU hosts Hawaii at 8 p.m. MT, Saturday, Oct. 13.
×
Related Links