PROVO — Changes are coming to the BYU football team.
What changes, though, are anyone's guess.
Head coach Kalani Sitake explained during his Monday afternoon press conference that the Cougars' 3-3 season will spark some necessary improvements, especially after a 45-20 home loss to in-state rival Utah State last Friday.
The loss marked the first time since 1974 that the Cougars lost in consecutive seasons to the Aggies, and the first back-to-back losses of the 2018 season after a promising 3-1 start.
The change could even reach to quarterback, where incumbent Tanner Mangum has been the target of much fan angst over the past few weeks. The 6-foot-3 senior from Eagle, Idaho, is a 62 percent passer for 1,042 yards with five touchdowns and three interceptions in 2018, but he's found himself under fire from fans clamoring for freshman backup Zach Wilson.
Sitake didn't mention either quarterback by name Monday, but suggested no position is safe as he seeks to evaluate the Cougars' offensive funk.
"It's just like every personnel group," he said of the quarterbacks. "That one probably gets a lot of attention, but I am open to anything. Everyone will compete, and we will see who plays on Saturday — at every position."
Wilson played in the fourth quarter of the Cougars' loss to the Aggies, when the game was already out of reach. He scrambled for a team-high 25 yards on his first run, and led a six-play, 77-yard drive capped by his first career touchdown pass, an 18-yard strike to fellow freshman Gunner Romney, with 1:14 left in the final period.
In two games, Wilson has completed 4-of-6 passes for 64 yards and a touchdown, while running for 25 net yards on four carries.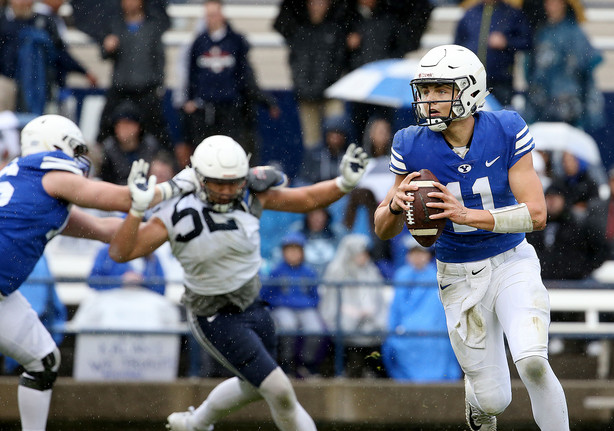 "He came in and had a good drive, and became the leading rusher with one run," Sitake said of the former Corner Canyon standout. "I think he did pretty well."
Sitake said the Cougars planned to "stay the course" by focusing on fundamentals of tackling and blocking in the week leading up to Saturday's home kickoff against high-scoring Mountain West foe Hawaii (6-1). Senior wide receiver Dylan Collie, who played three seasons for the Rainbow Warriors, also stressed patience as BYU players adjusted to new offensive coordinator Jeff Grimes six games into the season.
"I think it just takes patience," said Collie, who has caught eight passes for 68 yards and a touchdown, while adding six more carries through Grimes' patented jet sweep offense. "As we continue to grow every week, you see there are different facets of the offense.
"We're progressing; we're not taking any steps back, I promise you. Inside this building, we know that we are taking steps forward."
Sitake added that the locker room isn't fracturing after back-to-back losses, like it did during the Cougars' 2017 season that saw a losing streak stretch as long as seven games.
His graduate senior leader agreed.
"No matter who is starting at receiver, quarterback, running back, what matters is what we are doing for one another," Collie said. "This is a really good football program we have here, and there's a lot of talent at a lot of different places.
"I trust every one of them to go out there and play the best they can every single week."
BYU coach Kalani Sitake looks back on loss to Utah State, ahead to Hawaii .... https://t.co/xEtSqVEOBK

— KSL SportsBeat (@kslsports) October 8, 2018
Romney's rise
Gunner Romney spent most of fall camp on the injury report for the Cougars.
But the former four-star wide receiver from Chandler, Arizona is finding his stride at the midway mark of his freshman season.
After his first career touchdown catch, Romney rose to a starting role on the depth chart prior to kickoff against Utah State, beating out sophomore Neil Pau'u and fellow freshman Dax Milne for playing time on one side of the field.
"He's one of our better guys," Sitake said of Romney, who is averaging 12.6 yards per catch. "We play a lot of guys, and everyone relishes the role he has. He's a guy that's a big playmaker; we have a lot of them.
"We just have to find a way to utilize them in the game plan."
Family history
With his touchdown against the Aggies, Collie added to a family legacy of wide receivers in Provo.
Dylan Collie's TD grab was the 39th receiving touchdown by a member of his family at BYU, beating out the Bellini brothers for most by a single family in Cougar football history.
Collie's father Scott played wide receiver at BYU from 1979-82, and his older brothers, former receivers Zac (2005-06) and Austin (2004, 2007-08), who went on to become BYU's all-time leading receiver.
In addition to 39 touchdowns, the quartet has totaled 4,624 receiving yards on 304 multi-career receptions.
×
Related Stories