PROVO — Does BYU need a quarterback change just two games into the 2018 football season?
BYU quarterback Tanner Mangum was asked — in some variation — about his performance against Cal three times after Wednesday's practice, and each time he sidestepped the issue.
He gave almost the exact same response each time, too.
"All we're focused on right now is Wisconsin," Mangum said. "We're excited for that opportunity coming up, to go to Madison, and we're working hard to make sure that we are ready for a physical game."
Again, he was asked about his feelings from the Cougars' 21-18 loss to Cal, and how he played.
"I'm moving on to Wisconsin," Mangum said again. "That feels like a long time ago."
OK, point taken. BYU is moving on to Wisconsin, the No. 6 team in the country that BYU will face Saturday at 1:30 p.m. MDT at Camp Randall Stadium in Madison, Wisconsin (ABC, KSL Newsradio).
But weren't there questions about the quarterback play last Saturday? Or the offense as a whole, which compiled just 287 yards of offense, including Mangum's 22-of-41 passing for 196 yards and a touchdown with two interceptions?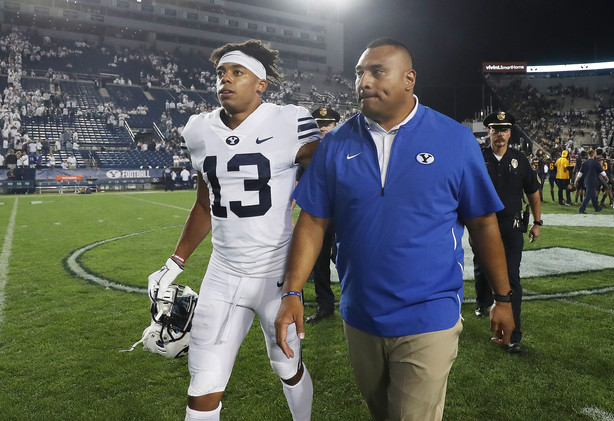 The short memory is by design, offensive coordinator Jeff Grimes explained.
"We review the game on Monday, and then I tell the guys 'that's over,'" he said. "So when people ask you about the Arizona game, we're getting ready for Cal. When they ask about Cal, we're getting ready for Wisconsin.
"I think that's the way you have to be as a player and a coach. We don't have time to feel bad for ourselves that we didn't play as well as we could have — and the week before, we didn't have time to feel great about ourselves after we won a game. Maybe we lost something by thinking about that win against Arizona for so long."
It makes for short sound bites and fewer quotes for the media. But maybe it's best if BYU doesn't look back on the season as it tries to prove itself better than the 4-9 team of 2017.
And it's unfair to single one player out for a loss, head coach Kalani Sitake said.
""It wasn't good enough from everybody," he said Monday. "It wasn't just one guy. Everyone is being evaluated on this team.
"Our job as coaches is to make sure everybody is in position to make plays and (Mangum) is no different. We felt like we had an opportunity to win, but we didn't do enough. I may sound like a broken record, but we all need to do a better job in the program."
Related Story
For efficiency's sake
Wisconsin is allowing just 8.5 points per game through two games of the 2018 season. That's the fifth-fewest in the nation, trailing just Iowa, Stanford, Mississippi State and Utah.
'Scony badgered New Mexico 45-14 last week and routed Western Kentucky 34-3 in the season-opener back on Aug. 31.
So if BYU has any chance to put up points against the Badgers, they will need to take them.
"We've got to make the opportunities when they are given to us," Grimes said. "We can't have a guy open and miss him on a touchdown or big play, or have a dropped ball — and we can't have a third-and-give and have a good play called, but a guy drops the pass."
'Jump Around' with DJ Black Dragon
If you heard "Jump Around" coming from the BYU practice facility this week, there's a good reason for that.
The Hip Hop classic by House of Pain is one of the most iconic ballads of college football, being played after the third quarter of every home game at Wisconsin's Camp Randall Stadium. To get prepared for it, the Cougars have been blasting the song at every practice — as loud as the speakers can take it, even.
One man has been in charge of the playlist for "Jump Around" — strength and conditioning coach AJ Middleton, or better known by his street name "DJ Black Dragon," offensive lineman Tristen Hoge said.
"I don't know who gave him the name," Hoge quipped. "I did not. But it is trademarked and copyrighted. Don't take my word on that, though."
×
Related Stories