PROVO — All the momentum that the BYU football team had built up in its upset win over Arizona vanished into the early Sunday morning air after Saturday's 21-18 home loss to Cal at LaVell Edwards Stadium.
A lot of things went wrong for the Cougars: the run game stagnated, the offense reverted to shades of its 2017 self instead of the balanced machine that appeared in Tucson, and the defense — while admirable at moments — gave up too many big plays, with the insertion of a surprise quarterback and leading rusher.
"We didn't do enough to win this game," BYU coach Kalani Sitake said. "The effort was there, and I'm proud of how hard our guys battled and didn't quit. But effort is not enough to win games. It's good for us to have, but it's not enough to win. We need to be more efficient as an offense and more disruptive as a defense, and find ways to win games."
Here are three thoughts from a forgetful late night in Provo.
Run, Squally, run … until he can't
BYU running back Squally Canada was on his way to another big game Saturday night. After breaking out for 98 yards and three scores in an upset win over Arizona a week ago, Canada ran for 56 yards on 12 carries in the first half.
But BYU's rushing attack wasn't the problem as they trailed Cal 7-3 at the break.
Canada averaged 4.7 yards per carries, and Tanner Mangum threw for another 108 yards through the air as dropped passes by the receivers and three penalties kept the Cougars out of the end zone early.
After the Bears made halftime adjustments, Cal's defense took Canada out of the game. The senior tailback ran for negative yardage in the second half, with four carries for minus-7 yards.
It's not all on Canada, though; the run game is predicated on blocking and setup, and BYU didn't have that, according to fullback Brayden El-Bakri.
"There was just a lack of communication on blocks," said El-Bakri, who caught a 1-yard touchdown pass from Mangum in the final minute. "It's something that could be an easy fix, and we'll be able to talk it out once we watch the film."
BYU coach Kalani Sitake after a 21-18 loss to Cal in the home opener. https://t.co/plyxZr9sLP

— KSL SportsBeat (@kslsports) September 9, 2018
Good defense = best offense?
When BYU's offense struggled to convert its yardage into points in the first half, BYU's defense made up for it.
Dayan Ghanwoloku scored the first touchdown of the night for the Cougars, scooping up a loose ball off the turf and returning it 36 yards for a touchdown with 10:07 left in the third quarter.
Credit goes to linebacker Butch Pau'u, though, whose jarring hit on Cal receiver Derrick Clark forced the fumble and gave Ghanwoloku all the space he needed to score his first career touchdown.
"I give a lot of the credit to Butch, of course," Ghanwoloku said. "I was just in the right spot at the right time, Butch made the play, and I thought I'd take advantage of it.
"That's why I picked it up and ran it into the end zone."
Isaiah Kaufusi added his first career interception in that same quarter, and Zayne Anderson had a career-high 12 tackles with a tackle for loss.
But defensive leaders Pau'u and Ghanwoloku also raised their hands in accepting blame for the loss. Ghanwoloku may have scored the Cougars' first touchdown, but it came after he jumped a wheel route and allowed Kanawai Noa to race nearly untouched for 52 yards into the end zone with 12:10 left in the third quarter.
"We've got some things to fix," Pau'u said. "We believe that we were a better team, but that's not the case right now; those guys have the W.
"We've got to continue to work, and make sure that we practice well this week."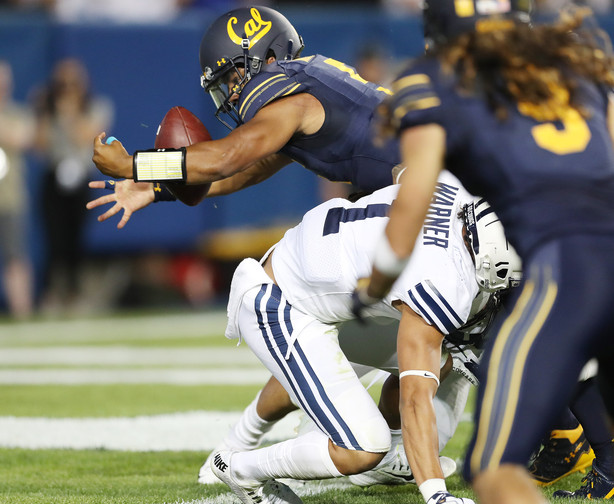 Adjustments play both ways
A week ago, BYU's offense made enough halftime adjustments to outscore Arizona 21-0 in the third quarter and hold on for a win.
On Saturday night, it was Cal's coaching staff that put the adjustments on the Cougars. After bringing in quarterback Brandon McIlwain to run the Bears' wildcat package, the offense took off for Cal.
McIlwain was Cal's leading rusher, going for 74 yards and a touchdown on 16 carries — more than twice the yardage of standout running back Patrick Laird. Patience played to his strength, linebacker Pau'u said, where the running quarterback could wait for an open gap and then surge off tackle for a positive pickup.
"We've just got to do a better job of knowing our assignments like we did last weekend (against Arizona)," Pau'u added. "We're a great defense, but sometimes we make mistakes — and sometimes we make great plays like Dayan did."
Sitake said the Bears used the run game in the same way he tried to prepare the Cougars to do so.
"We knew his skills," Sitake said of McIlwain. "We tried to match up our personnel with what they had, but we knew that it would be difficult. They hang their hat on the run, and they threw the ball pretty good when they needed to.
"I like what they did, just grinding out drives. I just wish we would've done that."
Defensively, the Bears shut down BYU's run game and forced last week's balanced offense to attempt 41 passes to 33 run plays. Mangum threw two picks, but perhaps more costly were the receivers' dropped balls and a run game that averaged just 2.8 yards per carry.
"I'd just like to see us catch the ball better and be more efficient," Sitake said. "Yeah, 22-for-41 is not good. The drops aren't good."
×
Related Stories