PROVO — Typically, the BYU football team meets together in the locker room after each game, bows for a post-game prayer, and waits for head coach Kalani Sitake to address them.
Sometimes the wait can be longer than others; the head coach often has post-game radio and broadcast interviews to address before he can make it to the locker room and instigate the NCAA-mandated 15-minute "cooling off" period before speaking to print reporters.
But after the Cougars' disappointing 21-18 loss to Cal in Saturday's home opener, offensive lineman Tristen Hoge couldn't wait any longer. He stood up, and before the Cougar coaches had arrived, he already had his own post-game heart-to-heart to deliver.
"He said this is behind us now, we can't change anything," BYU linebacker Sione Takitaki recalled of the moment. "We took a loss, but we have to move on. We have a good team coming up in Wisconsin.
"We have to take our licks like a man and move on."
If history is an example, BYU (1-1) will probably take plenty of licks in 2018. Still reeling from a 4-9 season, the Cougars gained a little confidence from a 28-23 win over Arizona in the season opener.
But the offense couldn't cash in on three turnovers the defense forced against Cal.
They'll have to move on quickly, and there's no better motivation than facing No. 6 Wisconsin at 2:30 p.m. CDT Saturday at iconic Camp Randall Stadium (ABC, KSL Newsradio).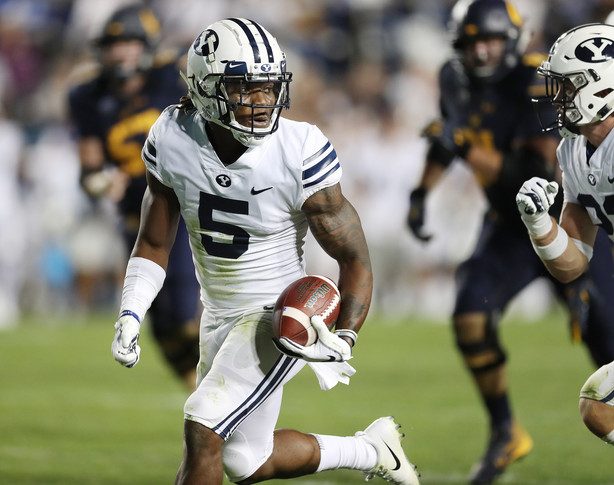 "You can't ponder on it too much," Takitaki said. "It's Monday now, and we know we have to move forward. We've got Wisconsin, a great team, a top-six team. And we have to let it go."
There was plenty of blame to go around as the team met Monday to go over game film and move on to Wisconsin. Tanner Mangum threw for just 192 yards with a touchdown and an interception, and Squally Canada ran for 49 yards — with negative yardage in the second half as Cal collapsed on BYU's ability to push up front.
"Some of the calls weren't getting through as well," said fullback Brayden El-Bakri, whose 1-yard touchdown grab in the final minute pulled the Cougars within three. "We practiced some of the calls before Arizona knowing that it would be a hostile crowd, but when we didn't have the hostile crowd, we weren't communicating like we practiced since fall camp.
"I think this will help us get that much better."
Nobody likes to lose a game. But coaches and players are confident that this year's Cougar squad is equipped to handle adversity better than the team that suffered a demoralizing seven-game slide a year ago.
"We've got a lot of leaders, and with a lot of leaders, we should be able to combat it," said Zayne Anderson, who had a career-high 12 tackles, including a tackle for loss. "We need to be positive, look at the mistakes that happened, but take it as it is and look forward to next week."
BYU hasn't defeated a ranked opponent since Sept. 12, 2015, when then-freshman Mangum led the Cougars to a 35-24 win over No. 20 Boise State in Provo.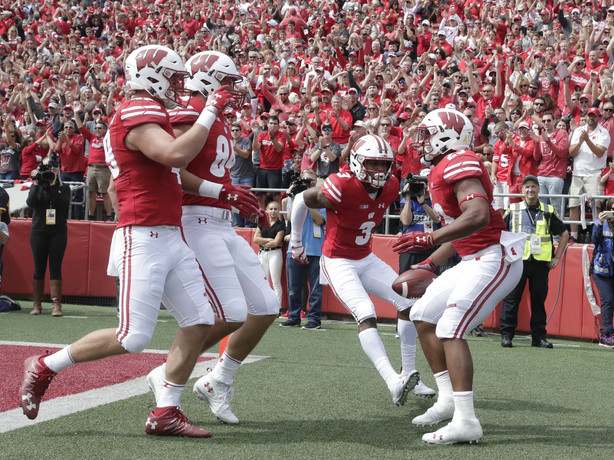 After Wisconsin, the Cougars will face Washington, which was ranked No. 10 in the most recent Associated Press Top 25, on Sept. 29. In a unique twist, the Huskies will first play at rival Utah on Saturday.
The Badgers (2-0) are led by tailback Johnathan Taylor, who pounded out 253 yards and three touchdowns in a 45-14 rout of New Mexico last week. A Heisman Trophy candidate, the sophomore already has 398 rushing yards and five scores for Wisconsin.
"We've got to stop the run," Takitaki said. "We've got to play big up front, and make plays. We've got to make plays up front, and play our best game."
Big Ten friends
Saturday's game will be BYU's third trip to Big Ten country in the past four seasons. The Cougars defeated Nebraska on the road in Mangum's first college game in 2015, and former BYU quarterback Taysom Hill led BYU to a 31-14 upset at Michigan State in 2016.
BYU's only win against Wisconsin all-time came back in 1980, when Jim McMahon threw for 337 yards and three touchdowns in a 28-3 victory.
After first loss, @byufootball coming together before facing tough task at No. 6 Wisconsin. https://t.co/MYZortHKwjpic.twitter.com/ennIZdrKB2

— KSL SportsBeat (@kslsports) September 11, 2018
Coaching tree
Saturday is also a rare matchup of two head coaches at their respective alma maters. Wisconsin coach Paul Chryst was a quarterback for the Badgers from 1986-866, while Sitake played fullback at BYU in 1994 and 1997-2000.
×