Estimated read time: 3-4 minutes
This archived news story is available only for your personal, non-commercial use. Information in the story may be outdated or superseded by additional information. Reading or replaying the story in its archived form does not constitute a republication of the story.
SPANISH FORK — Amy Rasmussen is pro-vaccine. She said she never misses a well-check or immunization appointment for her children.
So Rasmussen was surprised when the school nurse at American Leadership Academy, a charter school in Spanish Fork, said one of her children wasn't properly immunized.
"We have worked really hard to make sure our children are protected, safe and able to go to school," the mother of four said. "The school nurse said my son received his MMR shot four days too early. It was out of the window of acceptance."
First grader Beckett had his first Measles, Mumps and Rubella booster when he was 12 months old. At age 4, before kindergarten, he had his second MMR shot. The Utah State Health department, though, will not recognize Beckett's second MMR immunization.
Tracking documents show Beckett was given a flu mist vaccine within the same month as that MMR shot, in 2015.
"Research shows a patient must wait 28 days after a live virus immunization in order to get maximum immunity," said Rich Lakin, the immunization program manager at the Utah State Health Department. "Because the MMR was given 24 days after the flu-mist, the MMR, by definition, becomes invalid."
American Leadership Academy officials delivered the message — Beckett received the MMR four days too early.
"How am I just finding out about this in his second year of public school?" Rasmussen asked. "School officials told me he needed another MMR shot. But I don't feel comfortable having him get it a third time."
Rasmussen chose against a third MMR Immunization. In order for Beckett to be allowed to attend school, though, she needed to complete the "Vaccine Exemption Training" course.
"I am agreeing to something I disagree with, and I am being forced to do that," Rasmussen said. "I had to take the course, which says I acknowledge the risks of not vaccinating my child. … But he's been vaccinated for years. I wrote on the certification in a bright pink marker 'he is vaccinated — fully immunized,' but they can put that in their chart anyway."
Rasmussen received a voicemail at the end of the school year last year indicating there may be a problem with Beckett's immunization chart. Summer went by and she didn't hear anything. Rasmussen said a letter threatening dismissal from the school came earlier this week.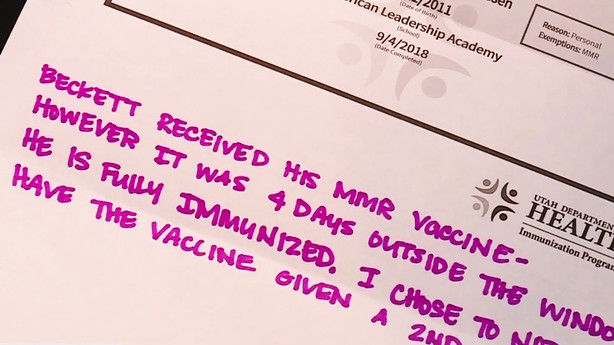 Lakin told KSL-TV the 28-day waiting period is a state statute and that high turnover in doctor's offices furthers the issue.
"Physician offices are not required to enter vaccines given to patients to the State Health Registry," Lakin said. "If every physicians' office would report, we could flag these instances sooner."
Terri Watkins, a retired chief nursing officer, worked in the medical field for 42 years.
"The health department needs a review board for these cases," Watkins said. "Mistakes are happening. A nurse will finally be settled in a place where she understands what she's doing … and then she goes. It seems the training can't keep up with the turnover."
Rasmussen was frustrated, because when she went looking for information about the 28-day waiting period, she said she found zero resources.
Here are the four live virus vaccines that, if overlapped in a 28 day period, will be marked as unsuccessful and invalid.
Flu mist
MMR
MMRV (MMR safely combined with Varicella in one vaccine)
Varicella alone (chicken pox vaccine)
"The body cannot absorb two live viruses in one month while providing full coverage protection from a future infection," Lakin said.
Rasmussen said she hopes her story brings better communication to parents and medical professionals.
"To not have a middle ground was hard," Rasmussen said. "If Beckett could've just been charted as a boy who was vaccinated outside at the designated time window, that would've been fine. But having to declare that he is not properly vaccinated, stings."
×