Estimated read time: 3-4 minutes
This archived news story is available only for your personal, non-commercial use. Information in the story may be outdated or superseded by additional information. Reading or replaying the story in its archived form does not constitute a republication of the story.
TAYLORSVILLE — Based on the smell coming from the house and the appearance of the front yard, animal control officers expected to find a handful of dogs.
"As the code enforcement people are knocking on the door and chatting with the lady, they figured there would be five to seven dogs based on what they were smelling and seeing. And we ended up taking 60 dogs last night and another 50 to 60 still there," Taylorsville City Attorney Tracy Cowdell said Friday.
On Friday, West Valley Animal Services, Unified fire crews, Salt Lake County Heath Department representatives and officials from the city of Taylorsville continued to clean out a house where more than 100 and as many as 125 dogs had been living.
West Valley Animal Services director David Moss said 68 dogs were pulled out of the house Thursday night before the operation was called off due to darkness. Another 50 or more were expected to be removed Friday. More than 100 of the dogs are Chihuahuas, while others are also smaller breeds like terriers.
The bizarre investigation began about 5 p.m. Thursday when code enforcement officers and animal control officers went to 5705 S. Easton. Cowdell said there had been code enforcement issues concerning the home's yard in the past, but the couple who lives there had always been cooperative about fixing the issues.
This time, crews went to the house on a report of a foul smell. Cowdell said neighbors had been complaining "for the last little while," but officials were still searching Friday for when the first formal complaints were filed with the city. Some neighbors claimed they have been complaining for more than a year, but it was unclear if they actually reported their concerns to authorities.
Cowdell said Taylorsville has no complaints on record for the past several months.
"We don't have a track record really, for this kind of thing," he said.
Unified Police Sgt. Melody Gray said the stench stretched down the street, but it's unclear if anyone ever bothered to call police.
Looking at the outside of the property, Cowdell said he would never have guessed that between 115 and 125 dogs were living in the house.
"It's just shocking, you really couldn't tell there were (so many) dogs in there," he said.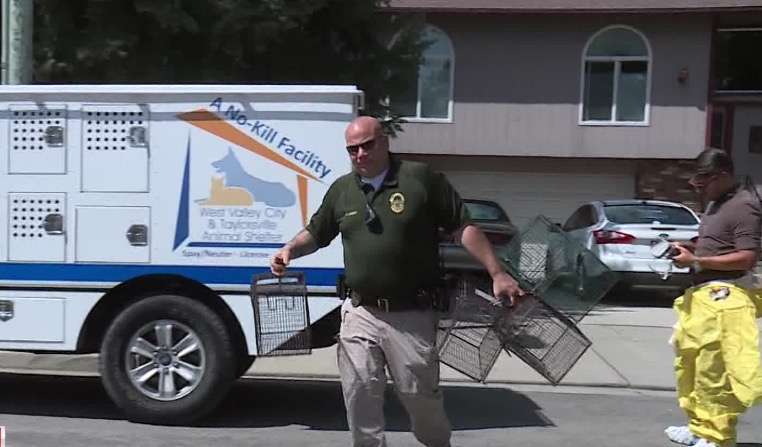 A couple who are believed to be in their late 70s lives in the house. Cowdell described them as "very reclusive people" who never let anyone else inside their home. One neighbor said she had never met the couple.
The couple claimed they wanted to help stray dogs, but that they became overwhelmed by the number of dogs living in their home and couldn't keep up with the caretaking of animals, including the removal of feces.
"They kind of fancied themselves as people who cared for stray animals, taking care of dogs. They kind of viewed themselves as humanitarians," Cowdell said.
The dogs reportedly lived indoors all the time. Officials believe the Chihuahuas were also reproducing inside the house.
Cowdell said the couple has been cooperating with officials, and they are appreciative of the help.
"They knew it was beyond their ability to manage it at this point," he said.
Moss said most of the dogs taken from the house were surprisingly in good shape and will be able to be adopted after receiving vaccinations. Some, however, were in "not so great" shape, he said.
The house itself was not in great shape. It was condemned by health officials shortly after police arrived because of deplorable conditions inside. Officials wearing full hazardous materials suits could be seen going inside, checking for dangerous gases.
Once the dogs are given a clean bill of health, they can be adopted beginning in about five days.
---
×
Photos
Most recent Utah stories