Estimated read time: 5-6 minutes
This archived news story is available only for your personal, non-commercial use. Information in the story may be outdated or superseded by additional information. Reading or replaying the story in its archived form does not constitute a republication of the story.
PROVO — It's easy to spot BYU receiver Dylan Collie on the BYU practice field during the fall camp.
Not only is he the only active senior wideout on the team since an injury to Trey Dye, Collie is also the only one who wears a hoodie underneath his practice gear, jersey and helmet.
He says it's part of his acclimatization to Provo from the humid islands of Hawaii, where he played three seasons and put together 1,300 receiving yards and nine touchdowns.
But it also makes the 5-foot-10, 180-pound receiver easier to spot—and, as his teammates and position coach all mention, easier to look up to for his experience.
"Having been able to play as many games as I have, I like to pride myself on work ethic and understanding the game," said Collie, who arrived in Provo in May and has been to every player-run practice and fall camp session since joining the Cougars for the first time since his one-year stint on the practice squad in 2012. "A lot of guys say I'm not the fastest, but I believe I'm pretty dang fast.
"I just hope I can complement and be a part of a huge unit on our team, specifically the receivers."
Of course, with a name like Collie, BYU players are bound to take notice as well. Dylan's older brother Austin, the No. 2 all-time receiver in Cougar football history, lives in South Jordan, and his oldest brother Zac and father Scott also played wide receiver at BYU.
But coming back to Provo for one final season is more than just living up to a family legacy for Dylan Collie. It's about helping the Cougars get back to where they used to be.
"My wife and I have really good friends and family here, so that's all been fun. But it definitely is very, very different in multiple ways," Collie said of his return to Provo. "I love this area, though; it's a complete college town, and to have someone so focused on one goal as a community is something I've missed."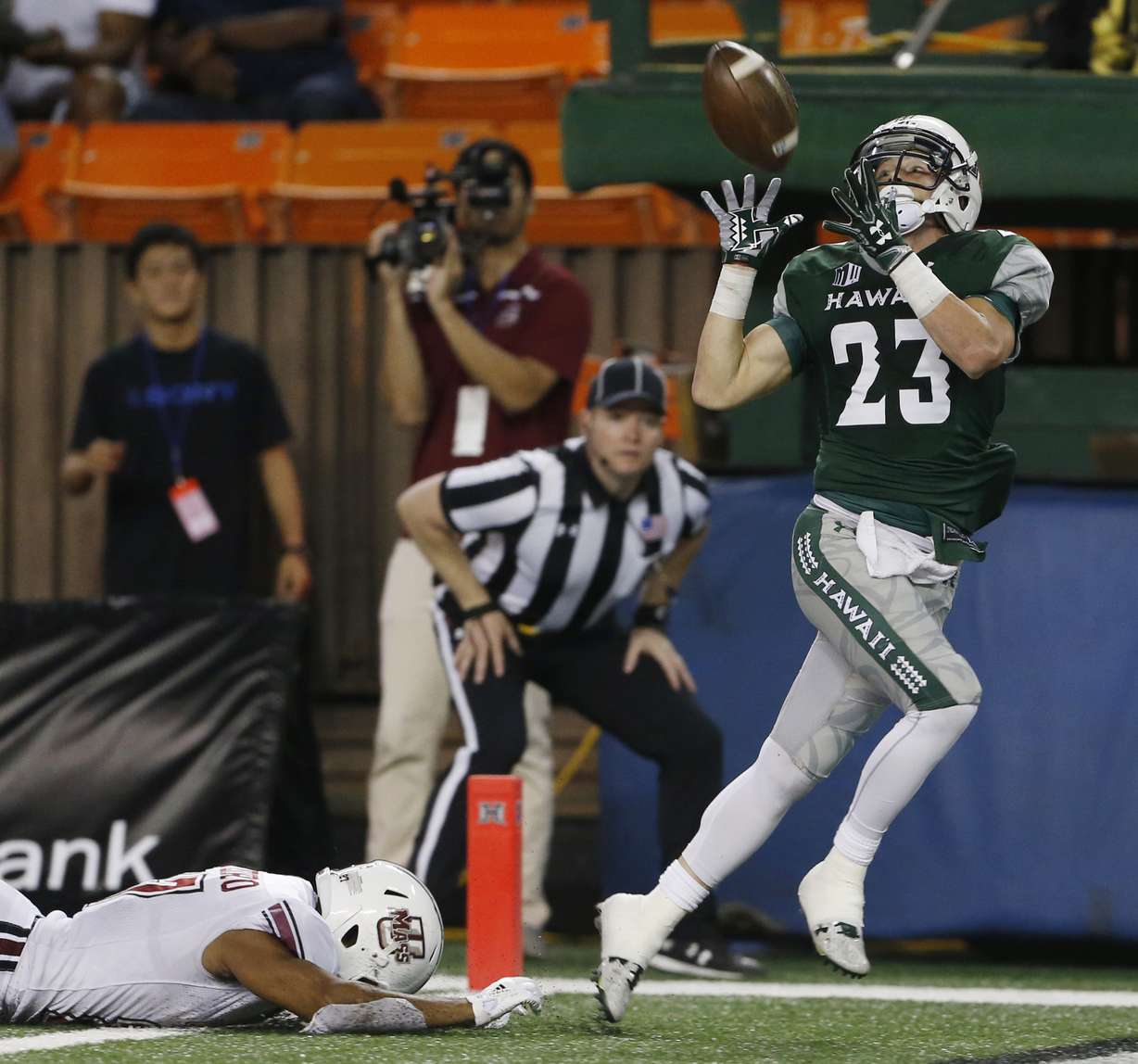 He has little time to waste, then. So it makes sense that he would be one of several receivers to forsake lunch and dinner breaks to spend more time in the film room every evening.
In less than three months since arriving in Provo, Collie has become a veritable leader for the BYU football team.
"He's a great leader, very experienced, and even outside of football," said Fesi Sitake, Collie's receivers coach, who remembers him coming in during summer workouts and learning the playbook despite limited contact with the coaches, per NCAA regulations. "He's had leadership in church and work, and I think he's been well prepped for joining us for his last year."
Yet Collie is more than a leader, too. A returned missionary for The Church of Jesus Christ of Latter-day Saints, Collie could've finished out his career in Honolulu, where he married the former Savannah Ellison on New Year's Eve in 2015.
But instead, he announced his intentions to transfer from the Rainbow Warriors—and was quickly recruited by personal visits from Jeff Grimes, Sitake and other coaches on the islands.
He also had a little help from rising junior receiver Micah Simon. The duo met as participants in Austin Collie's camp circuit and have talked, texted and chatted regularly ever since.
When Simon learned Collie was transferring, he reached out to try to bring him back to Provo.
WRs in Fall Camp
It worked—and for the better of the Cougars' receiving corps, all of whom have latched on to his personality and upbeat demeanor, as well as his knowledge of the playbook and work ethic.
"It's just his personality," Simon said of Collie. "He can come in and vibe with anybody on the team. He's really personable, and you can talk to him about anything other than football, too."
If BYU is going to turn around from a 4-9 season a year ago, the team will need Collie's help, too. Aside from tight end Matt Bushman, who put together 520 receiving yards and three touchdowns en route to a Freshman All-American season, the Cougars return just three wideouts with 200 or more yards receiving in 2017: Simon (386 yards, three touchdowns), Hifo (437 yards, two touchdowns) and Talon Shumway (257 yards).
There's talent in the receiving corps, with potential from players like Neil Pau'u and pass-catching running backs like Brayden El-Bakri and KJ Hall. But the lack of leadership in the Cougar wideout room was evident coming off the Cougars' worst season since the '70s.
"This group is so honed in on how to be competitive, to have fun, to be physical and to be a true wide receiver—from the top down," Collie said. "They all have traits that are so cool to be around, and I absolutely love them."
And the lack of leadership? Well, that's just where Dylan Collie comes in.
"Dylan's done such a great job, and he has so much experience, that I think it's helped all the young guys," said BYU head coach Kalani Sitake, who quipped if every graduate transfer fit in to his team like Dylan Collie, he'd take 100 more. "It's not a really experienced group, so I think it's good to have him to help them along.
"I like the way they are working together, and a big part of that is Dylan."
×
Photos
Related stories
Most recent Sports stories