Estimated read time: 3-4 minutes
This archived news story is available only for your personal, non-commercial use. Information in the story may be outdated or superseded by additional information. Reading or replaying the story in its archived form does not constitute a republication of the story.
COTTONWOOD HEIGHTS — Some Wasatch canyon residents worry a possible new federal designation of wilderness will bring the threat of a catastrophic wildfire to their doorstep.
Others worry the designation will bring more and more people to the Wasatch canyons already grappling with skyrocketing visitation.
The Central Wasatch Commission delayed a vote Monday on a resolution urging the designation move forward, instead choosing to wait until three new members are seated next month and have a chance to weigh in.
"I think we are moving in the right direction. Nevertheless, to me personally, in light of the fact that this membership is changing drastically in the next 30 days," the vote should be delayed, said Cottonwood Heights Mayor Mike Peterson, a member of the commission.
The Central Wasatch National Conservation and Recreation Area Act would feature land swaps with the U.S. Forest Service and a trio of ski resorts to protect back country land in exchange for developement at the resorts' base.
It would also establish 8,000 acres of new wilderness.
Community councils like Granite and Big Cottonwood are opposed to the measure, which Rep. Mia Love's office has indicated it will only bring forward provided consensus is reached.
Love's office released a statement after the meeting.
"The congresswoman and her staff have engaged with and carefully listened to the (commission) and all interested parties for months. Due to the numerous concerns we have received from individuals, groups, and elected officials and because of a lack of consensus on several issues, we presently have no timeline for potential introduction. However, we remain accessible to and engaged with all local stakeholders."
Related:
Greg Schiffman of the Granite Community Council said there is strong opposition among the community councils.
"These organizations represent residents who are mostly affected by the proposed designation and you clearly don't have consensus," he said.
Another canyon resident, John Anderson, accused the Forest Service and Salt Lake City of playing favorites with the ski resorts at the expense of private property owners.
"I don't want to see my property turned into a subdivision, and at the same time I don't want my property taken away from me because the city or other interests don't want me on it," he said.
Central Wasatch Commission chair Chris McCandless stressed that the proposal for new wilderness and a new conservation area is not about taking away private property or interfering with water rights.
"We don't want to take away your property," he said. "We are just like you guys. We love these canyons like anybody else. "
Anderson added there is no need for additional wilderness.
"There is already 102,000 acres of wilderness. We don't need any more."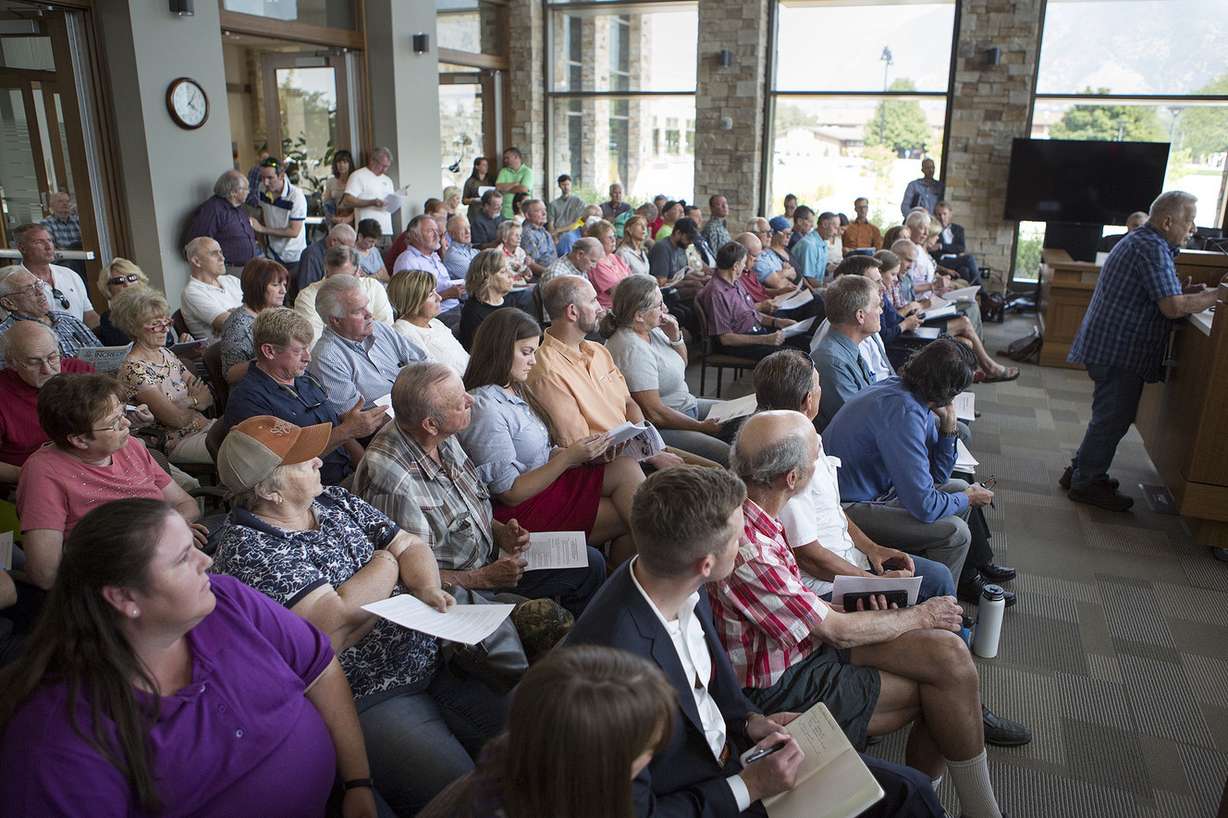 Ed Marshall told the commission he worries about the threat of wildfires in the canyons.
"Instead of addressing the fire risk problem and making the situation better, it currently proposes to make it worse by creating more wilderness where it is far more difficult for the Forest Service to do fuels treatment," he said. "The Forest Service has no funding for fuels treatment. The timber continues to accumulate and the overgrowth continues to accumulate."
Motorized access is possible in the wilderness area in the event of a fire, said commission executive director Ralph Becker, but Marshall said he worries not enough attention is being paid to prevention.
Becker said there are a number of issues that continue to be worked on to fine tune the bill, including the ongoing debate over whether mountain biking will be allowed or prohibited in the White Pine recreation area.
McCandless acknowledged that is a tough debate.
"Bike or no bike? It is half on half off. We are going to be loved and hated at the same time depending on the decision we make."
×
Photos
Related stories
Most recent Utah stories