Estimated read time: 3-4 minutes
This archived news story is available only for your personal, non-commercial use. Information in the story may be outdated or superseded by additional information. Reading or replaying the story in its archived form does not constitute a republication of the story.
SALT LAKE CITY — With an immigration field office as a backdrop Thursday morning, Democratic U.S. Senate candidate Jenny Wilson said her Republican opponent, Mitt Romney, should "come out of hiding" and defend his immigration positions.
"I think Utah voters and Utah citizens believe in family centered immigration reform," Wilson said. "By (Romney) continually focusing on legal immigration, he's basically ignoring the problem."
Wilson, a Salt Lake County councilwoman, said she reached out to Romney in July, wanting to debate the former Massachusetts governor on immigration issues.
"We've said many times, Mitt is happy to participate in a debate sanctioned by the Utah Debate Commission," the Romney campaign said at that time.
The commission has scheduled a debate between the two candidates on Oct. 9 at Southern Utah University in Cedar City.
Requests for comment from Romney representatives were not returned early Thursday afternoon.
The two candidates, vying for the seat held by retiring Sen. Orrin Hatch, R-Utah, take strikingly different stances on immigration issues.
Wilson supports comprehensive immigration reform that creates a path to citizenship for people here, secures the borders and restructures the process for new immigrants.
Romney favors measures to secure the border but opposes a path to citizenship. He said the legal immigration system should be merit-based, giving applicants credit for English fluency and having a trade or technical skill, personal savings and advanced degrees.
Since his 2012 bid for the presidency, Romney has held a fluctuating opposition to Deferred Action for Childhood Arrivals, a program implemented by former President Barack Obama.
The administrative action allowed young immigrants, brought to the country as children, to remain in the U.S.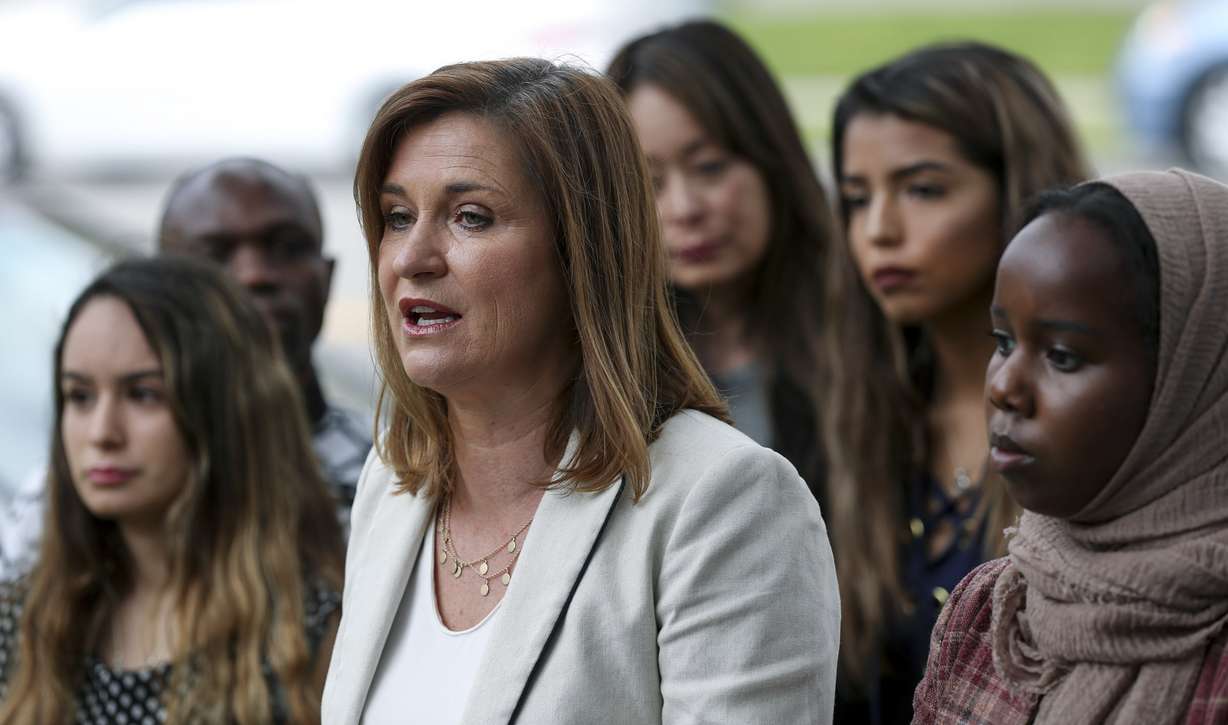 "I think it's clear, in his 2012 campaign, he was perceived to be the harshest on immigration," Wilson said. "He hasn't changed in this campaign by stating that he is indeed to the right of Trump on this issue. That is not in touch with Utah."
Romney said he was "more of a hawk on immigration" than President Donald Trump at a March campaign event held in Provo. His campaign later said his statements were referencing his 2012 stances when he was running for president.
Since then, they said, his positions have changed.
Wilson said that clarification is "exactly why I think a debate would have made some sense."
Besides outlining her opposition to what she called "harsh" stances by Romney, Wilson spent the brief speech Thursday morning describing her plan for immigration reform.
"I believe we need to reunite the families immediately that have been torn apart at the border by this administration," Wilson said.
Romney has maintained objection to the Trump administration's family separation policy, while not outright blaming the president.
Wilson also said she supports funding border security but would not support Trump's proposed border wall. Unlike some of her Democratic colleagues, Wilson said she supports reforming the Immigration and Customs Enforcement agency, rather than outright abolishing it.
×
Photos
Related Stories