Estimated read time: 4-5 minutes
This archived news story is available only for your personal, non-commercial use. Information in the story may be outdated or superseded by additional information. Reading or replaying the story in its archived form does not constitute a republication of the story.
SALT LAKE CITY — Competitors hailing from London to Colorado Springs. Corporate sponsorships for top contestants. A 16-year-old champion accustomed to requests for his autograph.
Welcome to the CubingUSA's national championship, a Rubik's Cube-solving contest catering largely to teens and their families. The gathering in Salt Lake City this weekend is expected to draw roughly 700 enthusiasts of the retro 3D puzzle game to compete against each other and their own fastest times. And many are drawn more by camaraderie than the prospect of winning several contests on the schedule.
"Yes, it's a competition, but we're rooting for our friends," said Katie Hull, a 21-year-old participant and volunteer staff member from Atlanta.
On Friday, the first day of the contest, dozens of speed-cubers practiced flitting their fingers over neon squares as parents and siblings looked on inside the Salt Palace Convention Center. Some took on the challenge without the use of their eyesight and hearing, wearing blindfolds and padded headphones as they worked through possible algorithms.
The championship, in its 14th year, has more registered to compete this weekend than ever before, said Tim Reynolds, a CubingUSA organizer who also is a software engineer at Google in Cambridge, Massachusetts.
The competition is not just for anyone. Participants must first qualify at regional events, racing to twist the cube's squares to render all sides just one color. And it draws those outside the U.S., including competitors who traveled from the Netherlands and England.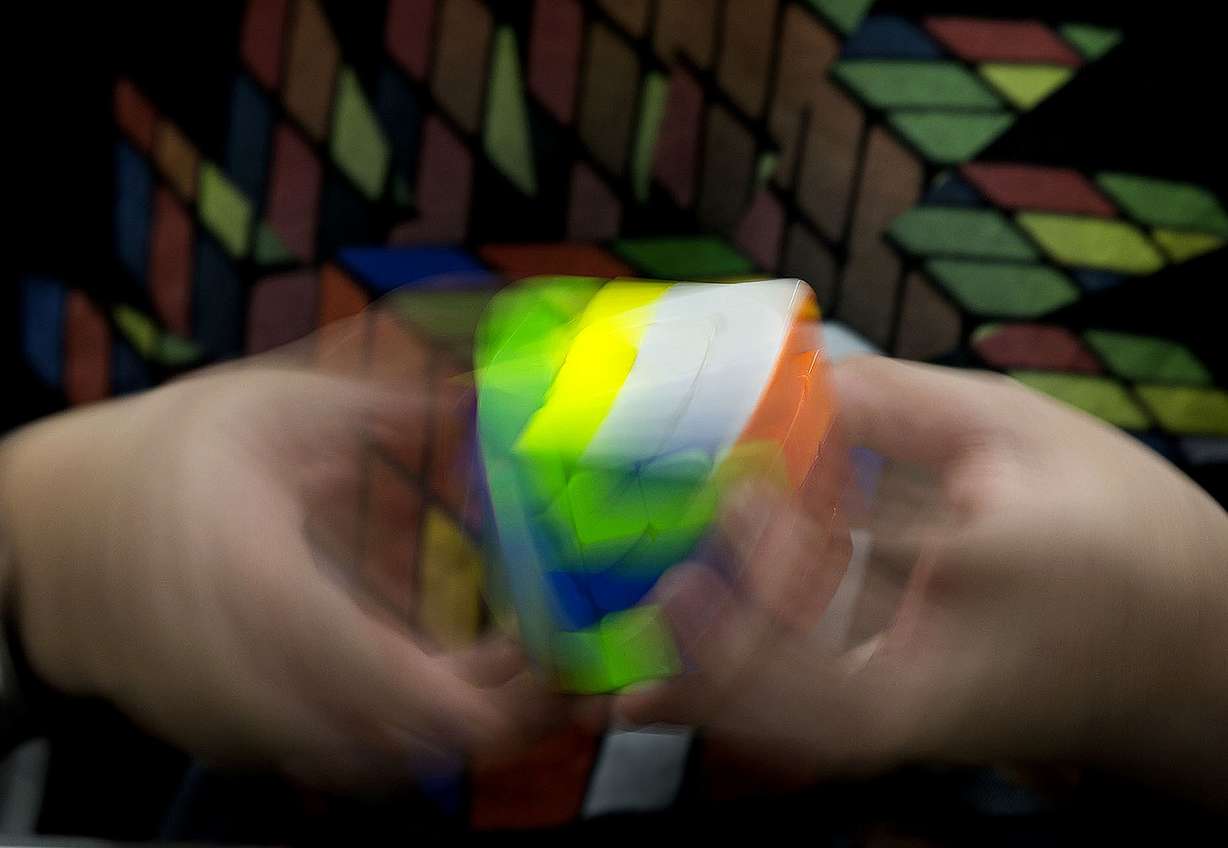 "When I was an awkward teenager, cubing was a big part of being social," Reynolds said. He also credits the friendly contests with giving him leadership opportunities.
"I'd like to give that back to other awkward teenagers," he added.
It's not all serious, either. After a two-year hiatus, an event allowing contestants to use only their feet took place in a back room. It was reinstated over protest from some organizers who believe barefoot competition is unbecoming of the organization that prides itself on staying professional. On Friday, the contest was popular, with judges monitoring several contestants over the course of five rounds, allowing them 15 seconds to inspect the cube before putting their toes to work.
---
Yes, it's a competition, but we're rooting for our friends.
–Katie Hull, participant
---
The game has transformed in other ways since its highpoint in the 1980s, beyond the boundaries of its initial 3-by-3 squares per side, up to 7-by-7 and in another version, into a pyramid shape.
Among those preparing to compete on a stage in a basement ballroom was Max Park, the 16-year-old champion cuber from Cerritos, California. As of Friday morning, he held a host of world-record solving times, including 1 minute and 47 seconds in the 7-by-7 category. As Max prepared for the contest, his father Schwan Park said the cube was introduced as part of the boy's therapy for autism when he was 7 or 8 years old. The competitions have helped the teen gain social skills and forge friendships with his opponents, Park said.
"Here, everyone's a therapist. Everyone is someone he's interested in being around. So we said, 'This is a giant therapy session,'" Park said.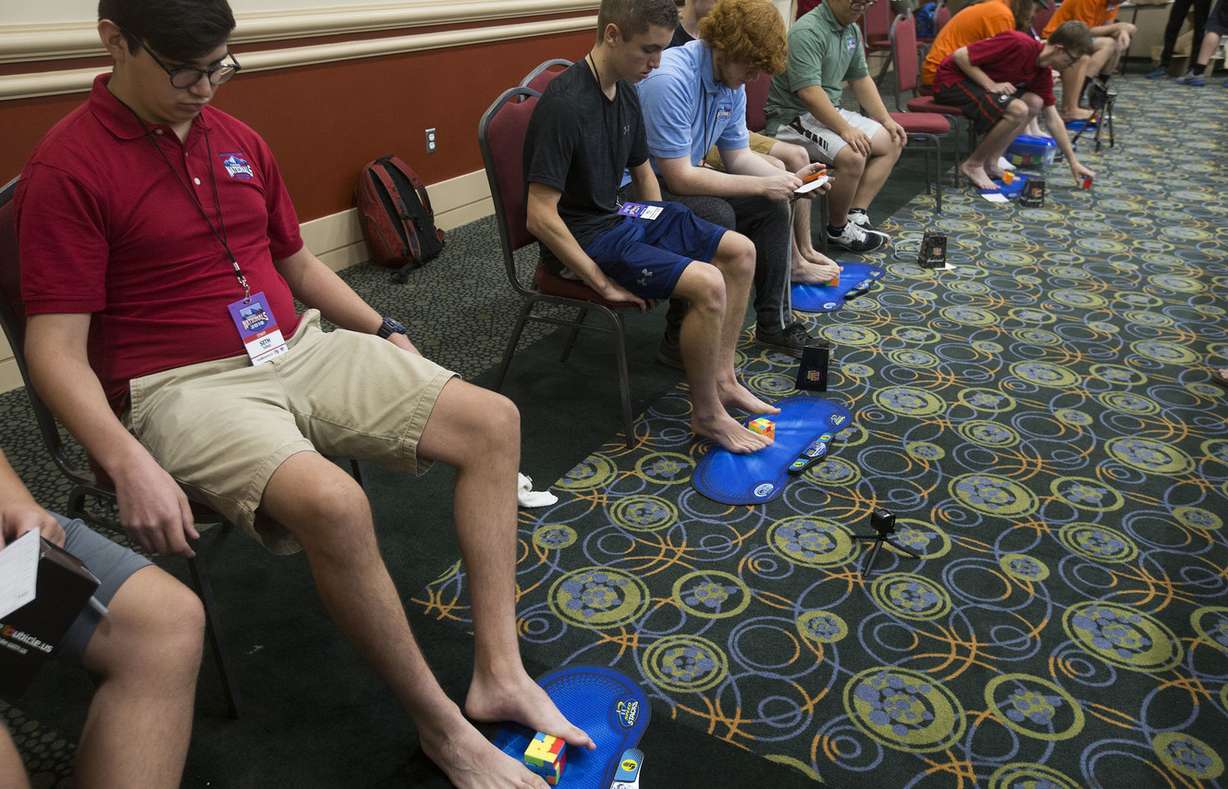 The father believes his son's success demonstrates his rapid pace of learning. It has also drawn the attention of two companies, the cube manufacturer GAN, and retailer TheCubicle, which sponsors the boy. The businesses pick up travel costs and supplies puzzles, which can run up to $100 for more sophisticated versions.
Max isn't alone. Many participants and organizers say the tight-knit speed-cubing community is especially welcoming to those with autism spectrum disorder.
Chris Johnson, 15, of Colorado Springs, said he didn't know anyone at the first local competition he attended and "I just asked to sit at a table. They just accepted me."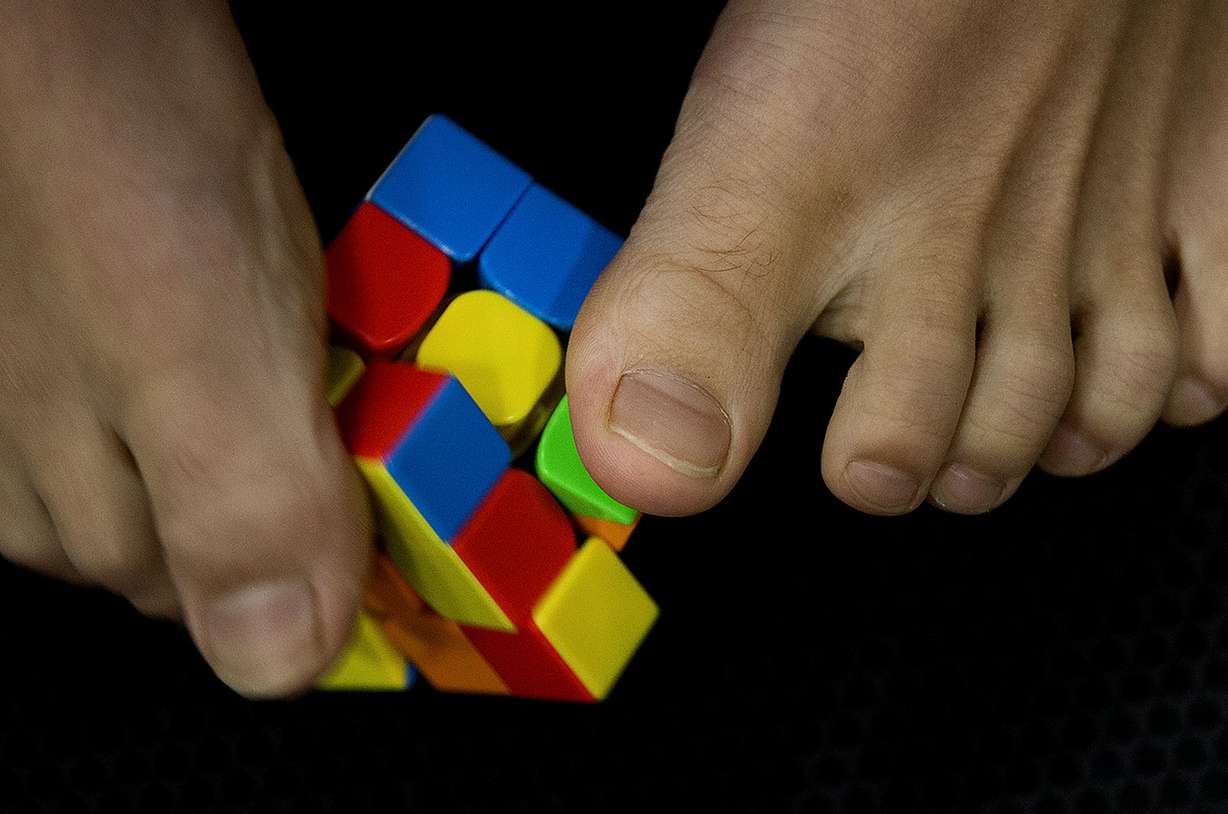 Johnson, who plans one day to work as a welder in Alaska, said he has Asperger's syndrome but he doesn't believe it affects him very much, and especially not at cubing contests.
"I prefer not to talk to people as much outside of competitions," he said. "When I'm here, I know people have the same interests as me and I know we'll likely get along."
Despite its focus on inclusion, the competition struggles to appeal to girls. More than 90 percent of cubers at the event were boys or men, organizers estimate. CubingUSA acknowledges the problem and is discussing ways to better engage female players, Reynolds said.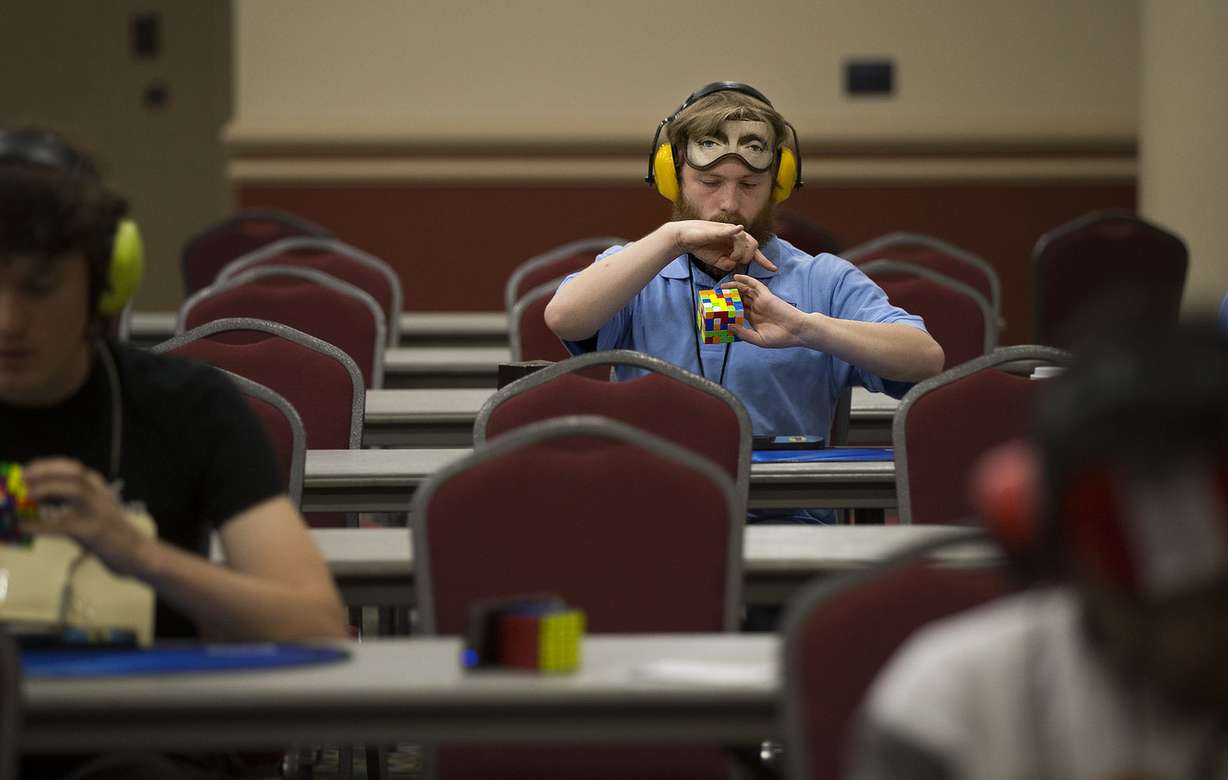 Hull added that he makes a point to chat with young girls when they compete for the first time, she said, hoping they will continue to sign up.
"I think it's intimidating to a lot of girls to look into a competition and see a lot of guys," she said. Hull traveled to similar, smaller events in a different city every weekend before graduating from college recently with a degree in psychology, philosophy and music business, she said. She recalled contest with just three girls and women out of a total 60 competitors.
The championship runs through Sunday. Last year's challenge took place in Fort Wayne, Indiana. Next year's location has yet to be decided.
×
Photos
Most recent Utah stories