Estimated read time: 2-3 minutes
This archived news story is available only for your personal, non-commercial use. Information in the story may be outdated or superseded by additional information. Reading or replaying the story in its archived form does not constitute a republication of the story.
ST. GEORGE — One of the earliest buildings built by early Mormon Pioneers in Southern Utah will reopen after a two-year restoration project. Upgrades to the St. George Tabernacle included seismic upgrades and a refresh of the interior to its original décor.
Located in the heart of the community, the St. George Tabernacle has been a landmark since the 1870s.
Longtime resident Ralph Atkins' great-grandfather helped build the tabernacle.
"He came down to St. George and was the first wagon in the group that came to the valley in 1861," said Atkin.
Atkin said the tabernacle had a special meaning for him.
"As a young man, I literally attended church here. This is where our ward met," Atkin said.
It was where he attended Sunday School with Elder Jeffrey R. Holland of the Quorum of the Twelve Apostles, who planned a return to his hometown on Saturday to rededicate the newly restored tabernacle.
"It is great to have it back again, especially in the shape it is in now," Atkin added.
Officials with The Church of Jesus Christ of Latter-day Saints said they believed the restoration project would help to preserve the pioneer history of Southern Utah.
"If you lived here in the 19th century and early 20th century, you would come to church here. You would come to school here. You would have your city hall meetings here," said Emily Utt, a curator for the church's history department.
She oversaw the restoration, including something the early St. George pioneers really relied on – the bell in the tabernacle's tower.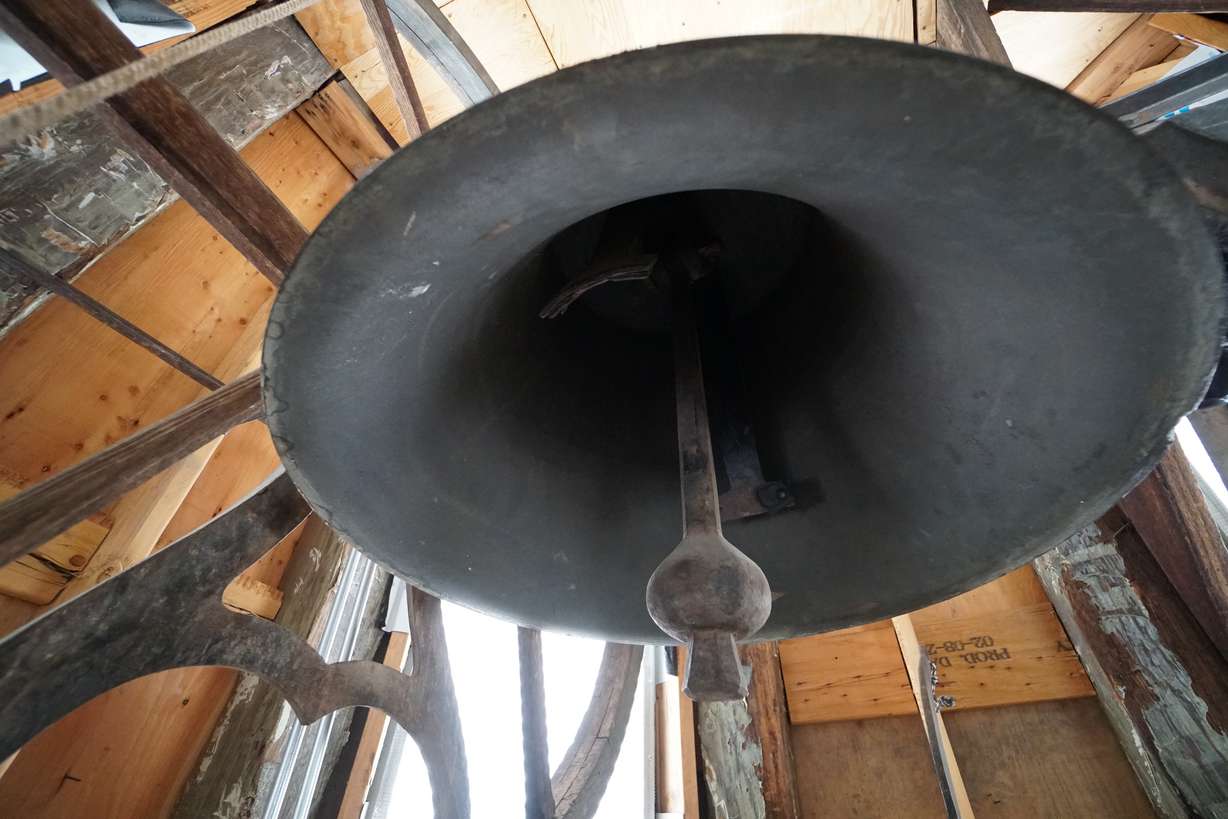 "That bell would help them keep time, and in the case of an emergency they would gather together and take care of problems that came up," Utt said.
Utt said the project helped to expose the craftsmanship and workmanship of those early settlers who built the Tabernacle.
"I come up here and see this structure and am reminded that some person showed up on this job site every day and cut that beam or carved that stone. We will never know their names but we can honor and remember their craftsmanship" she added.
While regular worship services have not been held in the Tabernacle for some time, it will be a place for concerts, interfaith services and community events – and an architectural treasure that will stand as a tribute to the area's pioneer heritage.
"I just think it is a beautiful building, and I look forward to spending time here in the future," said Jesse Stocking, a member of the Washington County Historical Society.
Public tours of the St. George Tabernacle will be held Tuesday, Wednesday and Thursday from 8am until 8pm. Additional details can be found at lds.org.
×
Photos
Related stories
Most recent Utah stories