Estimated read time: 3-4 minutes
This archived news story is available only for your personal, non-commercial use. Information in the story may be outdated or superseded by additional information. Reading or replaying the story in its archived form does not constitute a republication of the story.
SALT LAKE CITY — Rep. Mia Love, R-Utah, joined Doug Owens, her two-time Democratic opponent in the 4th Congressional District, to tout a new study Monday showing the importance of outdoor recreational opportunities to Utah businesses.
"What's great is to be able to come together and put all of that, all of the politics, aside, and really work on an issue that we both see eye-to-eye on," Love said. "That is the quality of life the beauty of our landscapes give us."
She said that provides the state with the ability to promote access to outdoor recreation opportunities to Utah companies trying to attract workers from out of state as well as businesses eyeing Utah as a place to relocate.
"The point of us being here together today is that regardless of politics, we can all agree on the importance of Utah's outdoors as a pillar of our economy," Owens said. "Good jobs are coming to Utah because of the outdoors."
Utah's outdoor lifestyle was the second-most cited reason for locating a company in the state, behind the ability to attract and retain a workforce, according to a study conducted for Utah Outdoor Partners.
Owens, a lawyer who ran unsuccessfully against Love in 2014 and 2016, heads up the newly announced nonprofit organization.
The study by the Kem C. Gardner Policy Institute at the University of Utah also found a similar response to what factors a company would consider in decisions about future expansions.
A total of 94 percent of the 50 Utah business leaders from a variety of companies, including those that are part of the Silicon Slopes technology sector, said access to a variety of outdoor recreation opportunities contributes to Utah's quality of life.
Fifty-five percent said they strongly agree that those opportunities and open space, such as parks, trails, mountains, deserts and wildlife areas, helped attract high-quality employees and good jobs to the state.
"Clearly, these Utah business leaders place a premium on Utah's access to remarkable natural landscapes as a business asset," said Natalie Gochnour, director of the Kem C. Gardner Policy Institute.
Gochnour quoted an unnamed survey respondent as saying that "our access to outdoor recreation attracts a strong, talented and diverse workforce. Without it, we are North Dakota or Mississippi."
The survey included open-ended questions about the value of public lands but did not address recent controversies, including President Donald Trump's 2017 reduction of Utah's Bears Ears and Grand Staircase-Escalante national monuments.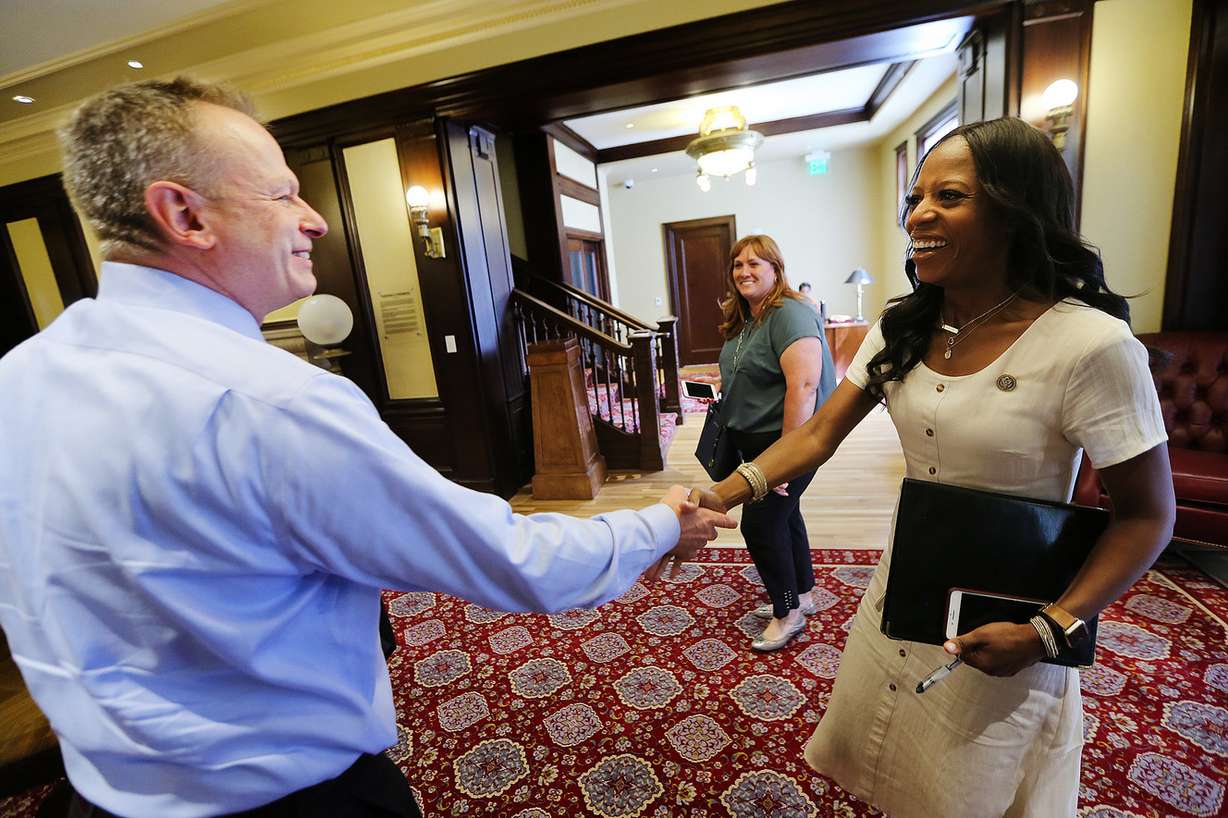 "Those are political issues and we're going to steer away from them," Owens said at a news conference called to announced the survey findings. "We need to develop the data to show how valuable outdoor recreation is to the state."
The battles over public lands, Love said, "are why we need to get away from the politics of it and really start looking at the data and start looking at the policies that promote" Utah's quality of life.
Owens pointed to John Harrison, director of software engineering at South Jordan-based Lucid Software, as an example of an executive using the outdoors to gain a competitive advantage in recruiting employees.
"This isn't just about tourism and it isn't just about recreation itself. It's about our world famous beauty and unparalleled outdoor lifestyle being critical to the success of Lucid Software and all kinds of other companies up and down the state," he said.
Harrison told reporters Lucid competes against Google and Facebook for some two dozen engineers around the country annually because there aren't enough top graduates in the field available in Utah.
Getting them to visit the state, he said, can seal the deal.
"We're looking for the very best engineers," Harrison said. "When candidates take into account the cost of living and the work-life balance, and if we can get them out here to visit, we do really well."
Gov. Gary Herbert said, "I support the important, nonpartisan approach and recognize the work of Utah Outdoor Partners to further promote the broad economic value of Utah's outdoors" in a letter distributed to the news media.
×
Photos
Most recent Utah stories