Estimated read time: 3-4 minutes
This archived news story is available only for your personal, non-commercial use. Information in the story may be outdated or superseded by additional information. Reading or replaying the story in its archived form does not constitute a republication of the story.
SALT LAKE CITY — What do you get when you mix a bunch of severe drought with above-average temperatures and throw in eight active wildfires burning in one state?
A disastrous cocktail — and it's only a little over a week into a summer that forecasters predict will be hotter and drier than normal.
"As everybody knows we have had a significant drought," said Utah Gov. Gary Herbert on Thursday during his monthly KUED Ch. 7 media event with reporters. "It is dry out there and it is hazardous. We want to call on the people of Utah to be careful, to be wise in what they do in their activities."
Nine active fires from the extreme northern boundary to Washington County so far have scorched more than 25,000 acres.
On Thursday, the U.S. Drought Monitor released drought details that show worsening conditions in Utah as areas already experiencing extreme or exceptional drought are continuing to grow.
Those extremely dry conditions make the state ripe for more wildfires, the governor said, and it will likely get worse with the fireworks season looming.
"Be careful when you enjoy your summer vacations. We have the Fourth of July, the 24th of July," Herbert said. "Let's be careful where we build campfires, let's be careful with our fireworks."
Fireworks are already banned on state-owned lands and in the unincorporated area of Salt Lake County, Herbert said.
Individual cities will make their own choices when it comes to fireworks restrictions, he added.
The nexus between fireworks and wildfires is critical because as it stands, the majority of Utah's wildfires are human caused.
Related story:
Drought, too, is like a match.
"The most severe places for drought are centered in the southeastern corner, but it is starting to spread northward," said Shane Green, rangeland management specialist with the Natural Resources Conservation Service.
Green noted the recent outbreak of four wildfires and their destruction of habitat, particularly in Forest Service areas.
On Thursday, the Bureau of Land Management instituted new fire restrictions in northeastern Utah due to hazardous conditions.
Basil Newmerzhycky, a meteorologist and program manager with the BLM's Great Basin region, said it's incredibly dry coinciding with the height of fire season.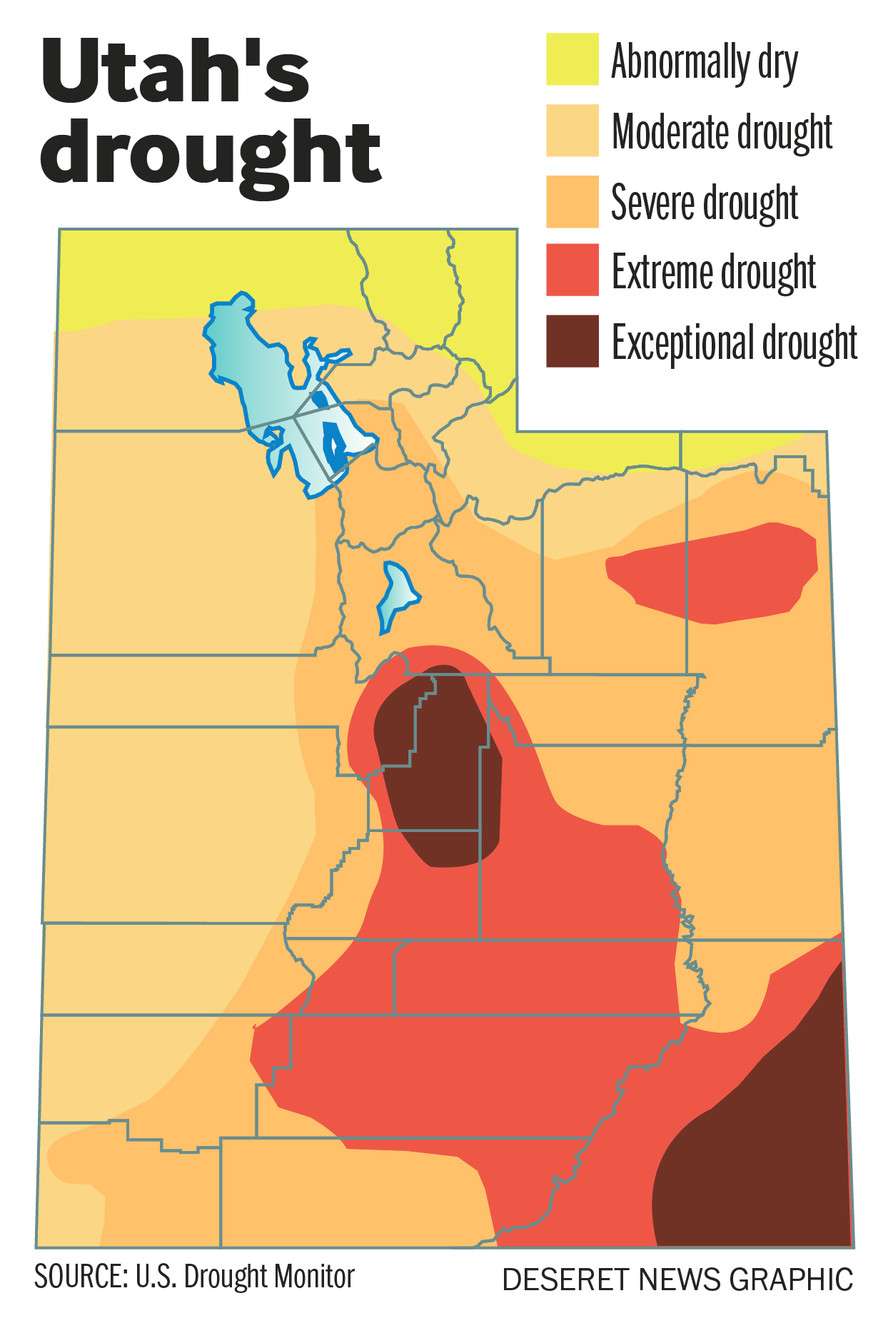 "Things are about as dry as we have seen them in many years," he said.
"With the fireworks, with local and state fire ordinances, they are there for a reason, especially as dry as we are. That is probably our main concern from a human caused standpoint as we approach the holiday period."
Newmerzhycky said conditions now pose a deadly threat, but it is only going to get worse.
"For a variety of reasons, the monsoon (season) looks to be a bit delayed as we go into July," he said. "So not only are we near record dryness, but it looks like things will get progressively drier over the next seven to 14 days."
The majority of Utah is currently under a red flag warning by the National Weather Service in Salt Lake City due to the fire danger.
×
Photos
Related Stories