This archived news story is available only for your personal, non-commercial use. Information in the story may be outdated or superseded by additional information. Reading or replaying the story in its archived form does not constitute a republication of the story.
SALT LAKE CITY — The top recommendations of the Utah Safe Schools Commission released Wednesday key on the availability of mental health resources in schools and the consideration of a gun violence restraining order accessible by families.
The more controversial of the two, a so-called "red flag" restraining order, would authorize judges to issue extreme risk protective orders permitting police to remove firearms from a person who has a propensity for violent or emotionally unstable conduct.
Legislation filed by Rep. Steve Handy, R-Layton, late in the legislative session earlier this year sought to allow a family member who has lived with an individual at least six months to seek the protective order. The bill was discussed but did not advance out of committee.
Now, after robust discussion by the Utah Safe Schools Commission, Handy said he believes the proposal "has traction."
House Speaker Greg Hughes, R-Draper, lent his support to the proposal, remarking, "I'd like to see that happen sooner or later."
Elizabeth Love, a recent graduate of West High School who served on the commission, called the commission's recommendations "a great start. I believe there is much more to do."
"I hope a special session comes out of this," Love said.
Related:
The commission's report, released in a press conference at the state Capitol, included three tiers of recommendations — those that had broad agreement among commission members, those with majority support and those that did not reach majority support but "may be good ideas that are already in the process of implementation."
Arming teachers, an idea that received a lot of attention nationally, did not surface as one of the commission's recommendations.
Terryl Warner, a commission member and a member of the Utah State Board of Education, said the idea was discussed, but "I think it was clear from the beginning that mandating every teacher be armed, oh my gosh, no."
While some of the commission's recommendations would require legislative action, other issues could be addressed by the State School Board.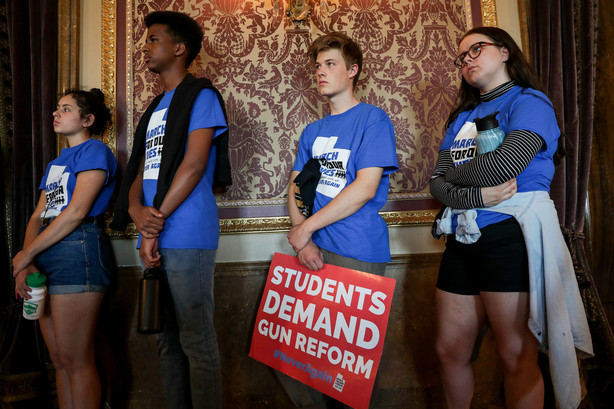 Warner said she would like to further explore an emergency alert app that enables teachers to notify administrators of an incident, which was one of the commission's Tier II recommendations.
Another Tier II recommendation was strengthening Utah's laws on safe gun storage by enhancing penalties.
The Utah Shooting Sports Council, in a statement, said it believes people should store firearms "in a safe manner appropriate to their situation, we are opposed to a one-size-fits-all storage law."
Another Tier II recommendation was expanding the use of trauma-informed practices in Utah schools, which address the whole child and issues they bring to school.
Tier III recommendations included waiting periods to obtain firearms and universal background checks for gun purchases.
Of the latter recommendations, "that gets harder," Hughes said, but the issues are worthy of discussion by state lawmakers.
×
Photos
Related Stories