SALT LAKE CITY — There are few events that have millions of people wake up early to watch television. Then again, the World Cup is not your average sporting event — it's a global event that unites communities all around.
Salt Lake City is no exception.
On Sunday morning, soccer fans from across northern Utah gathered at The Gateway to watch one of the most anticipated matches in the World Cup group stage, as Mexico faced defending champion Germany in Moscow.
Over 250 fans, mostly supporting Mexico, sat around the plaza to support "El Tri."
"It's very emotional, it's a passion to cheer on the Mexican national team," said Israel Tovar, a Mexico fan in attendance. "It's a fun atmosphere here."
The watch party was organized by Telemundo Utah. It is the first time the World Cup is being broadcast on the Spanish-language channel, which won the rights to the tournament for an estimated $600 million in 2011. Telemundo will also broadcast the 2022 World Cup in Qatar and the 2026 World Cup in North America.
Steve Downing, station manager at Telemundo Utah, said it's all about serving Utahns, bringing them together to enjoy time as a community.
"Being a first for Telemundo Utah, being a first for Salt Lake City, we wanted to make sure that we brought this to our community," Downing said. "We serve the Hispanic community, so we decided to throw this party."
The emotion of the crowd was high, as Mexico charged early on. Fans of all ages came to enjoy the match. Some fans came from as far as Ogden to attend the watch party, cheering on their heroes who were playing over 5,500 miles away.
Flags, a luchador mask and tri-colored wigs were worn by fans.
And in the middle of all of it, one Germany fan was sporting his jersey among the mostly Mexican audience.
Anxiety filled the morning air, as Germany responded after a slow start. Every time Mexican goalkeeper Guillermo Ochoa would make a save, the crowd would gasp and clap in relief.
Then, in the 35th minute, the moment all Mexico fans were hoping for happened: A great counterattack led by Javier "Chicharito" Hernández found an open Hirving Lozano, who slipped by Germany's Mesut Ozil, put the ball toward the near post and past goalkeeper Manuel Neuer for the goal.
The crowd at The Gateway went wild! A chant of "México!" began soon after.
During halftime, José Borjón, Mexico's consul in Utah, thanked the crowd for attending. Salt Lake City Police Chief Mike Brown also spoke and expressed his support for "El Tri."
"I don't speak Spanish, but let's go Mexico," Brown said with a smile, as the crowd cheered afterward.
As the second-half minutes ticked by, the Mexico fans at The Gateway grew tenser, hoping their team could stop the German attack. The anxiety on the faces of the fans in the crowd was recognizable, as time seemed to move slower in the game. The final minutes of the match saw Germany press and go all-out, looking for an equalizing goal.
With just two minutes to go, an up-close shot on goal by German forward Mario Gomez was blocked by Ochoa. A few seconds later, a lightning-fast shot by Julian Brandt went just wide, to the relief of Mexico fans.
Minutes later, the upset was complete. Mexico hung on and won the match 1-0. As the final whistle blew, The Gateway crowd erupted in celebration, having just witnessed one of the greatest victories for "El Tri" in World Cup history.
"Emotional! Most didn't think we could do it, but yes we did," said one Mexico fan after the match.
"This win is important; it's going to be historic," said another fan. "It was difficult to beat Germany, but you see that anything is always possible. Nothing is guaranteed; you have to play the matches."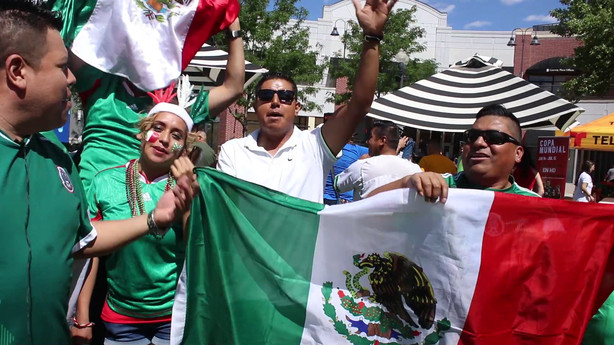 The match and watch party was a fun time for all, but more importantly, it was time well spent attending a cultural community event where all were welcomed.
Celebrating culture and giving back to the community is a responsibility Downing said he and Telemundo Utah will continue to achieve.
"We have a commitment to this community," he said. "We wanted to make sure we celebrated this with our community.
"Like we like to say, 'Spanish is the language of the heart,'" Downing added. "Even though we live in this country and we adjust, we want to make sure that our culture stays intact."
For Chief Brown, it's events like Sunday's watch party that brings Salt Lake City residents from different cultures together and bond as a community.
"This is a wonderful site. Welcome to downtown Salt Lake City on a Sunday morning," Brown told KSL. "The energy, the excitement. It's just a great opportunity to gather to watch this great team … (to watch) a community coming together to watch this great event."
The watch party brought a bit of fun and noise to a normally quiet downtown SLC morning.
"It may not be lawful to have this much fun before noon on a Sunday," Brown jokingly said.
Video producer: Yvette Cruz, KSL.com
×
Photos