This archived news story is available only for your personal, non-commercial use. Information in the story may be outdated or superseded by additional information. Reading or replaying the story in its archived form does not constitute a republication of the story.
SALT LAKE CITY — The cost of housing in Utah is rising at a higher rate than wages for thousands of low-income households, a new study indicates.
The Out of Reach report released Wednesday by the National Low Income Housing Coalition shows minimum wage earners in Utah would have to work 98 hours a week — 2.5 full-time jobs — to afford a two-bedroom apartment at fair market rent.
"Housing prices continue to rise far beyond the reach of low-income wage earners," Utah Housing Coalition Executive Director Tara Rollins said. "Without assistance, the gap between what low wage jobs earn and what rental housing costs here is simply unbridgeable."
The report showed that nationally individuals earning the federal minimum wage of $7.25 per hour would have to work 122 hours per week to afford a two-bedroom unit at the fair market rate and 98 hours a week to afford a one-bedroom apartment.
The national study found that this year's hourly "housing wage" came in at $22.10 for a two-bedroom rental apartment and $17.90 for a one-bedroom unit.
Housing is considered affordable if a unit at fair market rent is 30 percent or less of a wage earner's income, explained Rollins. She noted that would mean paying $924 for the average two-bedroom unit in Utah.
To achieve that standard, she said, a Utah household would need to earn a monthly income of $3,079 or $36,952 a year, she said. In a 40-hour work week for 52 weeks annually, a household would need to make $17.77 per hour. However, the average renter in the Beehive State earns $13.92 an hour, leaving a $3.85 wage gap, she said.
The state's hourly wage rose 75 cents over last year, Rollins said, but still ranks 26th nationwide.
The report noted that Summit County was the most expensive area to live in Utah, requiring a housing wage of $22.63 per hour, followed by Wasatch County at $20.08 an hour, the Salt Lake City metro area was No. 3 at $19.90 per hour.
Read more:
While the problem of affordability is especially prevalent along the Wasatch Front, less populated areas of the state are affected as well, said Michele Weaver, rural development specialist with the Rural Community Assistance Corp.
Uintah County ranked fourth most expensive at $18.33 per hour with rural Kane County coming in at No. 5 requiring an hourly wage of $17.27, the report notes.
"There is a cost-efficiency issue in rural communities," Weaver said. Because the return on investment is not as high in rural areas, developers are less inclined to build rental units that could provide options for prospective households.
Potential solutions would involve possible incentives for those willing to build rental units in those affected communities, with a stipulation of including a portion of affordable units in the project, she added.
Policymakers are aware of the affordability matter, according to Utah Rep. Joel Briscoe, D-Salt Lake City. He said the issue is a concern statewide and needs to be addressed on numerous levels if the state is going to mitigate the problem before it gets out of control.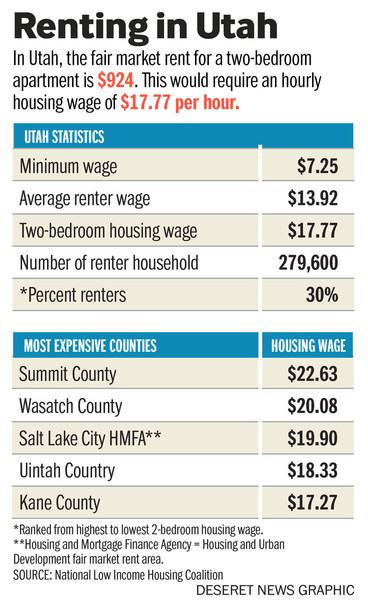 He noted that some states facing similar issues have issued bonds, something he wants to propose to the Utah Legislature. He suggests bonding for $100 million to develop more affordable housing options across the state.
"One year ago, we borrowed $1 billion to build roads because we said there was a bottleneck, because it was good for business, good for individuals not to have to spend too much time on roads," he said. "We (now) have a bottleneck in housing. Isn't it worth the state investing a little money to try and reduce that bottleneck?"
He said having so many families impacted by the growing affordability issue can have myriad residual effects, including potentially increasing crime, school absenteeism and rising taxes needed to pay for resources required to address the new issues. With that in mind, Briscoe said now is the time for leaders to work on developing community-based solutions to alleviate the pressure families are feeling as they try to find decent housing.
"We actually have a good chance at success. It's going to take public-private work to make it happen," he said. "The state can't do it alone, the cities can't do it alone, the business community can't do it alone, advocates can't do it alone. It's going to take all of us working together to get it done."
×
Photos
Related Stories