This archived news story is available only for your personal, non-commercial use. Information in the story may be outdated or superseded by additional information. Reading or replaying the story in its archived form does not constitute a republication of the story.
HERRIMAN — Herriman City will leave its partnership with the Unified Police Department and create its own police force.
City council members made the decision in a unanimous vote Wednesday evening to notify UPD that the city would be leaving the agency. No timeline was set for when the city will leave.
Herriman Mayor David Watts said he could not justify using tax dollars to pay for things the city isn't getting through UPD. He said the Unified police officers who work in Herriman are all heroes, and he is happy to pay lots of money to continue having great policing with a new department.
"I'm willing to pay top dollar," Watts said.
Much of the concerns over Herriman's presence in UPD stems from costs.
Herriman City Finance Director Alan Rae said the city is paying for five UPD officers that it isn't getting.
He also said he was concerned about the financial transparency of the department. Rae said he had asked questions about the department's finance that had gone unanswered for long periods of time.
"Financially, we're not getting what we pay for with UPD," Rae said.
Projections for a new Herriman City police force would see 31 officers dedicated to the city, compared with about 26 under Unified's model. The projection would see a new department cost the city about $4.46 million, compared with the $4.93 million the city would pay to UPD next year, according to documents Rae shared during the meeting.
"We could have more dedicated officers in the city for less money," he said.
Council Member Nicole Martin said the council and city staff members had put in a "monumental" amount of time into researching the issue.
"Public safety and fiscal responsibility are two of the top concerns we have as a city council," she said.
Council member Jared Henderson, who represents Herriman on the UPD board, said if Herriman officials didn't get answers to their questions, they were prepared to take a hard line on the UPD budget, which is due July 1.
That wouldn't necessarily mean the city would be leaving the agency by that point, contrary to allegations made by some who spoke at the meeting, Henderson said. He was offended by some of the allegations leveled against the city, he added.
Henderson said he couldn't see city officials agreeing to another 12-month UPD budget in July, which would see the city pay some $2 million that wouldn't be going to services for Herriman.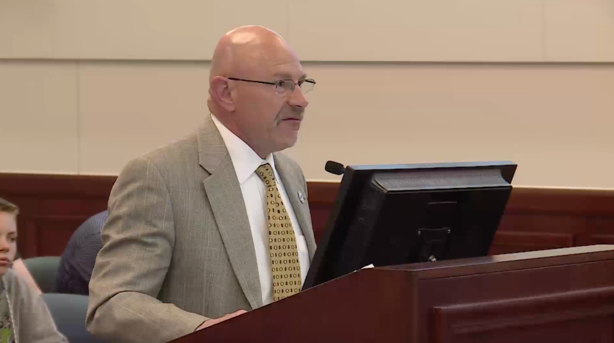 All council members echoed Watts' praise for the officers currently working in Herriman.
"We're extremely happy with our officers and the job that they do," Henderson said. "The people that we have are fantastic. We just don't have enough of them, but we're paying for them."
Before the council's vote, Salt Lake County Sheriff Rosie Rivera said that her department is prepared to help Herriman with the transition to leave UPD.
She acknowledged that UPD's costing model has some issues. Rivera, who is relatively new to her position, said she inherited some of the department's problems, but that she is working to fix the issues.
Some of the current UPD board members are unhappy with the costing model, Rivera said.
"We have to adjust and make it a model that works for everyone," she said. "We can do this, however, it takes time."
Though she said UPD would help with Herriman's transition, keeping a relationship with the city is important moving forward.
"Public safety is our concern," Rivera said. "The residents of Herriman are so important to us. … We feel like we are a part of Herriman."
Millcreek Mayor Jeff Silvestrini, who serves as the UPD board chair, said Herriman leaving UPD by July 1 would be like "throwing a hand grenade" in the board's budgeting process.
He said the UPD board would respect Herriman's decision to leave. But he urged council members to delay their departure at least until the end of the year.
"We wish you would stay, and we believe you're making a monumental mistake," Silvestrini said. "Please do this in a logical way."
---
We're extremely happy with our officers and the job that they do. The people that we have are fantastic. We just don't have enough of them, but we're paying for them.
–Jared Henderson, Herriman City Council member
---
Both Rivera and Silvestrini said they were not made aware of the Herriman council's potential decision to leave UPD until a few days before Wednesday's meeting.
Henderson said that wasn't true.
About a dozen Herriman residents, along with a few residents of other cities and several law enforcement officials, spoke during a public comment period at the meeting.
Most Herriman residents said they liked UPD and hoped the city would stay with the agency.
Brady Clark, a 12-year Herriman resident, said he would like to see more transparency from UPD, but thought the city could work with the agency to get that.
"I just don't think we've done our due diligence," Clark said. "I think we can do better for our community."
×