This archived news story is available only for your personal, non-commercial use. Information in the story may be outdated or superseded by additional information. Reading or replaying the story in its archived form does not constitute a republication of the story.
SALT LAKE CITY — Motorists saw a major change to a five-way Salt Lake City intersection Wednesday after officials used a "pop-up" roundabout to test an anticipated reconstruction project in 2019.
Crews began Wednesday using traffic cones and police tape to simulate a proposed roundabout to the intersection of 900 South and 1100 East, and where Gilmer Drive runs diagnally on the southeast side. The mock roundabout will remain in place until May 23, according to Salt Lake City transportation planner Tom Millar.
Drivers will use the "pop-up" roundabout by driving in a counter-clockwise route, yielding to traffic from the left and also yielding (not stopping) to any cyclists or pedestrians.
Crews put a tarp over stop signs in the area, encouraging drivers to yield instead. Drivers appeared to handle the roundabout well, said Scott Maynard, who owns a business near it.
"I think a lot of people in this city perhaps haven't driven overseas or in other cities that have roundabouts, so you'll see them a little confused," he said, as he watched vehicles handle the roundabout. "For the most part, I think it's working well."
A closure of nearby Gilmer Drive will then be tested on May 23 and will run through May 30, making the area a standard four-way intersection. Millar said the city will test a closure to vehicles at the western end of Gilmer Drive during that span and residents will be allowed to access their homes from the south and east side entrances of the road.
The city has planned for several years reconstructing 900 South while they put a trail along the road between Emigration Canyon and I-215, Millar said. With the reconstruction plan, he said it meant change would have to happen at the intersection with 1100 East and the adjacent Gilmer Drive.
While Millar said motorists typically don't struggle with the intersection of 900 South and 1100 East, Gilmer Drive can create a problem.
"With that diagonal shooting off there, it just throws a whole other element into that," he said.
Dominic Smith, an employee at Caffe Expresso, a small drive-thru coffee shop across the street from the Gilmer Drive, joked he has a front-row seat to the intersection and, on Wednesday, the makeshift roundabout.
"It is usually pretty busy and it is chaotic because of the five-way (directions), but generally, we don't have any accidents," he said. "A lot of horn-honking, that kind of deal."
He said biggest concern he had of the intersections is cyclist and pedestrian safety.
"We just want everyone safe and (whatever) is most efficient for traffic flow," he said.
Working just fine. Longer queue but moving through nicely. Making adjustments for turning buses and other large vehicles. #slcpopup#tacticalurbanism@slcmovespic.twitter.com/Hsn3gLGf6M

— Tom Millar (@transport_tom) May 16, 2018
That, my friends, is the @slcfire Ladder 5. Piece of cake. #slcpopup#tacticalurbanism@MikeLydon@slcmovespic.twitter.com/cV03aW4Rpl

— Tom Millar (@transport_tom) May 16, 2018
Katherine Rupert, who pulled into Caffe Expresso Wednesday, said she commutes in the area often.
"It's usually pretty sketchy," she said, of the intersection, which she said has a problem with people not always stopping at stop signs there.
A final decision for the project will be decided after officials collect data from the two weeks of studies, gather public opinion and view cost options.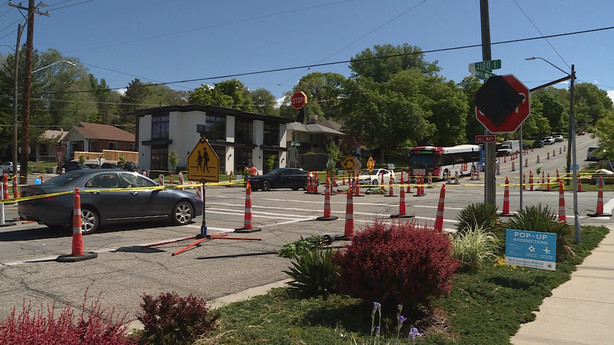 Millar said the "pop-up" design gives planners a "real-world" view of their plans before construction begins next year.
"Without pop-ups, the city would design and construct the infrastructure, collect data and public feedback, and then potentially make some possible changes," he said. "With this approach, we collect some of the same data without as many impacts and with a lot of flexibility."
Contributing: Sean Moody, KSL TV
×
Photos