This archived news story is available only for your personal, non-commercial use. Information in the story may be outdated or superseded by additional information. Reading or replaying the story in its archived form does not constitute a republication of the story.
WEST VALLEY CITY — A sea of blue foam brightened the morning for children at Catherine C. Hoskins Head Start Preschool in West Valley City Monday.
Utah Community Action granted a new Imagination Playground system to the preschool serving low-income families. The system consists of custom-designed, oversized foam pieces allowing children to create playspaces while introducing them to early elements of science, technology, engineering and math.
"The possibilities are really endless, and it helps them exercise their imagination," said Joni Clark, chief development officer of Utah Community Action.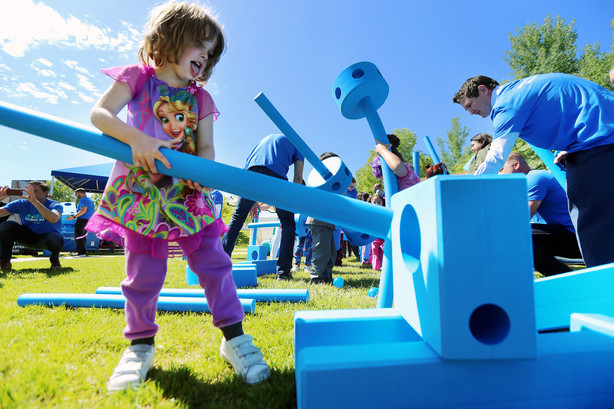 Clark said the new play opportunity for Head Start students will help them develop motor skills and problem-solving skills, all while introducing them to STEM fields.
As the classes of children ages 3 to 5 ran out to play with the new school toys for the first time, they immediately began building an array of creations, including forts, surfboards and trails to roll balls down. One girl built a creation she could sit and rock on, calling it her "unicorn."
"You can think of them as adult-sized Tinkertoys that they can really just use their imagination and build tons of stuff," Clark said.
Mandy Bennett, a volunteer at the event, said she loves giving children the ability to build.
"This is way more fun than Legos," she said. "I don't know if you remember when it would rain at school and you would get out the parachute and that was always the best day. This is another thing that they can get out and just play with it indoors."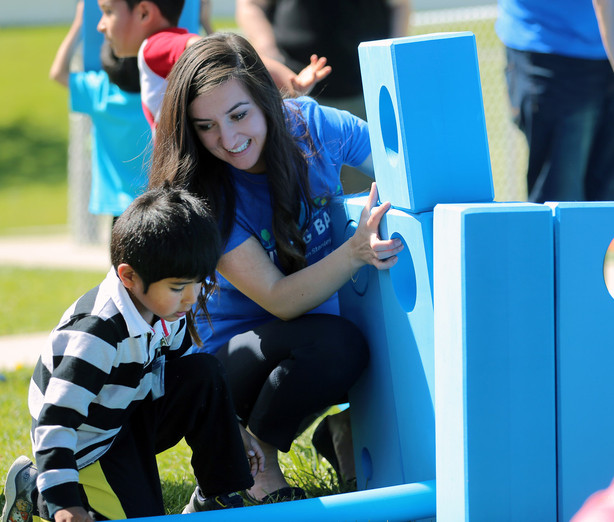 Clark also described the Imagination Playground's ability to function indoors and outdoors.
"This is essentially very important because in Utah when it rains and snows they're able to take this equipment inside in our multipurpose room and still continue that development and that play which is essential," she said.
Aurora Howell, an educator at West Valley City's Head Start preschool, said she sees a trend in increasing young students' exposure to STEM subjects.
"We are including more of these kinds of materials to help the children start at a young age to develop these skills they're going to need later in life," Howell said. "Part of our curriculum is to help children get the skills to be ready for kindergarten, and it starts at a young age. It's a perfect age where we are developing those skills for our children to know exactly what they want to be when they grow up."
Howell said the school's new Imagination Playground will also help introduce her students to geometric shapes — a great opportunity to learn while they're playing.
---
Email: mpark@deseretnews.com
×
Photos