WEST JORDAN — Craig Schmidt was killed after his motorcycle struck a discarded pallet on Bangerter Highway in West Jordan. Family and friends were struggling with the abrupt loss.
The driver who dropped a pallet might not have even realized they lost it. The loss it caused for family and friends of Craig Schmidt, however, was overwhelming.
"I want to say I forgive them, but I'm just not there yet," said Craig's wife, Dayna Schmidt. "People just need to be aware and take the time to get things secure. You just never know what kind of ripple it's going to cause, and what it can do to someone else's world."
Officials with the West Jordan Police Department said Schmidt was wearing a helmet and all the appropriate protective gear when his motorcycle struck that pallet around 11 p.m. Saturday. The impact launched him into the barrier wall.
Schmidt's 12 year-old daughter, Sophia, said her father had a way of making people laugh.
"He was really talented, was really funny," she said. "He could always lighten the mood."
Schmidt and his wife Dayna played in an alternative rock band together. She played the bass, while he played guitar. His love for music seems to have passed on to Sophia too, who now plays the piano, violin, and guitar.
"That kind of rubbed off on me, I think. His style," Sophia said.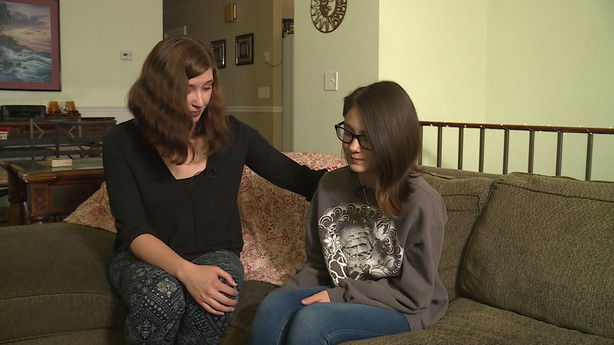 Dayna said she met Craig on a blind date, after a friend set them up more than seven years ago.
"The minute we met, it was love at first sight," she said. "I remember both of us used to talk about it all the time; remembering how our hearts jumped into our throat. We were both just like, 'wow.'"
Dayna Schmidt said if anything, her tragic loss should serve as a reminder to all drivers.
Road debris has been a constant issue for the Utah Highway Patrol. In 2017 alone, troopers were called to remove 26,477 pieces of debris from Utah highways. Debris was determined to be a factor in 497 crashes.
While Dayna held back the tears during an interview with KSL, she said the last couple of days haven't been easy.
"I can't speak enough to how much we loved him, and how much I'm going to miss him," she said.
Like any couple, Schmidt said their time together had its struggles, but that they were happy.
"It's been an amazing run," she said. "Just not long enough."
Family and friends have organized a GoFundMe page* to raise funds for Schmidt's funeral expenses.
---
*KSL.com does not assure that the money deposited to the account will be applied for the benefit of the persons named as beneficiaries. If you are considering a deposit to the account, you should consult your own advisors and otherwise proceed at your own risk.
×
Photos
Related Stories