Estimated read time: 1-2 minutes
This archived news story is available only for your personal, non-commercial use. Information in the story may be outdated or superseded by additional information. Reading or replaying the story in its archived form does not constitute a republication of the story.
SALT LAKE CITY — As finals week began Wednesday at the University of Utah, students passing through the J. Willard Marriott Library encountered an unexpected space to help them cope with their testing anxiety.
"The Cry Closet" stood in the middle of a busy passageway, ready to greet stressed-out students.
"I think everyone just needs a safe space sometimes, even if it's in a very public place," said the artist behind the project, senior student Nemo Miller.
Miller created 400-pound, stand-alone closet for a class project.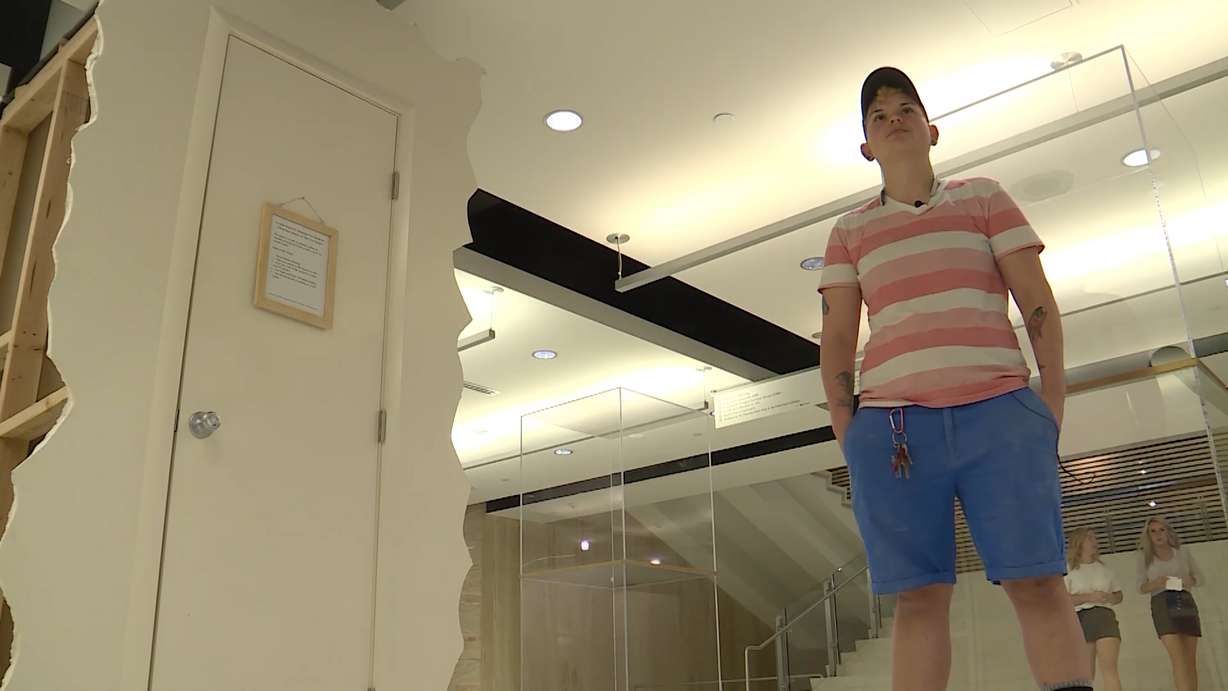 The front appears as if it was cut out of a wall, while the inside space is covered with soft materials and filled with stuffed animals and toys.
Rules posted for "The Cry Closet" instructed students to knock before entering, to only go in alone and to limit time spent inside to no more than 10 minutes.
Tuesday night, word had already quickly spread around the school through social media and the hashtag, #cryclosetuofu.
Several students stopped by to check out "The Cry Closet" and even spend some time inside.
I stayed 11 mins but feel so much better thank you to whoever built this. Can we add a box of tissues please? Xo #cryclosetuofu

— 💌 𝓖𝓮𝓶𝓲𝓷𝓲 💌 (@GEMlMl) April 25, 2018
"I just kind of thought it was funny," said Christian Hoole.
Stuart Hamill described the closet as "creepy."
"I mean, it's like a creepy closet with creepy stuffed animals," Hamill laughed.
I really love the idea of the #cryclosetuofu because college is stressful. I'm an educator & that sounds like an amazing idea for the elementary/high school level too.

— Teddisha Ashley 🎤❤ (@TeddishaAshley) April 25, 2018
Other students, like Corinne Doerner, said they appreciated the concept behind the functional art piece.
"My favorite place to cry is the shower, so I'll probably use that before the closet, but I like the idea," Doerner said.
Miller was in disbelief Tuesday night over the large response the project was getting. She will keep "The Cry Closet in place" through the end of finals.
Commencement at the University of Utah is scheduled on May 3.
×
Photos
Most recent Utah stories