THE GREAT OUTDOORS — Utah is home to a handful of federally designated monuments and parks that draw in millions of visitors every year. But what are the differences between the two?
As you plan your summer trips to Utah attractions like Arches, Zion and Rainbow Bridge, here is everything you need to know about the distinctions between national parks and monuments.
Who establishes them?
One of the biggest differences between national parks and national monuments is how they get established and who establishes them, a National Park Service Salt Lake City representative told KSL.com.
National monuments are protected by the American Antiquities Act of 1906, which was signed into law by President Theodore Roosevelt with the intention of preserving sites that have historic, cultural and archeological value, according to a description of the Antiquities Act on the National Park Service website.
The Antiquities Act "authorizes the president to protect landmarks, structures, and objects of historic or scientific interest by designating them as national monuments," the website states.
National parks, on the other hand, are not established by the president but by Congress. Legislators push to establish national parks to protect "natural and historic features" with the goal of keeping "landscapes unimpaired for future generations while offering recreation opportunities."
National parks in Utah include Zion, Bryce Canyon, Arches, Canyonlands and Capitol Reef. National monuments include Grand Staircase-Escalante, Cedar Breaks, Dinosaur, Hovenweep, Rainbow Bridge, Natural Bridges, Bears Ears and Timpanogos Cave.
Who oversees them?
National parks are overseen by the U.S. National Park Service, a federal agency established in 1916 in an effort to protect ecologically diverse places.
The National Park Service also oversees most national monuments, the Salt Lake City representative said. But some monuments, like the Grand Staircase-Escalante National Monument, are overseen by the Bureau of Land Management.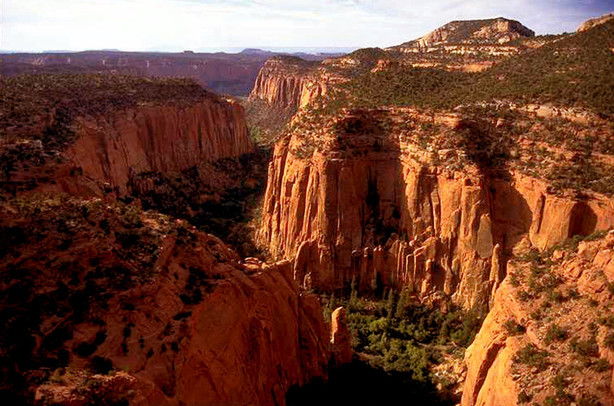 According to outdoor magazine Outside, some monuments are also overseen by the U.S. Forest Service, U.S. Fish and Wildlife Service, National Oceanic Atmospheric Administration and the Department of Defense.
Tourism
Last December, Rep. Chris Stewart, R-Utah, proposed federal legislation that would establish Escalante Canyons National Park in a piece of the Grand Staircase-Escalante National Monument after President Donald Trump reduced the monument by 1.9 million acres, KSL reported.
Rep. Stewart told KSL.com in April he wanted a national park established in the Grand Staircase-Escalante region for "a couple reasons."
"If you have someone from New York or from Germany or from Korea, and they want to come visit places in the West, they look for national parks," Stewart said. "I think they recognize that a national park is something above and beyond special," adding that monuments do not share the same public reputation or acclaim.
The fact that national parks drive tourism more than monuments is "blazingly obvious," Stewart said.
Stewart pointed to the reliance on tourism as an economic driver in rural parts of the state as another reason for proposing the bill.
"We want to foster that and encourage that (tourism), and a good way to do that is to designate a national park for those areas," he said.
Related:
In December, executive director of Southern Utah Wilderness Alliance, Scott Groene, called Stewart's proposal "just an act of smoke and mirrors" and a distraction from President Trump's proposal to shrink the Grand Staircase-Escalante Monument.
"All of the talk about a national park is just a diversion from the Utah delegation's intent to remove protection from 2 million acres of southern Utah," Groene said.
Similar purposes
According to the National Park Service, national parks are established for "their inspirational, educational and recreational values."
This is in contrast with national monuments that are created "because they contain objects of historic, prehistoric or scientific interest."
But, as Stewart pointed out, "these are all still federal lands. They are all still subject to every protection that's available to our federal lands. And we don't intend to take away any of the protections from any of this acreage (in the Grand Staircase-Escalante area)."
The National Park Service representative in Salt Lake City agreed and said national parks and monuments have similar uses and are managed under the same rules.
When asked about the status of his bill, Stewart said it still needs to get through the Senate before making it to the president's desk, which Stewart hopes will happen by early summer.
×
Photos
Related Stories