This archived news story is available only for your personal, non-commercial use. Information in the story may be outdated or superseded by additional information. Reading or replaying the story in its archived form does not constitute a republication of the story.
PROVO – Many runners from across the world are getting mentally prepared for the Boston Marathon Monday. This year, 358 Utahns are expected to be at the starting line, including a Provo woman who was adamant about qualifying for this year's race after a long few years for her and her family.
Mikell Heinz used to hate to run, but the mother of three got into a groove when she met her husband Mikey. Their shared passion became a lifestyle. Mikell may have even started outrunning her husband.
"We've definitely been competitive," she said laughing.
Mikell qualified for the Boston Marathon five years ago. Mikey, well, he snuck into the sea of runners that year, 2013.
Family members traveled to cheer them on.
"Finally Mikell, not finally, she was very fast," said Mikell's dad Val Walker laughing. "Rapidly, Mikell came across the finish line and I got some pictures of her," he said.
Despite her speed, something she grew to love was out lapped by tragedy.
"I'm lying there and the first bomb exploded. Everybody kind of jumped," she said.
Mikell crossed the Boston Marathon finish line minutes before the bombs went off on that fateful Patriots Day in 2013. She was in the medical tent getting treated for hypothermia.
---
In my mind, I'm thinking, 'My parents and mother-in-law are all at the finish line. I haven't heard from them. Bombs exploded.'
–Mikell Heinz, Provo runner
---
"I looked at the nurse who was right here and said, 'What was that?' She said, 'I think it was just a cannon for Patriot's Day.'"
But of course it wasn't.
"The second one was quite a lot closer to where I was," said Walker. "We were supposed to be right over there," said Mikell's dad, looking at a picture he took in the terror.
He, his wife, and Mikell's mother-in-law took the wrong bus earlier in the day and found themselves on the opposite side of the road from where they had wanted to watch the race. The ladies went to find Mikell after her finish. Walker stayed to look for Mikey who was still running. He was watching in between the two bombs that went off.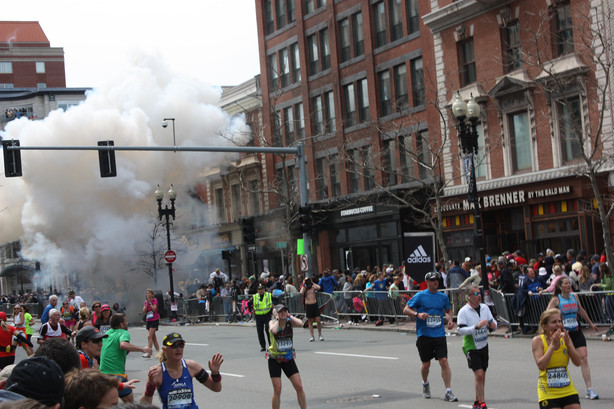 "In my mind, I'm thinking, 'My parents and mother-in-law are all at the finish line. I haven't heard from them. Bombs exploded.'"
Amidst the chaos, there was no cell service.
"In my mind I thought I had lost all of them," she said.
While minutes apart felt like hours, Mikell and her family eventually reconnected at the family meeting area. Despite the relief, running since then has never been the same for Mikell.
"I remember trying to run on the Provo River Trail, where I always run, and I would just walk and cry."
Her medal and mementos from that day have stayed boxed up.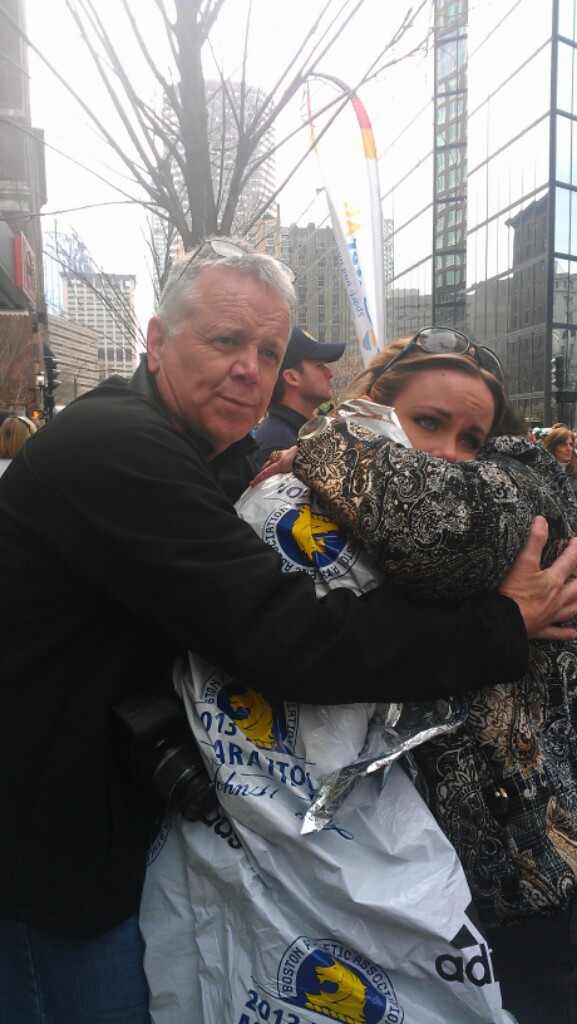 But now, 5 years later, she and her family will go back to Boston. After missing qualifying for the Boston Marathon by two minutes a few years ago and having her third child, she's qualified to run the Boston Marathon for this year.
"I'm going and I'm going to soak it all up," she said.
A second chance to finally celebrate her monumental accomplishment. A memory that was taken from her and so many others by terrorists.
Mikell's husband will be watching his wife this time around. He can't wait to "be out there cheering for her and get some closure here because I know she's had a really hard time with it."
For the little girl who grew up hating to run, the sport has shown Mikell and her family the spirit of the American people and taught them to cherish every moment together.
×
Photos