This archived news story is available only for your personal, non-commercial use. Information in the story may be outdated or superseded by additional information. Reading or replaying the story in its archived form does not constitute a republication of the story.
SALT LAKE CITY — Like Utah's economy, the Wasatch Front housing market is strong with an increasing population bolstering demand for both single-family and multifamily rental units throughout the northern section of the state.
But new research shows that demand has outpaced wage growth, which is prompting an affordability gap.
Data from ATTOM Data Solutions, based in Irvine, California, showed that median home prices during the first quarter of 2018 were not affordable for average wage earners in 304 of 446 — or 68 percent — of U.S. counties analyzed in the report.
The report noted that three Wasatch Front counties — Davis, Utah and Weber — each rated less affordable than their historic first quarter average during the first three months of 2018, while Salt Lake County rated equal to its historic affordability index.
The report determined affordability for average wage earners by calculating the amount of income needed to make monthly house payments — including mortgage, property taxes and insurance — on a median-priced home, assuming a 3 percent down payment and a 28 percent maximum debt-to-income ratio, a press release states. The required income data was later analyzed against average weekly wage data from the U.S. Bureau of Labor Statistics.
"Home prices are going up very quickly, said Daren Blomquist, senior vice president with ATTOM Data Solutions. "The negative side of that is homes are also becoming very unaffordable."
He mentioned three factors that could help improve affordability in the near term: decreasing home prices; increasing wages — "the most ideal," he noted; and decreasing interest rates, which he described as "unlikely to happen."
"The prospect going forward is that it's going to get worse before it gets better," Blomquist said. "This is just a sign of a market in a boom."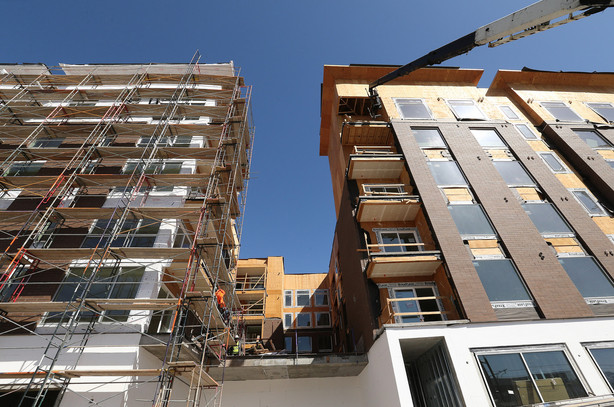 He noted that affordability often suffers during boom economic cycles as markets frequently outpace incomes for at least the initial phases of growth.
"In some ways, you could say that it is a good problem to have, but it comes with potential constraints on the future growth of those markets," he said. Individuals and companies could decide to leave those areas altogether if housing becomes too costly and therefore untenable to live or operate, he added.
However, he noted that the Wasatch Front is still a more favorable housing market than other surrounding large metropolitan areas, making it still attractive to people and businesses seeking alternatives to places like northern and southern California, Las Vegas, Seattle or Denver.
Related story:
"As long as (the Wasatch Front) is considered a bargain to some of those competitive markets that might be competitors for jobs and for people, then we'll probably continue to see home prices growing and affordability continuing to become an issue," Blomquist said.
Blomquist said that despite the affordability concerns, Utah metros still rate as much more livable economically than many large metros across the country. He said the state should expect to continue its population growth trends for the foreseeable future as individuals and companies look for locales that offer greater economic value than the places they currently reside.
In March, researchers at the Kem C. Gardner Policy Institute also found that current market conditions are threatening to create an affordability crisis in Utah based on an increasing housing shortage and rapid housing price appreciation.
---
Housing prices in Utah will continue to increase at rates well above the national average due to relatively high rates of population and economic growth.
–Jim Wood, Ivory-Boyer Senior Fellow at the Gardner Policy Institute
---
In a report titled "Housing Prices and the Threat to Affordability," authored by the institute's James Wood and Dejan Eskic, data showed that Utah has experienced a 276.1 percent increase in housing price value since 1991 — the fourth highest in the nation. Only Colorado, Oregon and Montana saw greater appreciation over that 26-year period, according to the report. The Beehive State also has seen the greatest rate of population growth from 2010 to 2016 — at 2.03 percent, the report stated.
According to report, the median sales price of a home in the Salt Lake metropolitan area was $315,100 in the fourth quarter of 2017, which ranks 24th highest among 177 metropolitan areas. In 2007, Salt Lake metro area ranked 36th.
On the downside, however, incomes in Utah have failed to keep pace, the report noted. The report defined housing affordability as a unit where an owner or tenant pays no more than 30 percent of their household income toward housing costs — rent or mortgage.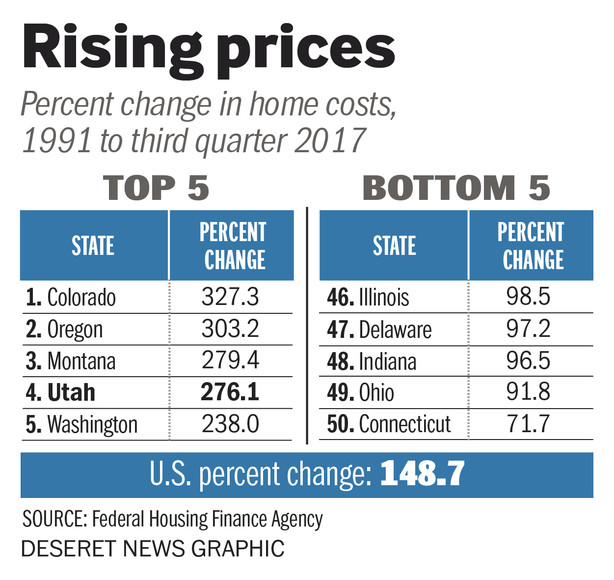 "Housing prices in Utah will continue to increase at rates well above the national average due to relatively high rates of population and economic growth," said Jim Wood, Ivory-Boyer Senior Fellow at the Gardner Policy Institute. "But the threat to affordability from rising prices may be secondary to increasing interest rates, which could significantly reduce housing affordability and homeownership opportunities for a large share of Utah households."
Today, more Utahns are finding that standard tougher to meet as they search for a decent place to live, he said.
Wood said households with below-median income face the biggest affordability difficulty. Research attributed strong housing demand, coupled with local topography, rising land costs and labor and permitting/development costs as the major factors responsible for the rapidly rising cost of local housing.
Related story:
Noting that thousands of new rental units have been built or are currently under construction along the Wasatch Front, the area still faces supply shortages as the state's population rises along with the booming economy. All four Wasatch Front counties have had apartment vacancy rates below 5 percent since 2014, with Salt Lake and Weber counties at 2.6 percent and 2.4 percent, respectively. Five percent is considered full occupancy.
The tight demand has pushed rental rates higher and has placed more pressure on households that have to pay more to find places to live, Wood said.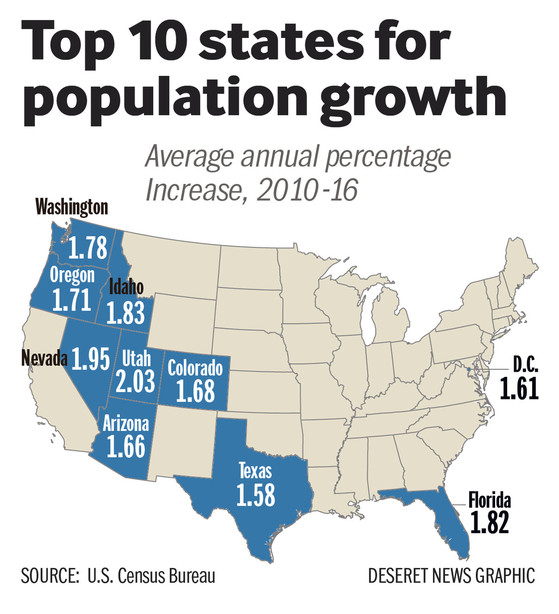 ×
Photos
Related Stories