This archived news story is available only for your personal, non-commercial use. Information in the story may be outdated or superseded by additional information. Reading or replaying the story in its archived form does not constitute a republication of the story.
SANDY — The local housing market has hit an historic high.
Wasatch Front existing home prices reached their highest point ever during the second quarter of this year, with the median single-family home price climbing to $300,000 — up from $275,000 the same time last year, the Salt Lake Board of Realtors reported.
The median home price in Salt Lake County rose 10 percent year-over-year to $327,000, according to data compiled by the organization.
The rising prices are attributed primarily to a strong demand for existing properties and a dwindling supply of available homes, said Troy Peterson, president of the Salt Lake Board of Realtors.
"Competition is fierce for homes priced under a half-million dollars," he said. "Many sellers continue to make the sale of their home contingent on them finding another property. Buyers typically offer more than asking price and compete with several other offers."
Peterson described the current boom market as the strongest seller's market he's ever seen in 23 years in real estate. He noted that unlike the previous housing boom a few years ago, this market isn't based on speculation but rather purely economic factors — too few properties for a huge number of potential buyers.
"We don't have inventory," he said. "If we had inventory coming like we had last time, then (it would be), 'Get ready for a bubble.' But we don't have a bubble coming because we don't have inventory."
The board reported the top five most expensive housing areas by ZIP code in the second quarter were:
• Emigration Canyon (84108) with a median sales price of $561,000 — up 19.4 percent
• The Avenues (84103) with a median sales price of $502,000 — up 2.7 percent
• Eden, Weber County (84310) at $501,000 — up 24.5 percent
• Alpine (84004) at $497,000 — up 5.9 percent
• Draper (84202) at $482,250 — up 8 percent
Peterson said the higher prices and limited housing inventory are putting a drag on existing home sales as owners hold off putting their homes on the market while deciding if they can afford to move.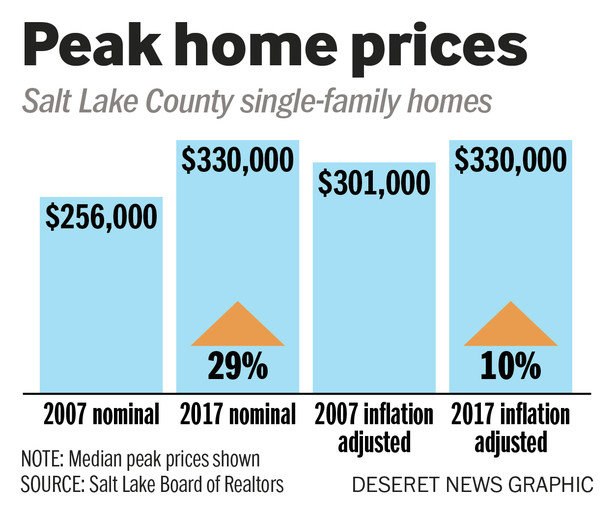 The board reported that in the second quarter, there were 8,201 single-family homes sold across the Wasatch Front, down 7 percent from a year earlier. It was the first decline in sales for a second quarter in four years, the report states.
Home sales in Salt Lake County fell 5 percent from the second quarter of 2016, with Utah County declining 6 percent, Davis and Weber counties each dropping 11 percent, while Tooele County experienced the largest decrease in home sales falling 15 percent year-over-year.
The report says that while overall home sales were down, some areas saw double-digit increases in sales, including Taylorsville (84129) — up 38 percent; Provo (84604) — climbing 25 percent; and Holladay (84117) — a jump of 22 percent.
The data shows that 46 percent of all single-family homes sold along the Wasatch Front were in Salt Lake County, while Utah County had 22 percent of all single-family home sales.
Meanwhile, condominium sales increased in all Wasatch Front counties except for Salt Lake County, where sales decreased 7 percent. The median price for a condo in Salt Lake County increased 11 percent to $224,000 year-over-year, the report states.
Regarding affordability, Peterson said the state's robust economy, strong net migration and new household formations are making it difficult for first-time buyers to find homes. He added that competition is even climbing for higher-priced homes, noting a recent $950,000 listing received three offers, each above the $1 million mark.
For the time being, he believes the market will continue on its current pace, which he described as economically positive.
"We're going to (remain stable) for a little bit (price-wise), interest rates will probably go up a little in the near future and we'll bring on some more supply," Peterson opined. "That's what will create a healthy real estate market that will sustain for a few years and we won't have a bubble."
×
Photos