SALT LAKE CITY — Elder Gerrit W. Gong was named as the newest apostle for The Church of Jesus Christ of Latter-day Saints Saturday morning, becoming the first Chinese-American to be called to the role.
Elder Gong was one of two new apostles called Saturday to serve in the Quorum of Twelve Apostles. The other was Elder Ulisses Soares, the first individual from Brazil and from Latin America to serve as an apostle in the church.
Elder Gong was sustained as a General Authority Seventy of The Church of Jesus Christ of Latter-day Saints on April 3, 2010. He was named a member of the Presidency of the Seventy on October 6, 2015, according to his biography on LDS.org.
Apostles act as "special witnesses of Jesus Christ," according to LDS.org, and make up the second-highest governing body in the church. Those in the Quorums of the Seventy work under their direction to build up the LDS Church and share the message of the gospel of Jesus Christ throughout the world. Those who are in area authorities oversee the work of the LDS Church in specific regions.
Elder Gong served as a member of the Asia Area Presidency, overseeing Latter-day Saints in that area, from 2011 to 2015 and was headquartered in Hong Kong during that time, according to LDS.org. He was eventually called to serve as the Asia Area President.
Elder Gong has served in numerous other positions in the LDS Church including his service as stake Sunday School president, the leader who oversees the church teachers in several congregations; bishop, the leader of a congregation; and stake president, a leader over several congregations.
He was born in Redwood City, California, on Dec. 23, 1953, to parents Walter Gong and Jean Char. In his early adult life, he gained a spiritual and university education. He served as a full-time LDS missionary in Taiwan. He also attended Brigham Young University and received a Bachelor of Arts degree in Asian and university studies in 1977. In 1979, he received a master's degree in philosophy.
Elder Gong married Susan Lindsay on Jan. 2, 1980, in the Salt Lake Temple. He and his wife are the parents of four children.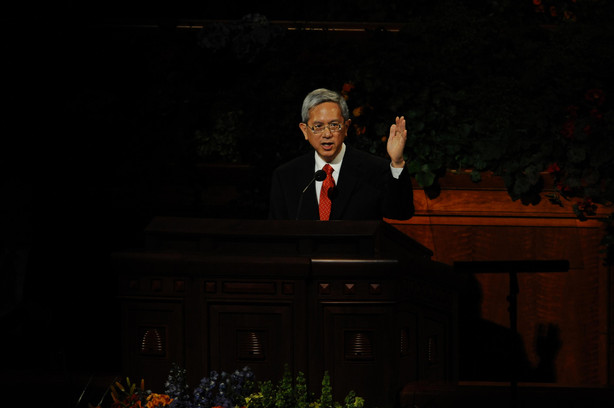 In 1981, Elder Gong earned a Ph.D. in international relations from Oxford University, where he was a Rhodes Scholar. He later served at the U.S. State Department as special assistant to the undersecretary of state in 1985; in 1987, he was the special assistant to the U.S. ambassador in Beijing, China, according to his biography on Mormon Newsroom.
Starting in 1989, he served at the Center for Strategic and International Studies in Washington, D.C. in various capacities. He also worked at Brigham Young University as an assistant to the president for planning and assessment until April 2010, when he was called to the Quorum of the Seventy.
Elder Gong's grandparents moved from China to the United States. In addition to his academic and career excellence, he has demonstrated mastery over tracing his family lineage. He has outlined his ancestry 33 generations back to the late Tang dynasty when his ancestor First Dragon Gong was born in A.D. 837 in southern China, according to LDS.org.
Elder Gong has given two addresses in the church's general conference while serving as a general authority, first in October 2010 and then in April 2016.
In his most recent address, Elder Gong encouraged church members to always remember Jesus Christ and his example.
"When trust is betrayed, dreams shattered, hearts broken and broken again, when we want justice and need mercy, when our fists clench and our tears flow, when we need to know what to hold onto and what to let go of, we can always remember him," Elder Gong said. "Life is not as cruel as it can sometimes seem. His infinite compassion can help us find our way, truth and life."
×
Photos