Estimated read time: 3-4 minutes
This archived news story is available only for your personal, non-commercial use. Information in the story may be outdated or superseded by additional information. Reading or replaying the story in its archived form does not constitute a republication of the story.
OREM — For the second-straight year, the Utah Valley men's basketball team found itself playing in the College Basketball Invitational after falling in the semifinals of the Western Athletic Conference.
And Eastern Washington became the 13th-straight opponent to fall in the UCCU Center and the first in a postseason tournament.
Akolda Manyang recorded a double-double of 20 points and 11 rebounds, and Kenneth Ogbe scored 14 second-half points to help the Wolverines beat Eastern Washington 87-65 Tuesday night in the UCCU Center in the first round of the CBI.
"Really happy for my team," UVU coach Mark Pope said. "Really proud of them. Hard game to play against a team that's really good.
"Our guys came and were pretty dedicated to assignments and played well and shared the ball."
Utah Valley (23-10) got off to a sluggish start and fell behind 10-5 early on. But Eastern Washington (20-15) struggled to hit shots, shooting just 31 percent in the first half while UVU used an 11-0 run to take a 19-13 lead with 9:57 to play.
Despite committing 11 first-half turnovers, UVU was able to take a 36-29 lead into the halftime locker room thanks to Brandon Randolph and Jerrelle DeBerry combining to go 6-of-6 from the free throw line to end the half.
In what has become the norm for UVU at home, the Wolverines came out on fire to start the second half. UVU used a 12-7 run to start the half capped off by a Manyang layup to give the Wolverines a 48-36 lead with just under 16 minutes to play.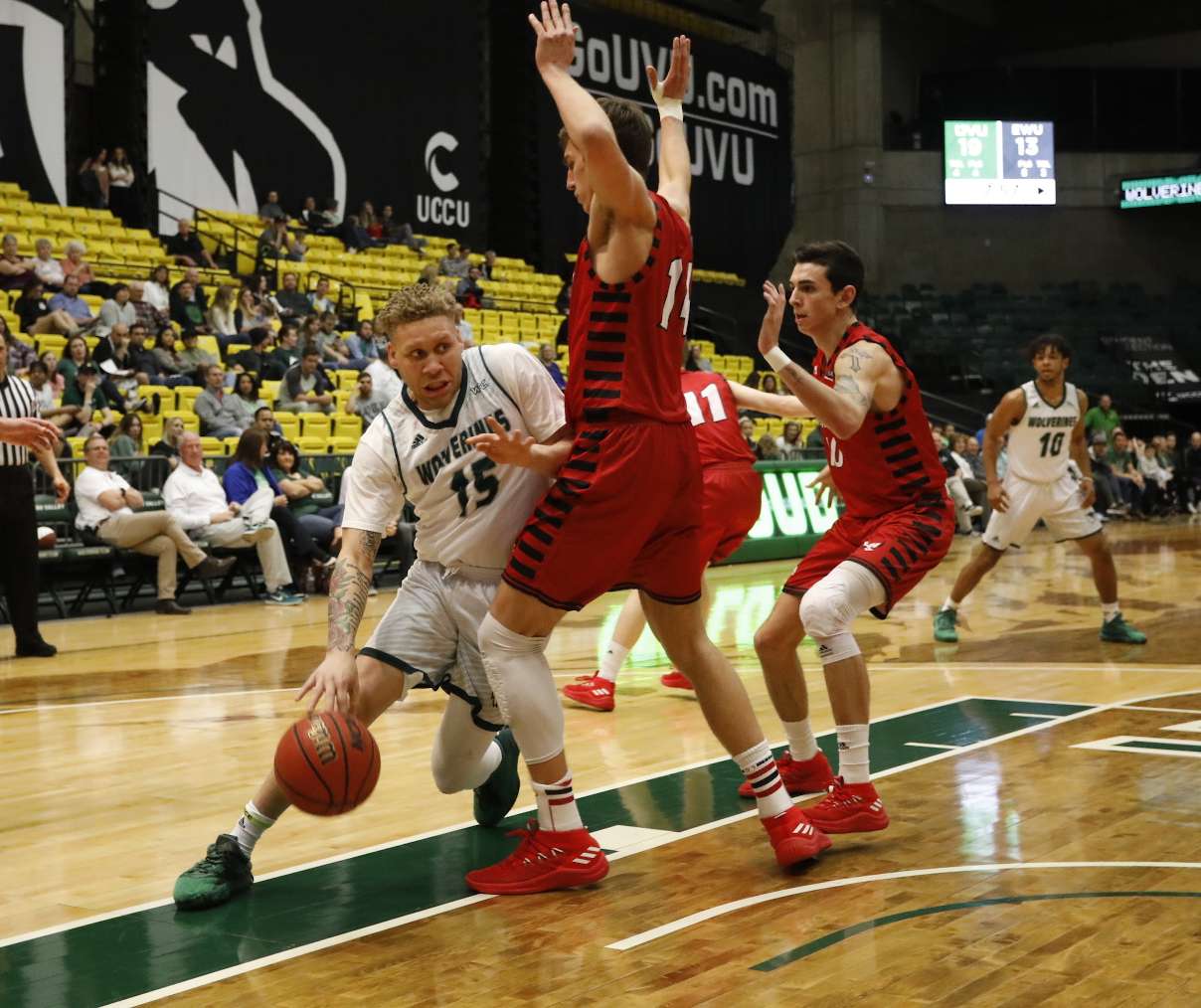 Manyang got another UVU run started with 10:51 to play and UVU leading 55-46. The Wolverines went on a 7-0 run that pushed the lead to 16 with 8:42 to play.
During that run, it was the "K.O. and A.K. show," as the duo combined for the next 11 UVU points to help put the game away. Conner Toolson scored on back-to-back possessions to make it 71-64 and UVU cruised the rest of the way.
Graduate Zach Nelson scored 10 points to become just the seventh player in UVU men's basketball history to eclipse the 1,000-point mark. Nelson was on the 2013-14 WAC regular season championship team and is culminating his career by becoming a member of the 1,000-point club.
"It's kind of a surreal feeling," Nelson said. "It took me eight years to get here. Most guys do it in four instead of eight. But it feels great to do it on a win. It feels great to do it on a postseason win and a postseason win at home."
UVU improves to 23-10 overall, the most wins in the NCAA Division I era. UVU also won its 14th-straight home game, which is tied for third longest in the nation, to move its season record to 16-1 at the UCCU Center.
"Today at shootaround, I stopped and watched one side shoot free throws," Pope said. "I watched the side that was mostly seniors and I just let it soak in that there's going to come a time really soon where I never get to do this with those guys again, ever. I want to keep winning and I think my team feels that."
The Wolverines await the winner of Colgate and San Francisco who play on Wednesday evening, before tipping off the second round Monday, March 19.
---
Kyle McDonald is sports fan who loves the Chicago Cubs. Follow him on Twitter at @kylesportsbias
×
Photos
Related stories
Most recent Sports stories