Estimated read time: 3-4 minutes
This archived news story is available only for your personal, non-commercial use. Information in the story may be outdated or superseded by additional information. Reading or replaying the story in its archived form does not constitute a republication of the story.
LOGAN — Utah State's surprise run in the Mountain West tournament ended Friday night with a loss to New Mexico in the semifinals.
The Aggie coach's run at Utah State ended just two days later.
Tim Duryea has been fired by the university, athletic director John Hartwell announced Sunday, bringing to close the tenure of the 18th coach in Aggie basketball history.
Duryea served 14 seasons as an assistant coach under legendary figure Stew Morrill, prior to being named head coach at Utah State University, a streak that ranks the longest in Utah State basketball history.
"We appreciate everything that Tim and his staff have contributed the past three seasons, both on and off the court," Hartwell said in a statement. "However, we feel it is in the best interest of the program to make a change."
The Aggies were 47-49 in three seasons under Duryea, including a 17-17 mark in 2017-18. Utah State won at least one game in every Mountain West tournament under the coach, but failed to advance further in the postseason until an upset over second-seeded Boise State last Thursday.
Utah State went 18-14 in Duryea's first season in 2013-14, but went just 7-11 in Mountain West play and have gradually declined wins in the following two seasons.
No replacement or interim was named for Utah State, though a "national search for Utah State's next head men's basketball coach" will begin immediately, the school said in its statement.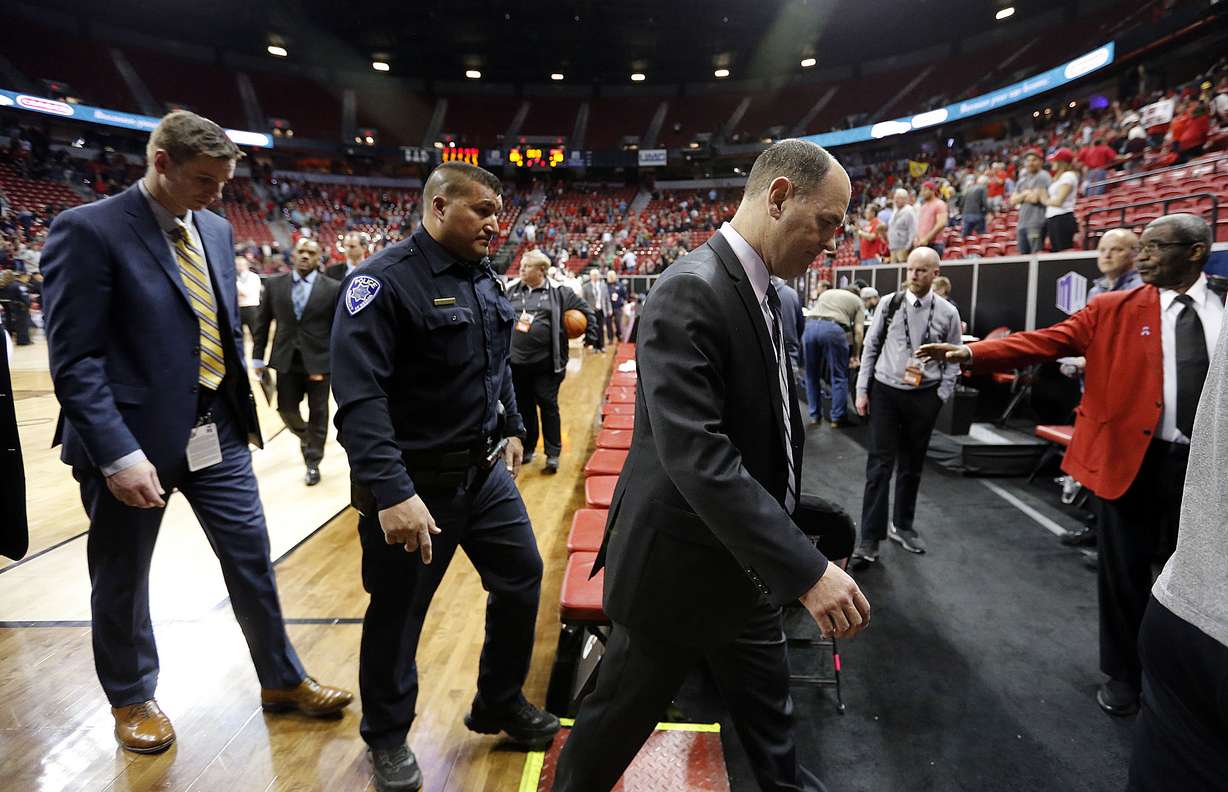 The school is in discussions to accept a non-NCAA Tournament postseason bid, Duryea said following the team's Mountain West exit. He declined to name the tournament, but it is likely the College Basketball Invitational or CollegeInsider.com Tournament.
"We're in discussions now with some tournaments that have reached out to us," Duryea said Friday night in Las Vegas. "I don't know details, but I know we've got a locker room full of guys that would like to keep playing."
A graduate of North Texas in 1988, Duryea's first full-time head coaching job came in Logan. A former head coach at Hutchinson (Kansas) Community College, he served 14 seasons under Morrill and led the Aggies' recruiting efforts when he was named associate head coach in 2009.
The Aggies went to the NCAA tournament six times under Morrill and Duryea, but have yet to return to the "Big Dance" since Morrill's retirement in 2015.
During that span, Utah State won five championships in the Western Athletic Conference and a Big West title in 2003 — but results have failed to materialize since making the leap to the Mountain West in 2013.
The Aggies' last postseason tournament was the 2012 CIT, when they lost to Mercer 70-67 in the championship game of what is considered the fourth-tier postseason tournament in college basketball.
A fixture in the Cache Valley community, the 53-year-old Duryea has twins in Logan-area grade schools and two older children who played in Division II athletics in Utah — Tanner with Westminster lacrosse in Salt Lake City and Taylor with Dixie State volleyball in St. George.
×
Related stories
Most recent Sports stories