This archived news story is available only for your personal, non-commercial use. Information in the story may be outdated or superseded by additional information. Reading or replaying the story in its archived form does not constitute a republication of the story.
LOGAN — Long-time Utah State assistant basketball coach Tim Duryea didn't graduate with a degree from the Logan-based institution.
But the 1988 graduate of North Texas made sure to let everybody know where his heart lies during an emotional introductory press conference Monday where he was officially announced as the new head coach of the Aggie men's basketball team.
"It's very rare for someone to stay 14 years in one spot, especially as an assistant," Duryea said at the new Wayne Estes Center. "But that has really deepened my passion for the program and for the university.
"This is not my alma mater, but this is my university. I feel strongly about Utah State."
Duryea will take over for legendary head coach Stew Morrill, who announced his retirement in January and has stepped down from the head of a program he built into national relevance.
Duryea fought back tears and caught himself several times at the podium in front of fans, boosters, players and media personnel. Utah State will be his first Division I head coaching job and his second overall after spending the 2000-01 season as head coach at Hutchinson (Kansas) Community College.
"This is really a neat day for me," Duryea said. "This is something I've dreamed about for a long time."
---
It's very rare for someone to stay 14 years in one spot, especially as an assistant. But that has really deepened my passion for the program and for the university. This is not my alma mater, but this is my university. I feel strongly about Utah State.
–Utah State head basketball coach Tim Duryea
---
Under the partnership of Morrill and Duryea, who has been the Aggies' associate head coach since 2009, Utah State has clinched six NCAA tournament bids, five Western Athletic Conference championships and a Big West title in 2003 before making the first of two conference transitions in their tenure. Duryea also won a pair of WAC titles in 1989 and 1990 while an assistant at Colorado State.
Duryea has been an extension of Morrill for nearly 15 years, running the Aggies' offense and defense at different times and leading both to top 10 averages in various seasons.
"Tim is very deserving of this opportunity and I know how ready he is to be the head coach at Utah State," said Morrill, who was in attendance at Monday's introduction. "He will prove that this is a fantastic hire on the University's part. Tim can handle every aspect of the job. For me personally, this is a very happy day. Good things do happen to good people and everyone who knows Tim knows that he's a special guy. Aggie basketball is in very capable hands."
Beyond basketball, Duryea has never made any serious intentions of leaving Cache Valley because of the way he and his wife Angie have been embraced by the community. When Duryea's father passed away a year ago, fans of the Aggies and other residents of Logan reached out to the Duryeas with open arms. On Monday, Duryea's mother made the trip from their native Texas to be in attendance at the coach's first official event as Aggie head coach.
The 50-year-old Duryea put his twins Taylor and Tanner in kindergarten shortly after the family arrived in Logan — and the duo is now in college, with Tanner a lacrosse player at Salt Lake City's Westminster College and Taylor playing volleyball at Dixie State in St. George.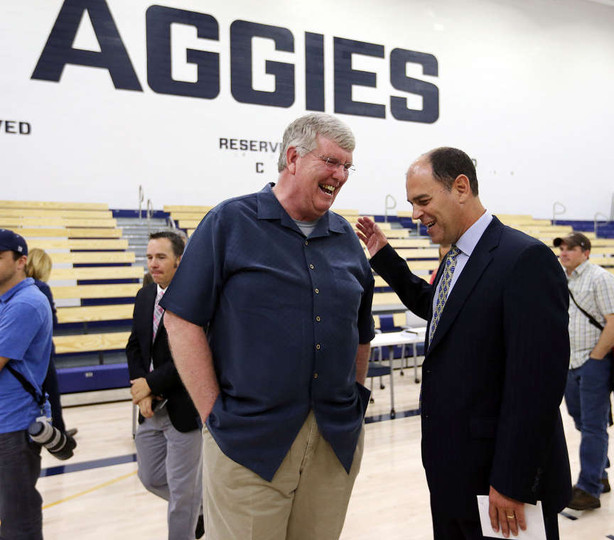 Even the Duryeas' youngest, 12-year-old Kaylee, was born the day after the family patriarch helped the Aggies to a particularly close win over Weber State at the Dee Glen Smith Spectrum.
For nearly 15 years, Duryea has had to sell recruits from across the country on why they should to come to Logan to play college basketball. But for him, the sell has been easy.
"It's an easy answer: because this is a great place. It's a feel-good place," Duryea said. "We tell recruits that all the time; just wait until you get here.
"People here love basketball, and it's a great place to live. My family is unbelievably happy here. Why would I leave? There was no reason to look anywhere else."
Morrill's coaching tree includes current coaches at Weber State, Idaho and UNLV, among others. But the lot of them called or texted Duryea to congratulate him on his new standing in the university.
"Absolutely a wonderful hire and I couldn't be happier for Tim and his family," Weber State coach Randy Rahe said. "No one, that I can think of, deserves this more than Tim. The work that he's done up there and the success that he's had as an assistant over 14 years is great. It is one of those things you like to see — guys that have paid their dues and then get an opportunity — and that is exactly what happened. He's going to do an absolutely wonderful job for Utah State."
Former Aggie assistant Dave Rice, who also spent time at BYU and now leads UNLV's men's basketball program, added Duryea has played a large role in the Morrill-led Aggie teams of the past 14 seasons.
"He has a great basketball mind and is a tireless worker," Rice said of Duryea. "Coach Duryea has a stellar reputation in college basketball. He is an experienced recruiter and a team player. I am excited for my good friend to get this well-deserved opportunity."
×
Photos
Related Stories