This archived news story is available only for your personal, non-commercial use. Information in the story may be outdated or superseded by additional information. Reading or replaying the story in its archived form does not constitute a republication of the story.
LAS VEGAS — Utah State's historic run in the Mountain West Conference tournament came to an end Friday.
Troy Simons scored a 17 points, and Joe Furstinger and Sam Logwood each added 16 points to lead New Mexico to the Mountain West title game with an 83-68 win over Utah State at the Thomas & Mack Center.
Sam Merrill had 17 points and five assists, and Koby McEwen added 16 points and eight rebounds for the Aggies (17-17), who got 13 points from Julion Pearre and 10 points and four rebounds from Quinn Taylor.
"They were the aggressor tonight, and we weren't. They hit first, and we reacted," said McEwen, who shot 6-of-15 from the field. "It's a credit to them; they threw the first punch."
Utah State played without guard DeAngelo Isby, who left the team this week for "personal reasons," according to head coach Tim Duryea.
New Mexico (19-14) advanced to the Mountain West championship game for the first time since 2014, where they will meet San Diego State. The Aztecs stunned No. 22 Nevada, 90-73 in the other semifinal.
"It's one of the best highlights of my career; probably the best," said Logwood, who also had seven rebounds. "It's a great feeling, just fighting through adversity and finally getting what I've worked so hard for.
"I've been through a lot, the returners have been through a lot, and we're finally seeing all the hard work pay off."
New Mexico coach Paul Weir said the Lobos will be forced to "play their hearts out" against the Aztecs and clinch the league's automatic berth in the NCAA Tournament.
"I think we're the freshest teams in the tournament right now," Weir said. "A lot of teams are out of gas, and it's shown up a bit on some really great players in our league.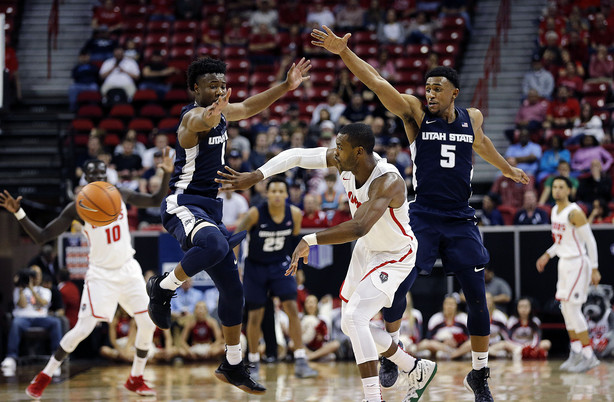 "But San Diego State and us are still going, still on an upward trajectory. They've got a lot of energy, and I think the two teams left are the two that seem to be the freshest right now."
Utah State had the early advantage, jumping out to a 20-12 lead when Taylor scored at the 9:45 mark of the first half.
"We were dictating in terms of how we were going to play," Utah State coach Tim Duryea said. "We executed a couple of things, and got some good looks. But when the pressure turned, and you played them for 40 minutes, the tide is going to ebb and flow a little bit.
"When it started going their way, mentally as much physically we did not handle that very well. That really made the difference."
But the Lobos made them pay for the remainder of the half.
Makuach Maluach poured in a dunk on the fast break to cap a 19-0 run en route to New Mexico's 37-25 halftime lead.
"They played that pressure defense, and it started with one turnover and we got sped up," said Merrill, who was 6-of-11 from the field with three 3-pointers. "That's exactly what they want you to do, and that's what you can't do. Once you have a couple of turnovers, it all turns mental.
"We had 4-5 turnovers that had nothing to do with their pressure. We were just so flustered mentally."
The Lobos' momentum didn't slow after the break. Chris McNeal pulled up for a trey just over a minute into the half to give New Mexico a 7-0 start, and kept Utah State at bay with a double-digit lead until McEwen's drive with 1:51 on the clock pulled the Aggies within nine, 77-68.
But Utah State could get no closer.
"I can't say enough about coach Tim Duryea and his team," Weir said. "They just wouldn't go away tonight. They kept fighting. You have to give them a lot of credit.
"But I'm really happy to coach this basketball team."
Utah State was making its first appearance in the tournament semifinals since joining the Mountain West in 2013. The Aggies stunned second-seeded Boise State in Thursday's quarterfinals on a night when Merrill drained seven 3-pointers.
There was no light's-out shooting against the Lobos, though.
The Aggies shot just 34 percent from the field in the first half, and was held without a shot for long stretches of the Lobos' largest runs.
"Obviously, this is disappointing and we want to get better," Merrill said. "But hopefully we can learn from these situations and apply it to going forward and be able to play tomorrow at 3 o' clock (in the Mountain West championship)."
×
Related Stories