Estimated read time: 10-11 minutes
This archived news story is available only for your personal, non-commercial use. Information in the story may be outdated or superseded by additional information. Reading or replaying the story in its archived form does not constitute a republication of the story.
SALT LAKE CITY — On International Women's Day, we celebrate the social, economic, political and cultural achievements of women worldwide. It's a day where many take just a few moments longer to recognize how remarkable women truly are.
Utah has its fair share of extraordinary women who inspire those closest to them and their communities.
We spoke with five Utah women who embody kindness, determination and seek to empower others through their work.
Here are their stories.
The Nurturer
Kristine Hansen, 68, has helped deliver babies in Utah for nearly 40 years.
Her labor and delivery career began in 1973 when she worked as a charge nurse at Utah Valley Hospital. Hansen worked on the GYN surgical floor, near labor and delivery, and it wasn't long before she realized that's what she wanted to do.
#Hansen_SOT
As a labor and delivery nurse, Hansen has the most contact with the expectant mother during labor. While the doctor has the most contact with the mom during the pregnancy, the nurse monitors both the mom's and the baby's well-being once she goes into labor.
Now working at Intermountain Medical Center in Murray, Hansen is also the Labor and Delivery Unit Education Coordinator and the Women and Newborn Outreach Instructor. She's just as passionate about teaching other nurses as she is teaching moms. As the outreach instructor, she travels to rural hospitals in northern Utah to educate other nurses about high-risk pregnancies.
And to make her even more remarkable, Hansen became a certified high-risk OB Life Flight nurse last year.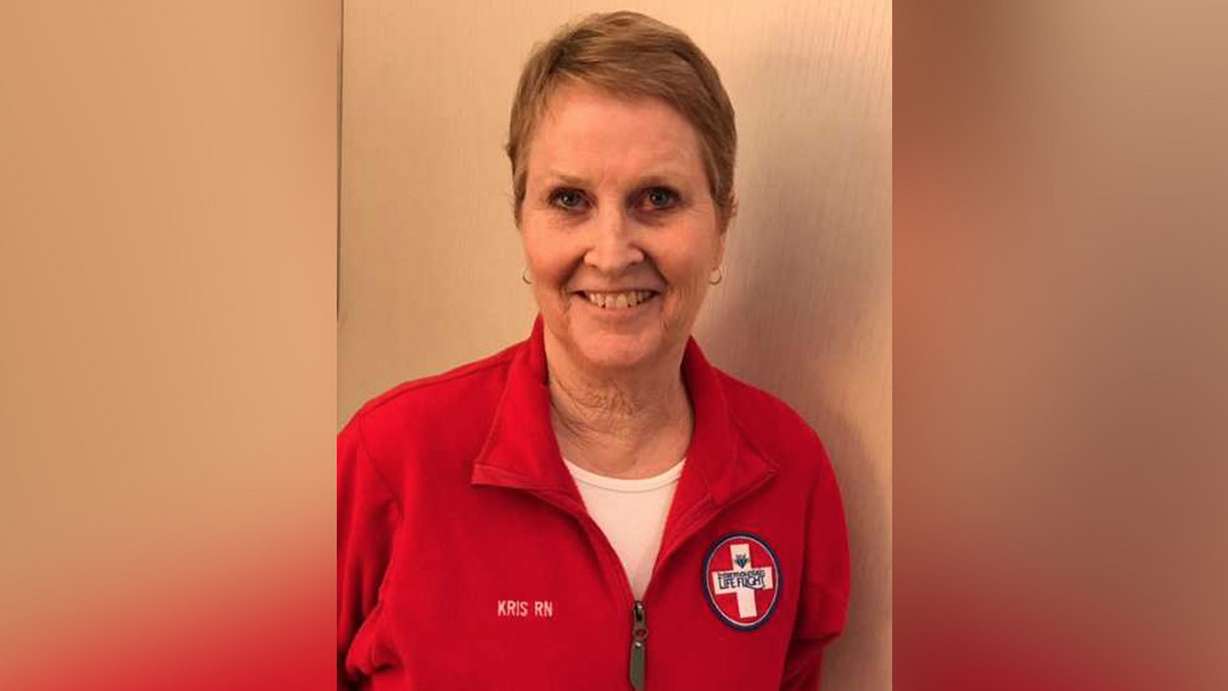 #Hansen_photo
Throughout her career, Hansen has delivered countless babies and still considers each delivery to be satisfying and joyful. She still remembers the very first delivery and what she did afterward.
"I went home and wrote a poem," Hansen said. "And I'm not a poet, but I can just remember sitting down and writing about the birth of this baby."
Hansen is considering retiring next year. She wants to work on her bucket list, which includes painting and spending more time with her six grandchildren.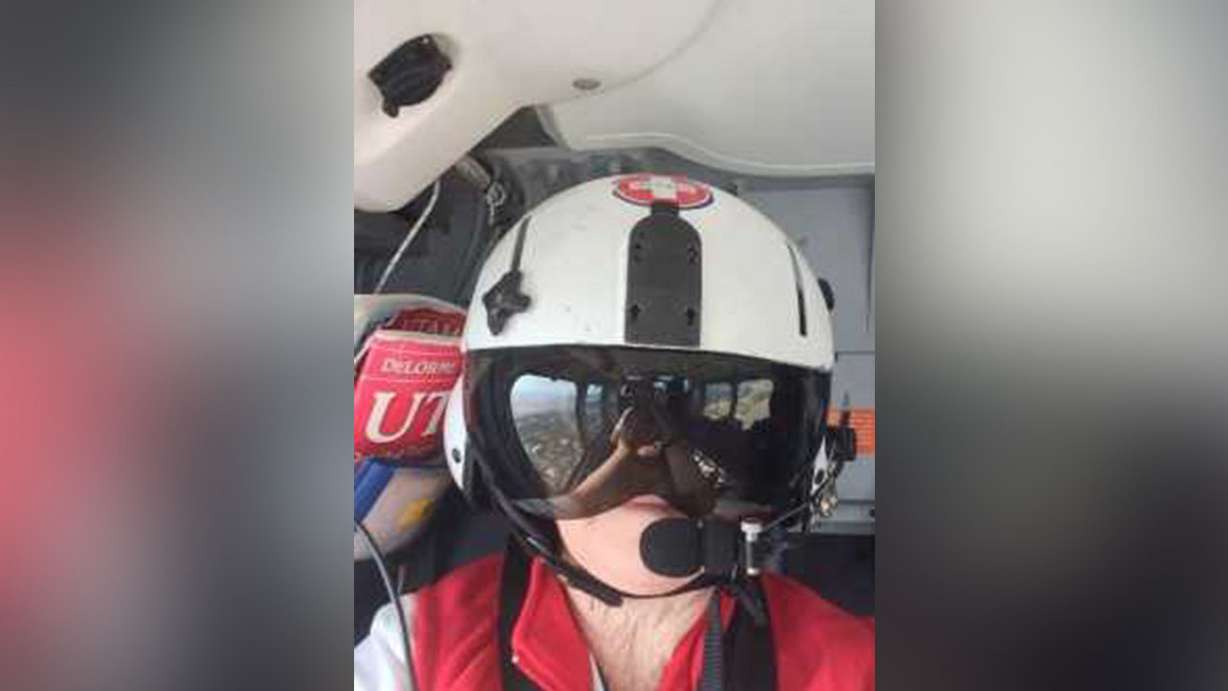 #Hansen_photo2
While many may consider Hansen an inspirational woman, she considers her 89-year-old mother a true inspiration.
"She's a good woman and she takes care of all her kids and grandchildren," Hansen said. "She's inspirational to me. She's a kind woman and I like kindness."
The Motivator
A former kindergarten and early education teacher, Rebekah Myers Dunford lives to empower other women.
Growing up, Dunford spent time with many other cultures due to her sociocultural anthropologist father. Her family lived off and on with the Iroquois Indians of the Sixth Nations Reserve in Ontario, Canada. Because the Iroquois people are a matrilineal society, Dunford grew up with an understanding of female empowerment and respect.
Dunford holds a monthly women's group in Utah and Salt Lake counties titled "Sacred Sisters Full Moon Circle." The group focuses on women's empowerment, women's wisdom and the sacred feminine. They also do humanitarian work and raise money for organizations that help women.
"We do some pretty unique, and deeply meaningful, symbolic things that give us the feeling of empowerment," she explained of the group.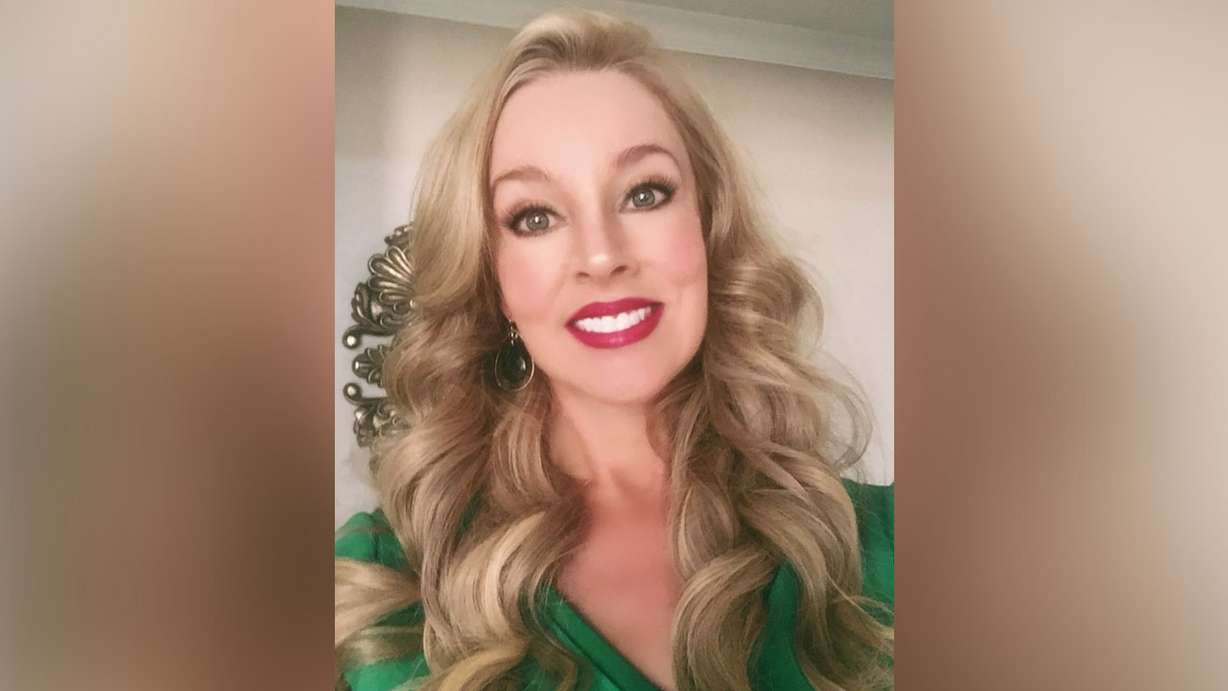 In addition to the women's group and other projects, Dunford leads a Utah Celtic music group Kindred Voices. She started the group in 2004 with family members and friends who were all musicians.
Dunford believes it's important to discover one's ancestral roots and be in touch with and explore one's heritage.
As for Dunford's inspiration?
"All of the women in my family have been inspirational to me," she said. "All of them have been strong women who knew they had something to offer and didn't just sit back. They were all good role models."
The Powerhouse
As the news director and anchor for Telemundo Utah, Silvana Effio is a media powerhouse in Utah's Hispanic community.
Effio is a native of Lima, Peru. She became a U.S. citizen at the age of 14 and moved to the U.S. after high school to pursue higher education in the U.S.
She graduated from the University of Utah with a degree in mass communications, with an emphasis in journalism. The skills she learned throughout several internships at local TV stations helped her eventually land a job at Telemundo Utah in 2011.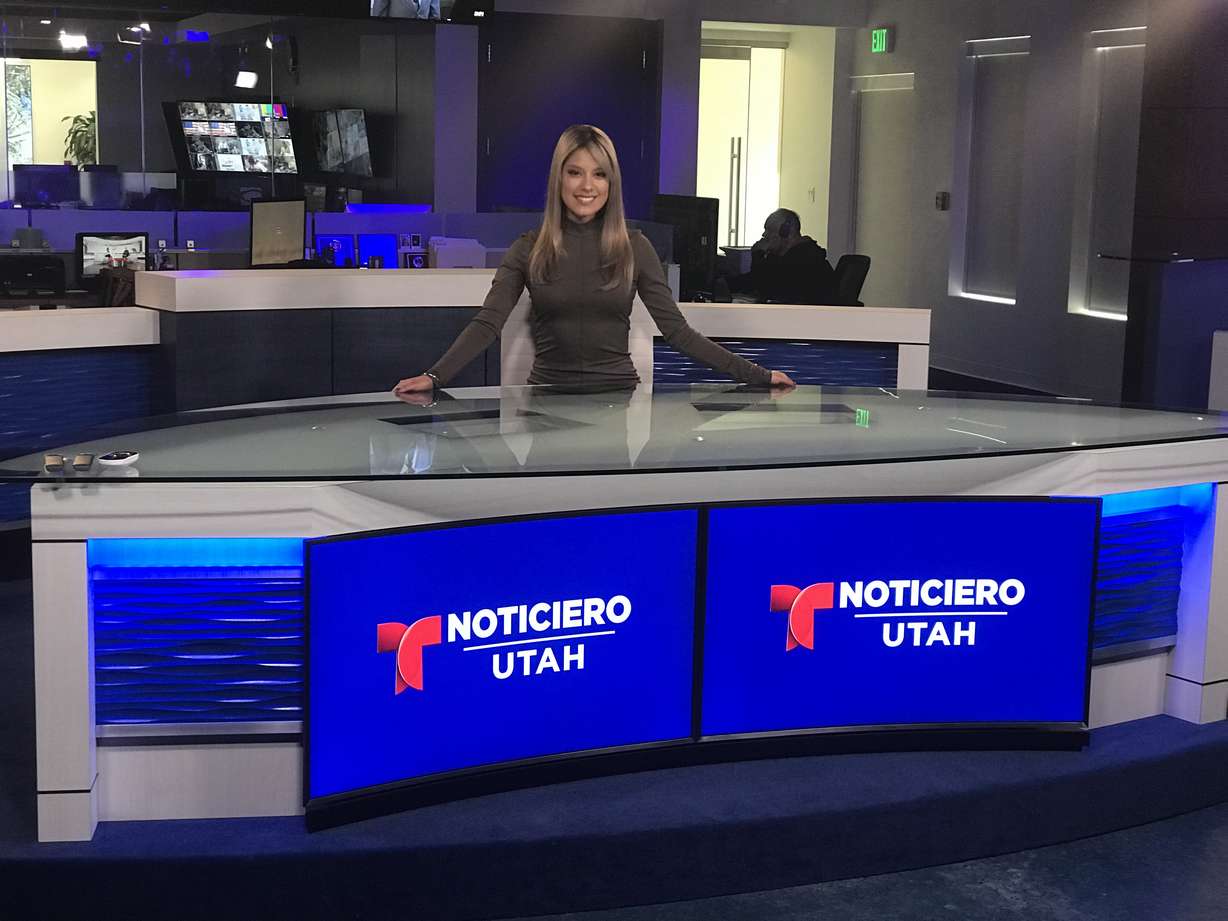 #Effio_photo
Effio worked her way up at the station from writing stories for social media and the web to producing, reporting, anchoring, and just about everything in between. Because the news station has fewer employees and resources than its English-language competitors, Effio and her teammates often "wear more than one hat" when putting together and delivering a complete and informative newscast for their audience.
Not only is Effio dedicated to her role and responsibility as new director and anchor, but she also feels a special connection to the station's viewers and the need to keep them informed.
"Because I came here when I was 16, I can identify much more with the Latino community," Effio explained. "I understand the Latino community and I know exactly what they're going through when they come here without knowing the language and without knowing how the government works and the education system and the health care system and all of that. (I know) how hard it is to become part of the culture and understand it."
#Effio_vid
In January, Telemundo Utah, one of only two Spanish-language stations in the state, made history in Utah as the only live Hispanic newscast at 5 p.m. Prior to that, Telemundo Utah newscasts were pre-recorded for both the 5 p.m. and 10 p.m. shows.
"That has been an amazing change for the station, but mostly for our community because we have been needing that in this state for a long time," Effio said.
For Effio, working as a broadcast journalist, informing Utah's Hispanic audience and being able to do something she loves each and every day is a "dream come true." She credits the team of people she works with for the quality of their newscast, adding that they help make all of it possible each and every day.
But there's one group she finds the most inspirational: immigrant mothers.
"They inspire me," Effio said. "They inspire me because of all the work they do for their children. They inspire me because they come here and they work really hard. They learn a new language, they create a whole new life and many of them are very successful at doing that."
The Healer
It seems as if the peace and kindness within House of Heart founder Tammy Goldthorpe is contagious to anyone she speaks to.
She founded House of Heart, a three-day workshop, to create a safe space for women who have experienced different types of trauma and to help them heal.
Goldthorpe is the adopted daughter of a Lakota Nation spiritual teacher and uses the spiritual practices she learned to help women overcome life's traumas and heal their internal wounds.
"We're bringing women together in a sacred space and helping them to remember what they already know, which is that they are amazing and they have the ability to bring life through them and they are not what happened to them," she said.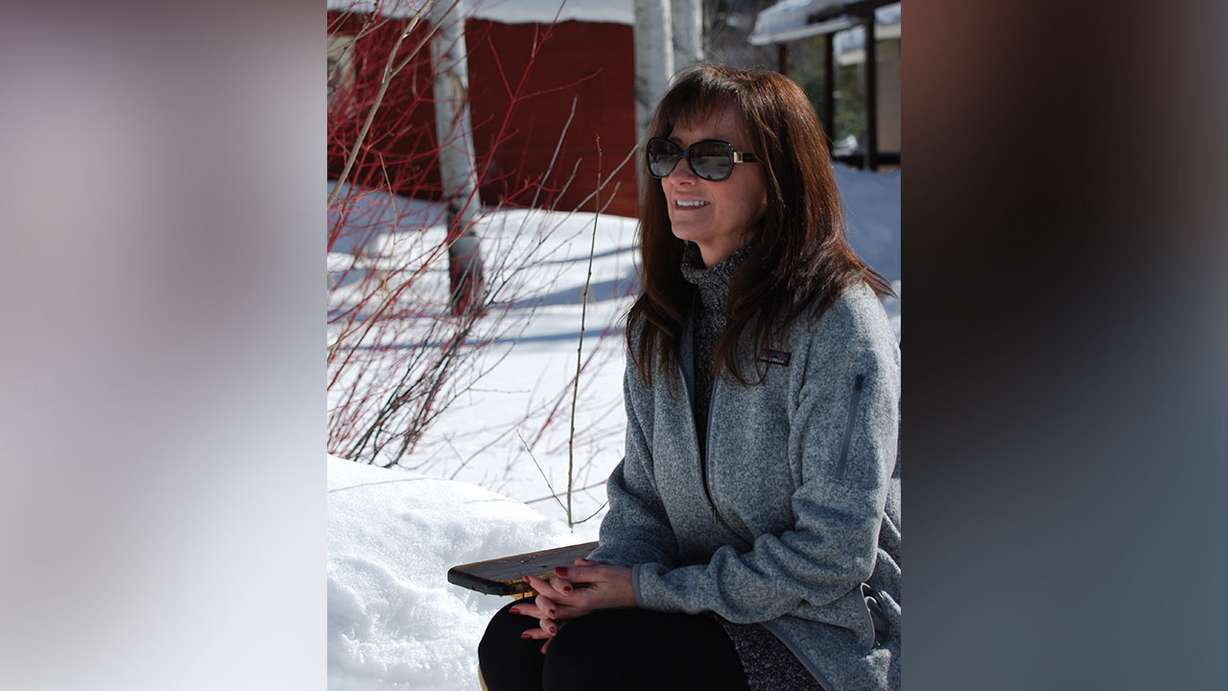 #Goldthorpe_photo
The workshops are held at a cabin in Kamas that sits near the Weber River and involve a sacred ceremony. More than 220 women have participated in the workshops, Goldthorpe said, many of them having dealt with a wide range of traumatic experiences.
From addiction to physical and mental abuse to self-inflicted abuse "such as feeling like we're not enough, there's so many different dynamics of women that come to this healing," Goldthorpe said.
Many of the women who have participated in the workshop are from Utah, but some have traveled from places like Israel and Santiago, Chile, to attend.
"They come here strangers and they leave sisters," Goldthorpe said.
#Goldthorpe_SOT
One of the most important parts of the workshop is the hochoka, which means sacred circle in Lakota. Goldthorpe said something incredible happens when a safe place exists for women to gather and sit in a circle.
"Because no one sits in front or behind you," she explained. "We are all the same. So it doesn't matter where you've been, we are all the same. When you create an environment that is safe for people to come and sit in a circle, that's where the magic happens."
Goldthorpe and her husband funded the workshops until House of Heart became a formal nonprofit organization at the end of 2017. Goldthorpe's hope is to one day build a bigger facility to house even more women in need of healing.
For more information on House of Heart, visit the official website.
The Thrill Seeker
Jamie Moreno is not letting anyone tell her what women can and can't do. The Salt Lake native has always loved cars — and the faster they are, the better.
Born to a Colombian mom and an Ecuadorian dad in Salt Lake, Moreno inherited her dad's passion for fast cars. As a child, she spent time at car shows her father took her to and playing with Hot Wheels he would buy for her.
Moreno bought herself a 2009 Subaru Impreza WRX and eventually got into autocross, a form of competition in which cars are driven through an obstacle course marked by cones. The course is different each time and drivers only walk through it on the day of competition, never knowing what to expect and having to quickly form a driving strategy.
#Moreno_SOT
Now, a licensed time trial driver — an on-track competition that allows quaified drivers to compete for best lap time — Moreno joined racing group Global Time Attack, and races on different tracks across the nation.
While her dad loves cars, Moreno does not come from a racing family and had to navigate her way through the racing world, both physically and financially. She and her husband, Nathan, decided to go all in on racing, selling most of their belongs, renting their home, and currently living in a fifth wheel trailer that houses her car. The couple loves the idea of being free and being able to hit the road whenever they feel like it, Moreno said.
Because the world of motorsport racing is male-dominated, Moreno often finds herself as one of a maximum of three women on the track, compared to approximately 60 men.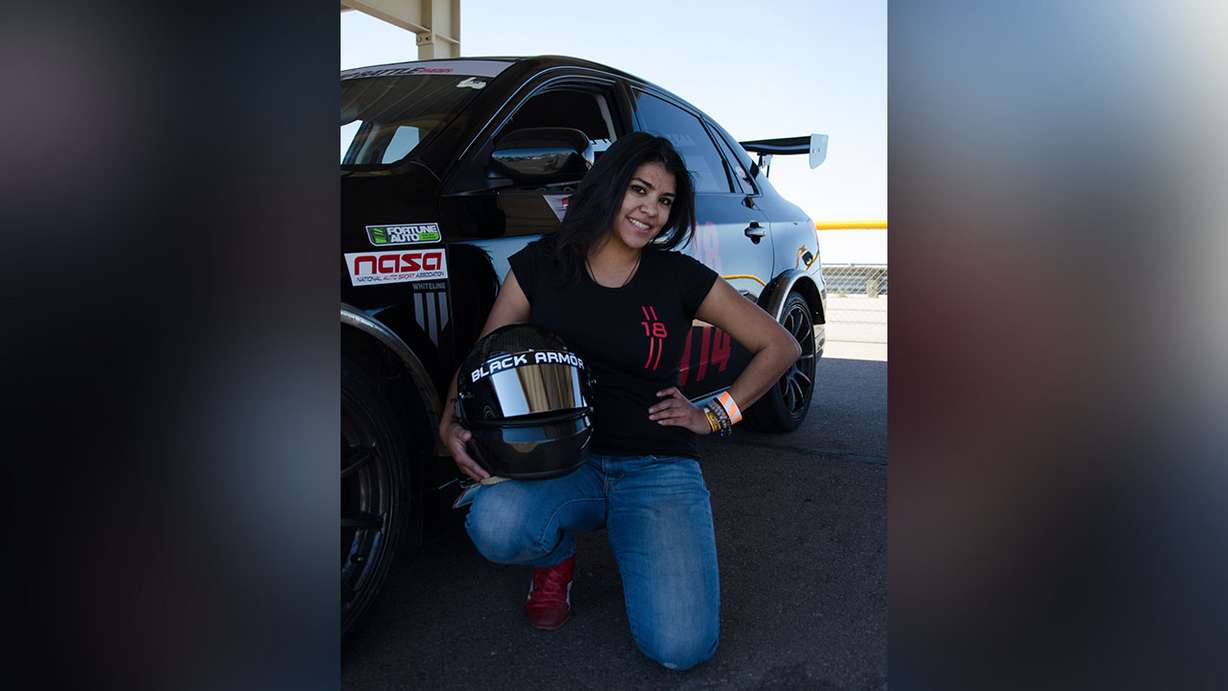 #Moreno_photo
But Moreno is no stranger to being the only female in a setting. She graduated from the University of Utah with a Bachelor of Science in information systems and entrepreneurship, landing herself a job as a network security analyst at Adobe.
Still, Moreno hopes for a day when no one is surprised to hear about a woman dominating in what once may have been considered a "man's world."
At 32, Moreno is making a name for herself in the racing world and working to break down barriers and gender stereotypes in all industries. She hopes to one day be on a racing team and race professionally.
And there's no stopping a woman with a destination — and a fast car.
#Moreno_driving_vid
To learn more about her car and races, visit her website TheRacingChica.com or follow her on Facebook and Instagram.
Do you know any other inspirational women in Utah? Tell us about her in the comments below.
×
Photos
Related stories
Most recent Utah stories