This archived news story is available only for your personal, non-commercial use. Information in the story may be outdated or superseded by additional information. Reading or replaying the story in its archived form does not constitute a republication of the story.
MILLCREEK — For Sami Singleton, entering the man-made caverns of a rock climbing gym is like walking through the front door of her home.
"When I was little I loved doing gymnastics," she said. "I always played on the monkey bars at recess."
Though the walls may be crowded at Momentum Indoor Climbing, Singleton stands out for a number of reasons — not the least of which is that you can often see her looking towards the sky, waving her arms in what looks like a cross between sign language and interpretive dance.
"I have to plan out my moves, because it's such a long climb," she said, explaining that her movements are her way of charting her course up the wall.
The skill she uses in tackling each climb is even more impressive when you consider a simple fact: Singleton isn't even old enough to have a driver's license.
"I did a summer camp when I was 9 years old," she said. "After that, I joined a youth competitive team, and my first competition was a few months after I started."
"They came to us at the end and said 'This kid has something special,'" said Sami's mom Colette, thinking back on her daughter's first climbing camp. "She struggled and tried to learn the sport just the first year, and then she just took off like a dynamo."
Sami is now somewhat of a veteran at the ripe old age of 15. To her, this isn't just a hobby — it's an obsession.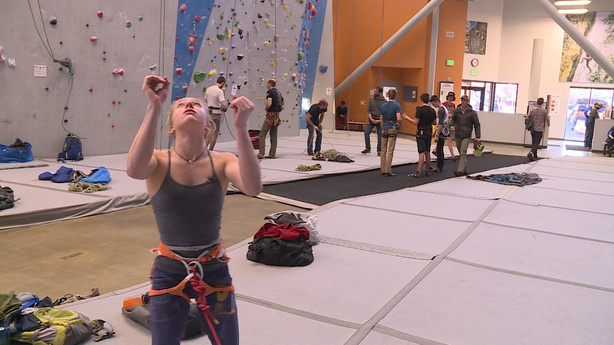 "Rock climbing on the wall is one of the most incredible experiences I've ever had," Singleton said. "When you get on the wall, all the drama from your day or schoolwork piling up is gone, and you're focused on your next move."
Dangling from these walls is such an important part of who she is that it's taken a firm grip on her life. She's recently started taking half of her high school workload online, so she can spend even more time in the air.
All the countless hours of hard work has paid off. One of her most impressive feats involves what's called "speed climbing," where Singleton propels herself up a wall in about 11 seconds. She says it's become second nature.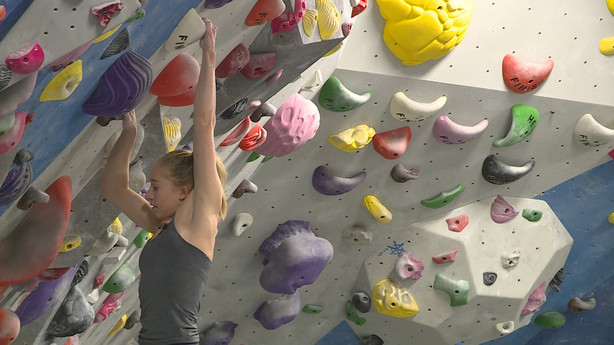 "You're not thinking about much, actually," she said. Your mind kind of goes blank. It's a really interesting phenomenon, because it's a lot of muscle memory."
Her competitions have taken her all over the world, competing in far-flung locations like Austria and China.
"It was an incredible experience," Singleton said. "You get to see these girls and boys who are as dedicated to it as you are."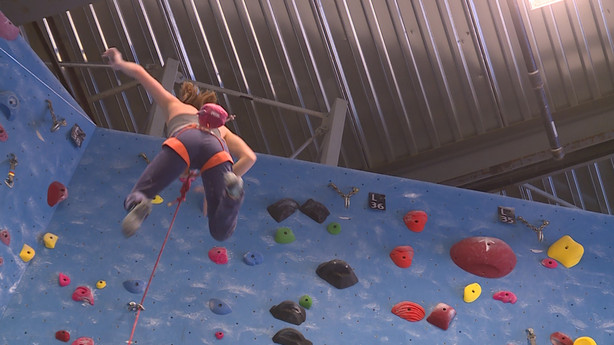 But despite facing the toughest competition on the planet, her toughest challenger's been herself.
"You face barriers every day, you need to push past them," Singleton said. "You get scared a lot. Falling is obviously a big mental barrier. Being able to let go from 50 feet up is a challenge, but it's a really cool thing when you're able to."
Singleton tackled those challenges by facing them head on. She says she put her training on hold and just focused on falling over and over again, trusting in her rope to hold her.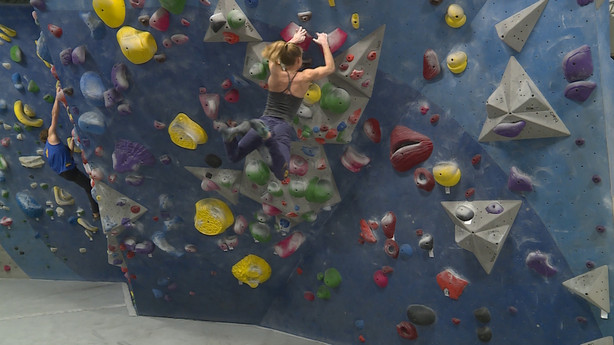 "It's great training for life," Colette said. "Just to deal with the ups and downs and disappointments that you'll naturally face in life. Kids are going to go out and do all sorts of crazy things and take risks in life, and I'd rather her know how to manage those and be smart, and be able to deal with things when they don't go right, and be able to problem solve."
By facing her fears, Sami's moved past them — and she's got the title to prove it.
"My most current, biggest win for me thus far has been the National Championships," she said. "I won over last summer in rope climbing. I'd just turned 15, and it was a really amazing moment."
---
When you get on the wall, all the drama from your day or schoolwork piling up is gone, and you're focused on your next move.
–Sami Singleton
---
Singleton beat all the other competitors in her age group, and she now has her sights even higher — starting in 2020, rock climbing will be an Olympic sport.
Though that's far in the future, Singleton can't help but dream.
"They're only taking one girl and one guy from each country right now, so it's a very tight spot to fit," she said. "I'm definitely very excited about it, and it'd be an incredible opportunity, but there are so many very talented and very hardworking girls and boys who want the spot."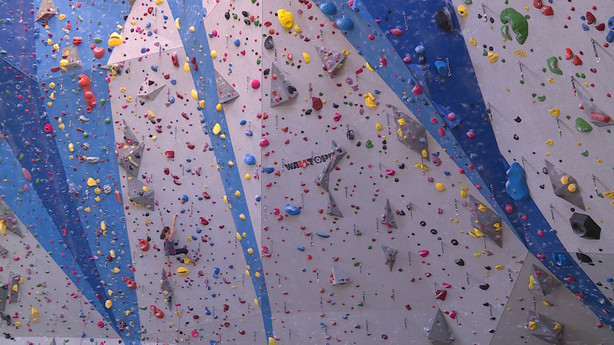 Right now, Singleton's focused on a much more immediate goal: USA Climbing's Bouldering Open National Championship, set to take place next weekend right in her backyard, at the Salt Palace.
"This will be her first year that she will also climb as an adult," Colette said. "That's something that they can do in their 16th year."
Getting Singleton to discuss her accomplishments can be a towering task — while her enthusiasm for the sport is evident, she seems to constantly be thinking of a way to phrase her words so they don't come off as bragging. But there's one thing she'll gladly take pride in: being a female rock climber.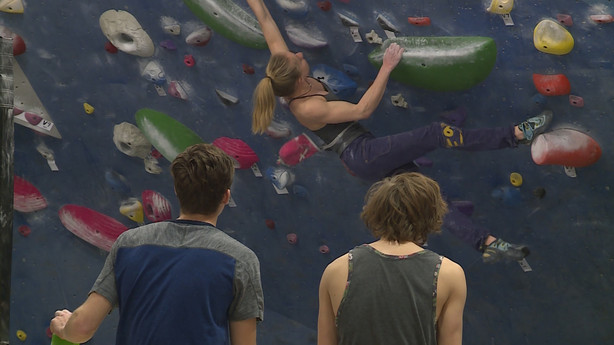 "I'd say it's half and half, at least," she said, speaking of the number of men and women involved in the sport. "I think it's pushing body type stereotypes too. Girls are very muscular. They're almost as muscular as guys, and they're climbing at the same level as them, so I think it's proving that girls can do anything that guys can."
No matter what titles lay in her future, or whether she'll ever make the Olympic team, Singleton's certain her future lies high on the walls of her gym. And regardless of how many times she's come up short, she looks at every slip and every hesitation as a new opportunity.
"Failure is what gets you better in this sport," she said. "You improve from failure."
×
Photos
Related Stories