Estimated read time: 5-6 minutes
This archived news story is available only for your personal, non-commercial use. Information in the story may be outdated or superseded by additional information. Reading or replaying the story in its archived form does not constitute a republication of the story.
SALT LAKE CITY — State leaders insist they are not interested in a "hostile takeover" of the city's northwest quadrant as they push for an inland port in the capital's last remaining swath of developable land.
In a more than hourlong meeting with the Salt Lake City Council Tuesday, House Speaker Greg Hughes, House Minority Whip Rep. Francis Gibson and Sen. Jerry Stevenson did their best to send that message — and while city leaders walked away from the meeting with some positivity, many of their concerns still remained.
To Councilman James Rogers, who represents the city's west side, his top concerns "solidified," with it becoming crystal clear that state leaders are dead set on creating a new governance structure in order to set in statute the state's participation in the area.
"And at what peril for (the west side)?" he said. "That's my concern."
Councilwoman Erin Mendenhall said she was "encouraged" by promises by state leaders to continue talks with the city to find a compromise, but not all of her concerns were addressed.
"Some product could be figured out by the end of the session, but whether or not it's the right product is the hard question," she said.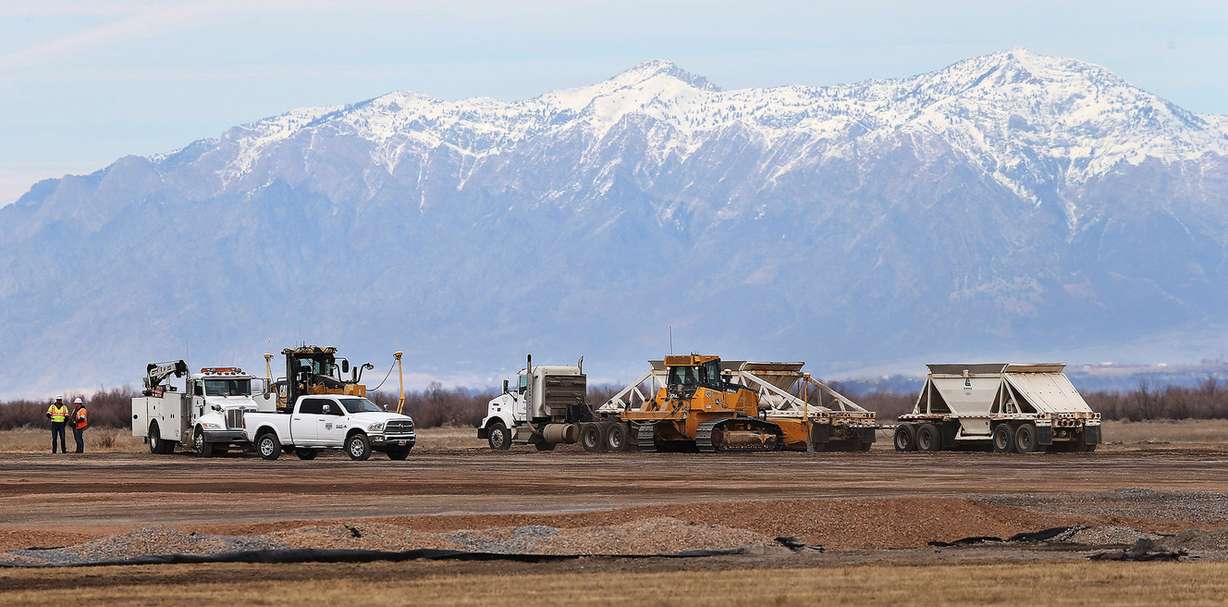 Salt Lake City's northwest quadrant is comprised of about 22,000 acres stretching from the airport toward the Great Salt Lake. The city has already launched a plan to develop about 3,000 acres surrounding the new state prison project and the $100 million infrastructure it's bringing with it.
What's unclear is exactly where state officials want to place an inland port — a global trade center serviced by air, rail and truck — and how big of an area state leaders want influence over, though Gibson did say he has envisioned an area from 4,000 to 6,000 acres.
What Hughes, Gibson and Stevenson did make clear is they believe a new government structure, perhaps an inland port authority board, must oversee the land because it's an endeavor too big for one city.
Hughes pitched the concept of a new governing body in a presentation to stakeholders last week — a meeting that left city leaders uncertain and concerned. Since a bill hasn't yet been filed, it's still not clear how that governing board would look, but state leaders hinted it may look something like a governing body created by a law that has been used in the past for military development projects.
The law, Military Installation Development Authority, was used to create an independent political subdivision to facilitate the development of land, most notably for Falcon Hill, the 550-acre commercial development adjacent to Hill Air Force Base, and it's not sat well with cities because it's not subject to local land use zoning, Cameron Diehl, executive director of the Utah League of Cities and Towns said.
Related:
Stevenson has a bill file opened titled "Military Installation Development Authority Amendments," but it hasn't been made public. He has said the bill is still being drafted.
Hughes, showing the council maps of air and rail trade routes and how they heavily intersect in Salt Lake City, said the state has "incredible opportunity" to create a global trade port that would give new meaning to Utah's reputation as the Crossroads of the West.
"This is a big deal," Stevenson told the council. "And it's a much bigger deal than you should have dumped on your shoulders."
Gibson said the state isn't interested in a "hostile takeover" of the northwest quadrant but wants to solidify a way to give all stakeholders influence in the development of the area because "it's the right thing to do" for the state's future.
"We're not asking you to relinquish it," Gibson said. "We're asking you to let others be involved."
Councilwoman Amy Fowler, acknowledging that "it sounds like we're not going to get away from this," wondered if the new government structure would set an "unnecessary and perhaps dangerous" precedent to let more city land across the state become controlled by state entities.
---
We're not asking you to relinquish it. We're asking you to let others be involved.
–Rep. Francis Gibson
---
Councilman Andrew Johnston said state involvement in such a large area of city land would be "unprecedented," pointing out that the Falcon Hill project is federal land, while the Point of the Mountain project is state land.
Mendenhall asked if state leaders would be open to creating a new type of structure that doesn't remove the city's taxing and land use authority. Hughes said he'd welcome more discussions of another government model.
But the clock is ticking on the 2018 legislative session, and Hughes wants something done this year.
"We need to have a sense of urgency," Hughes said. He held up a copy of a Salt Lake County study done back in 1990 on the feasibility of an inland port.
"Government is awesome at circling stuff," he said. "And I hate it. I want to get moving."
Hughes said not all questions may be answered by the end of the session, but "certainly we want a structure, and we want certainty." He said the state needs to have a structure in place to solidify plans for the inland port, which won't be subject to politics as elected leaders come and go.
Salt Lake City Mayor Jackie Biskupski said in an interview after the meeting she shares concerns with the council, crediting them with bringing up some "very valid questions," though she also said she believes there's "opportunity to work together."
Mendenhall and Biskupski said city leaders plan to continue conversations with state leaders as soon as possible to give input on Stevenson's bill.
×
Photos
Most recent Utah stories