This archived news story is available only for your personal, non-commercial use. Information in the story may be outdated or superseded by additional information. Reading or replaying the story in its archived form does not constitute a republication of the story.
SALT LAKE CITY — Today is the first day of December, and Christmas is rapidly approaching. It's time to get festive with all the seasonal events happening around the state this holiday season.
Here's a roundup of select public events that are happening across the state over the next month. If you have an event you think should be added to this list, fill out the form at the bottom of this story, or email web@ksl.com.
Now-Dec. 23: Heber Valley Railroad North Pole Express
This 90-minute ride to the "North Pole" features hot cocoa and treats from Mrs. Claus. Tickets are $50 for adults and $40 for children. Visit the Heber Valley Railroad website for departure times and more information.
Now-Jan. 2: Christmas Lights at Temple Square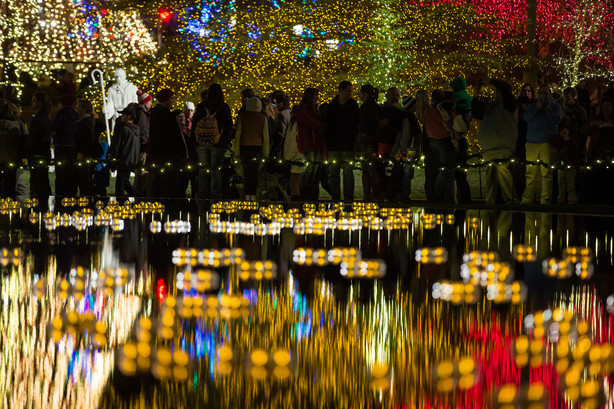 Christmas lights at Temple Square in Downtown Salt Lake City were unveiled after Thanksgiving and will continue being illuminated until Jan. 2.
Now-Dec. 30: Savior of the World
This musical drama about the birth and resurrection of Jesus Christ is based on the scriptural account. Weekly performances are Tuesday through Saturday at 7:30 p.m. and Saturdays at 2 p.m. at the LDS Conference Center Theater. Tickets are $10 and can be reserved at lds.org/events.
Now-Dec. 30: Luminaria at Thanksgiving Point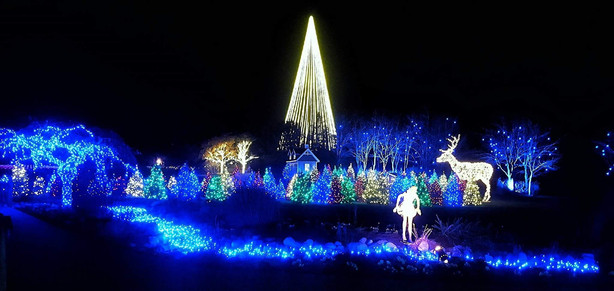 This runs through Dec. 30. The mile-long walk features 8,000 programmable lights at Thanksgiving Point, 3900 N. Garden Drive in Lehi. Luminaria will be open from 5-9 p.m. daily. For more information about ticket pricing, visit thanksgivingpoint.org.
Now-Dec. 30: Christmas in Color
More than 1.5 million Christmas lights are synced with holiday music in this annual display in Provo and South Jordan. You can visit either the Provo Towne Center Mall or the Salt Lake County Equestrian Center in South Jordan. It's open from 5:30-10 p.m. from Monday through Thursday and 5:30-10:30 p.m. on Friday and Saturday. Tickets are $25 per car on weekdays and $30 on weekends. Visit christmasincolor.net for more information.
Now-Dec. 23: Christmas Cruise at CLAS Ropes Course in Provo
This 25-minute boat ride takes people past thousands of lights reflecting off the water of the Provo River and also features Christmas music and Santa visits. Tickets are $8 per person. Visit clasropes.com for more information.
Now-Dec. 23: "A Christmas Carol" at Hale Theater in Orem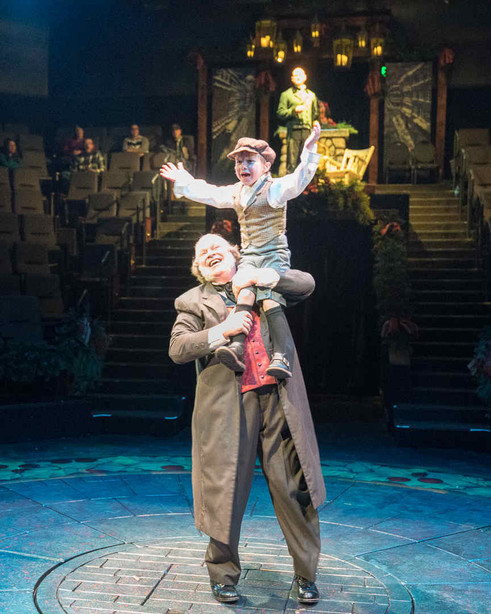 The Hale Center Theater in Orem is staging the classic Christmas tale. Tickets start at $23. Visit haletheater.org for more information.
Now-Dec. 23: "A Fairly Potter Christmas Carol" in Ogden
This original musical combines elements of Christmas stories such as "A Christmas Carol" and "How The Grinch Stole Christmas" with characters from "Harry Potter." Tickets start at $19 for adults and $12 for kids. Visit theziegfeldtheater.com for more information.
Now-Dec. 31: ZooLights at Utah's Hogle Zoo
More than 200 animal and holiday-themed light displays will be illuminated at the zoo for the 11th holiday season. Tickets are $8.95 for adults and $6.95 for kids. Visit hoglezoo.org for more information.
Now-Jan. 1: Spanish Fork Festival of Lights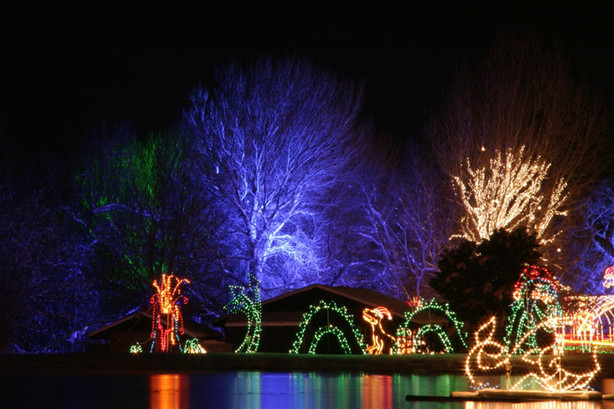 Spanish Fork City will illuminate Canyon View Park, 3300 E. Powerhouse Road, starting Thanksgiving night. The lights will stay up through New Year's Day. The cost is $8 per car. Visit spanishfork.org for more information.
Now-Jan. 1: Ogden Christmas Village
A light display and various events will take place at Ogden Municipal Gardens, 353 E. 25th Street, through New Year's Day. The downtown area will feature 63 cottages that members of the community will decorate for the holidays. Visit Ogden City's website for more information.
Now-Jan. 1: Pond Town Christmas in Salem
This event features Christmas lights and decorations in Knoll Park around Salem Lake. The lights will be lit from 5:30-11 p.m. each night, and admission is free.
Dec. 1-2: Christkindlmarkt
Inspired by German Christmas markets, this event starts at 11 a.m. Nov. 30 at This Is The Place Heritage Park, 2601 E. Sunnyside Ave. Food, music and vendors await people who want to experience a unique cultural event. Visit thisistheplace.org for more information.
Dec. 1-2 and 7-9: Dickens Christmas Festival
This festival includes Old English shops and old-fashioned costumes to give festival-goers a Dickensian experience. The festival takes place at the Dixie Convention Center in St. George on Dec. 1-2 and at the South Towne Expo Center in Sandy from December 7-9. Visit dickenschristmasfestival.com for more information.
Dec. 1-2: Christmas Around The World at BYU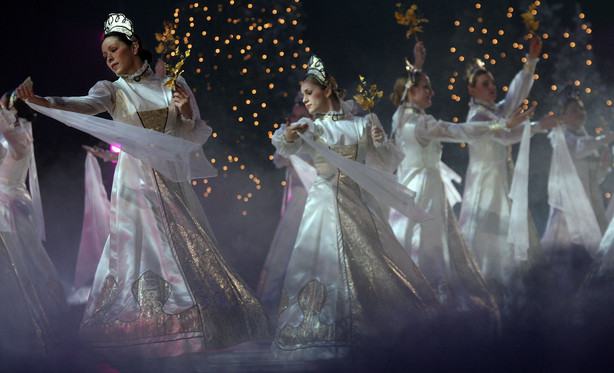 This holiday performance showcases music and dance traditions from around the world. More than 200 performers are part of the show. Visit arts.byu.edu for more information.
Dec. 1-2: Helper Electric Light Parade
Helper's Christmas parade will take place Dec. 1 and 2 at 7 p.m. This is the 28th year the town has put on the holiday festivities. Visit utahschristmastown.com for more information.
Dec. 1-3: Festival of Trees in Sandy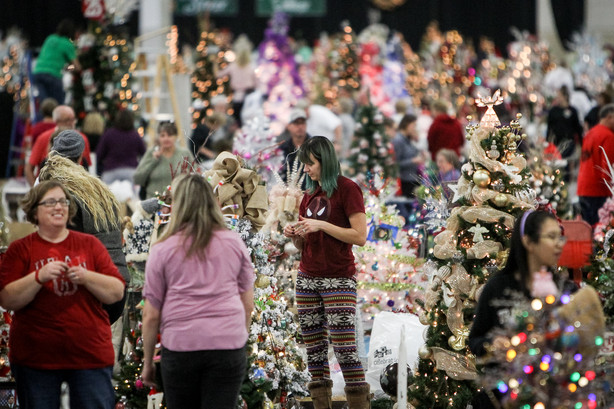 The South Towne Expo Hall transforms into a winter wonderland of Christmas trees, wreaths and other decorations for this fundraiser for Primary Children's Hospital, put on by Intermountain Healthcare. Visit the Festival of Trees website for more information.
Dec. 2: Gingerbread Carousel reveal at Stein Eriksen Lodge in Park City
A 10-foot-tall gingerbread carousel will be revealed at the Stein Eriksen Lodge, located at Deer Valley Ski Resort in Park City. The lodge has compiled an elaborate gingerbread display each year for 16 seasons running. For more information, visit steinlodge.com.
Dec. 2-3: Holiday Open House and Art Fair at Red Butte Gardens
Gifts made by local artists, including jewelry, pottery, fiber art, glass and photography will be available at this event. Admission to the garden will be free on both Dec. 2- 3. The garden's regular hours are 9 a.m to 5 p.m. For more information, visit redbuttegarden.org/holiday-open-house.
Dec. 2, 6-7, 18, 20-23: The Forgotten Carols
See performances of this Christmas-themed play in Logan, Ogden, St. George, Orem and Murray. See forgottencarols.com for more information about performance dates and tickets.
Dec. 4-7: Quiet Santa at University Place Mall
New this year at the mall, kids with sensory sensitivity can spend time one-on-one with Santa before the mall opens, avoiding the crowds and noise. Time slots are available from 8-10 a.m. For more information, visit universityplaceorem.com.
Dec. 4-9: Christmas at the Homestead in Cedar City
Various events, including music performances and a holiday market, will take place each day at the Frontier Homestead State Park Museum in Cedar City. The museum is open from 5:30-8 p.m. from Dec. 4-7, and admission is $5 per family. On Dec. 8, the holiday market will be open at the museum from 11 a.m. to 8 p.m. Saturday, the museum will be open from 10 a.m. to 4 p.m and admission will cost $1 per person. For more information, visit frontierhomestead.org/christmas-at-the-homestead.
Dec. 8: Live Nativity at University Place Mall
The mall will present a live nativity scene with the help of Orem Community Church. It will take place from 6-8 p.m. at The Orchard. The live nativity event began in 2016 and features live animals and musical numbers. For more information, visit universityplaceorem.com.
Dec. 11-13: Santa Story Time at University Place Mall
Children can come to the mall in pajamas for a storytime with Santa and "snow" play. Tickets can be purchased on Eventbrite for $15, or at the University Place Mall Customer Service Desk for $10. Tickets will not be sold at the door. For more information, visit universityplaceorem.com.
Dec. 16: Christmas Jam at The Depot
This annual all-ages rock concert started in 2010 as a benefit show for The Road Home. This year's event will feature local musicians including Neal Middleton, Chandra Marie, Walter James Woods and more.
The concert is 7 p.m. Dec. 16 at The Depot. Advance tickets are $12.50 for adults and $5 for kids. For more information, visit www.christmasjam.rocks.
Dec. 16: Santa Fun Run at Wasatch Mountain State Park
The run will be from 9-11 a.m. on Saturday, Dec. 16 at 1281 Warm Springs Road in Midway, with the start and finish lines at the Pine Creek Campground Office. Admission to the event is $5 per person, $20 per family, or the equivalent amount worth of household items — diapers, toilet paper, tooth paste, soap, etc. All the donated items and proceeds will go to Community Action Services and Food Bank, which serves people in Utah, Wasatch and Summit counties.
Dec. 16: Audubon Society Christmas Bird Count at Red Butte Gardens
The 118th running of this nationwide bird count will take place from 9 a.m. to noon at the garden. The event is free with regular admission to the garden and is free for garden members. Registration is open now. For more information, visit redbuttegarden.org/christmas-bird-count.
Dec. 16: Winter Solstice Celebration at Red Butte Gardens
Kids can create wreaths, candles and more Christmas-themed crafts at this event, which takes place from 10 a.m. to 2 p.m. The price is $3 for garden members and $3 plus the price of regular admission for non-members. Visit redbuttegarden.org for more information.
Dec. 18: Christmas Carole Sing-Along at Vivint Arena
The Larry H. Miller family presents this free holiday celebration. The event will feature performances from One Voice Children's Choir and the West Valley Symphony of Utah. Visit vivintarena.com for more information.
×